Arkansas Wants Medicaid To Offer 'Bridge To A Better Life,' Governor Says
06:20
Play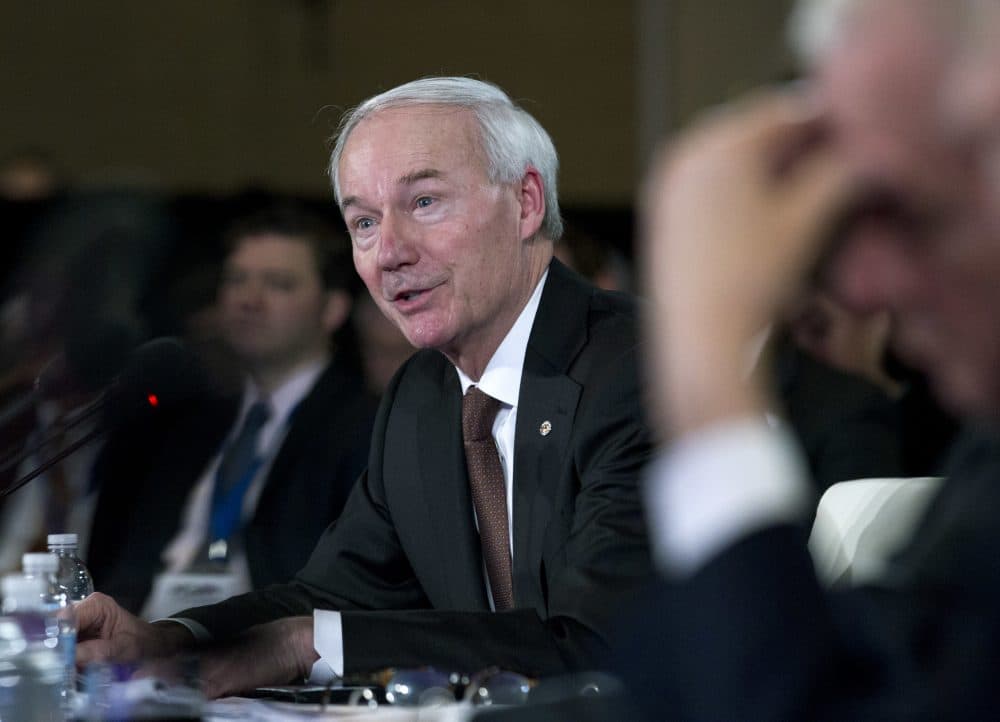 This article is more than 3 years old.
Arkansas has become the third state, along with Kentucky and Indiana, to require some residents to work or volunteer in order to receive Medicaid. The Trump administration gave the green light to Arkansas' plan Monday, and is reviewing applications from other states.
Medicaid recipients in the state have three months to fulfill the work requirement — expected to start this summer — or they'll lose their benefits and be locked out through the calendar year. Critics have said the move is punitive.
The work requirement is in part aimed at helping people "move up the economic ladder," Arkansas Gov. Asa Hutchinson says.
"We have a 3.7 percent unemployment rate," Hutchinson (@AsaHutchinson) tells Here & Now's Robin Young. "We need more people in the workforce, more people trained, and this gives them an opportunity to do more in life. So this is a very good thing."
Interview Highlights
On the state's Medicaid work requirement having some exemptions
"You've gotta distinguish between the traditional Medicaid, and those that are able-bodied that are working that are usually on the expanded Medicaid program. And our work requirement only applies to those that are able-bodied, that do not have dependent children at home, or have some other type of exception or are medically frail. And so these are those that are able to work and either should be in training to go to work, or should be working."
On the number of Medicaid recipients the work requirement would impact
"I'm looking at about 69,000 in Arkansas. And so we're looking at those between the ages of 20 and 49, that time frame, so you're not looking at the elderly. You're looking at those that are [in the] prime of their working years. And as you indicated, some are making less income than they probably could be if they had work or training. So we want those to have more training to move up the economic ladder so that they can have more income for their family."
On an online portal that those under the work requirement must access, and whether that will be challenging for low-income people
"The portal is designed to make it easy. We wanna make sure that they have access to it. When it comes to the workforce training side of it, we are making sure that we have our workforce training programs in place, and so that we can be of assistance. The whole goal is for these people to have better work opportunities and training. And so under the very weak referral that we had under the Obama administration, we still had 4,000 people that were referred over for worker training and went to work. And so I don't think 4,000 people who advanced their life is a bad thing. I think it is a very good thing. And if we can enhance that even to a larger extent of the population, then I think they're better off and state is better off."
On people who don't meet the work requirement being locked out from Medicaid benefits for the calendar year
"These are people that are not accessing worker training programs now, and so there has to be a consequence for not fulfilling your responsibility. And so, as you're gonna have a requirement to work or be in work or training, there has to be a consequence if you don't do that. This is that you're locked out for Medicaid benefits through the end of the year. This has to be preceded by one notice to them, a second notice the next month and a third notice. And so they're given every possibility to exercise their responsibility. And we've got our provider community, including our insurance carriers, that are reaching out to them and helping them to do this. Everybody wants them to continue coverage. The objective is for them to continue coverage and to fulfill that requirement. We'll see, but I think that you'll see in the end that we'll be able to have a large, high percentage of compliance."
This segment aired on March 6, 2018.