3 Avocado Recipes Beyond Guacamole (But OK, There's Always Room For Guac)
Play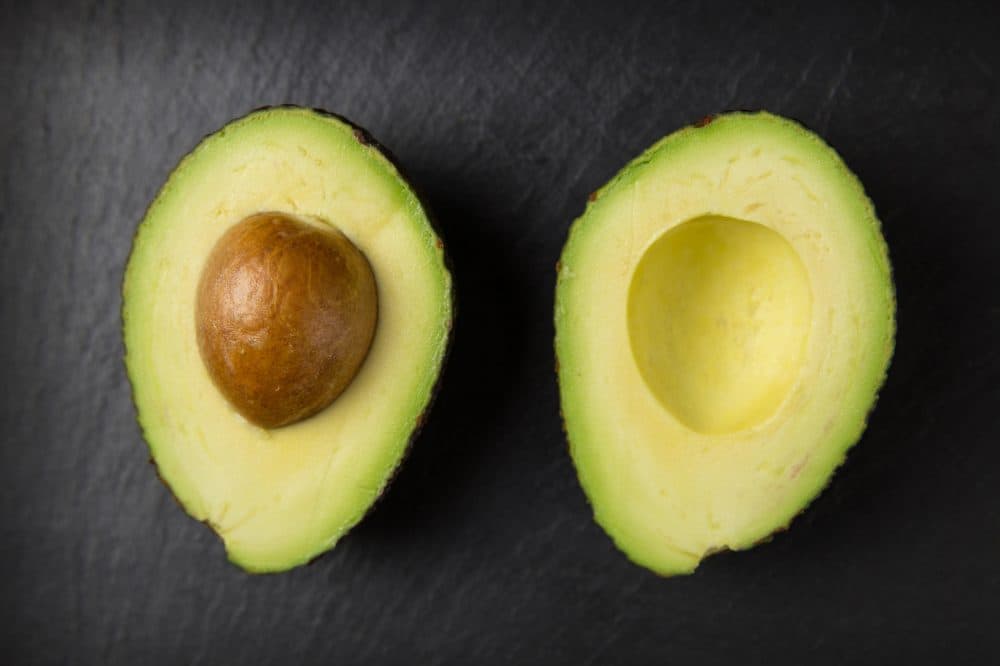 This article is more than 4 years old.
Whether it's for breakfast, lunch or dinner, have you noticed avocados popping up on menus a lot lately? Here & Now resident chef Kathy Gunst has, and joins host Jeremy Hobson with a few of her favorite recipes using them.
---
No-Nonsense Guacamole
Guacamole is hugely popular and there are thousands of versions. This one is plain and simple and pays homage to the avocado's buttery, silky flavor, without masking it with lots of fancy stuff.
I'll give you suggestions for other possible toppings, but when avocados are fresh and in season I like to keep this classic dip plain and simple. Serve with taco chips, corn chips, taro chips, an assortment of raw vegetables or warm tortillas. Serves 4.
Ingredients
1 large or 2 medium avocados, Haas are traditionally used but you can use your choice of variety
1/4 cup almost finely chopped red onion
Juice of 1 large lime or 2 medium, about 1/4 cup
1 tablespoon chopped fresh jalapeño or serrano pepper, with or without seeds (depending on how spicy you like it)
1 tablespoon olive oil
Salt and freshly ground black pepper, to taste
Hot pepper sauce, to taste (optional)
Instructions
Place the avocado flesh in a bowl and use a kitchen fork to lightly mash it so it's somewhere between thoroughly mashed and still a bit chunky.
Add the onion, lime juice, jalapeño and olive oil and stir well. Lightly season with salt and pepper.
Let the guacamole sit for a few minutes (the avocado is absorbing all those flavors) and then give it a final seasoning to taste, adding more salt, pepper or hot pepper sauce to taste.
Toppings
If you want to get fancier, here are a few ideas of ingredients to sprinkle on top of the guacamole or add to the mixture:
1/3 cup pepitas (pumpkin seeds) roasted for 8 minutes in a 325-degree oven
1/3 cup chopped scallions
1/3 cup pomegranate seeds
1/4 cup toasted salted pistachio nuts
1/4 cup coarsely chopped fresh cilantro
1/3 cup finely chopped ripe tomatoes
1 tablespoon chopped chipotle pepper
Lightly sprinkling ground cumin
1 clove finely chopped raw or roasted garlic
Fresh chopped mint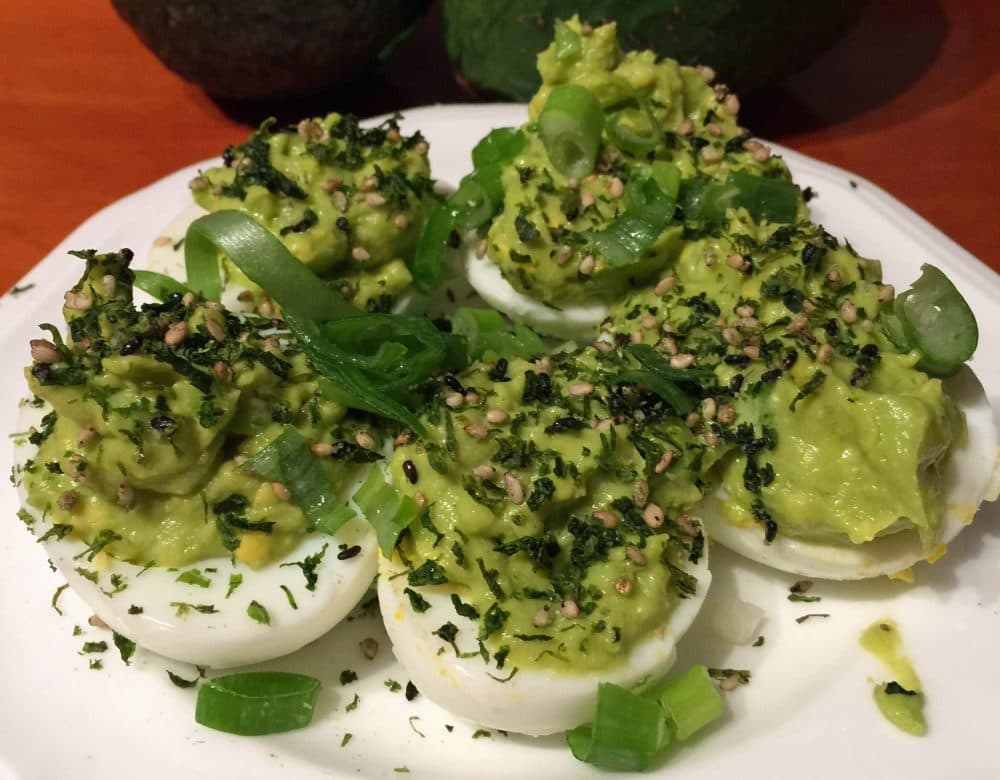 Deviled Eggs With Avocado And Furikake
I love the avocado-green flavor and color of these very simple deviled eggs.
Furikake — a mixture of black and white toasted sesame seeds and crumbled seaweed — is a Japanese spice mixture that is traditionally sprinkled on noodle and rice dishes. It goes incredibly well with this combination of egg and avocado. If you can't find it an Asian market, see below for a quick recipe for making your own mixture. Serves 2 to 4.
Ingredients
4 medium-sized eggs
1 large or 2 small ripe (but not mushy) avocados
Salt and freshly ground black pepper
1 1/2 teaspoons olive oil
About 1 tablespoon furikake, optional (see recipe below)
Instructions
Place the eggs in a small saucepan and cover with cold water. Bring to a rapid simmer (just below a rolling boil) over high heat. Turn the heat off and let the egg sit on the burner in the hot water for 11 minutes. If using large or extra large eggs, you'll need to increase the time to 12-14 minutes.
Drain and run under cold running water. Drain. Place back in the empty saucepan and roll the egg from side to side to gently crack the shell. Add cold water. Drain and peel. Cut egg in half lengthwise.
Remove the yolks and place in a bowl. Using a potato masher or back of a kitchen spoon or fork, mash the egg yolks. Add the avocado and mash until almost totally smooth. Add salt, pepper and olive oil to taste. Spoon the mashed avocado mixture back into the egg whites. Sprinkle with the furikake and chill.
Furikake is available with many flavors, such as wasabi (Japanese horseradish), shrimp, salmon or shiso (Japanese basil). Any of these flavored varieties would work just fine in these deviled eggs and might add an interesting twist. However, if you can't find furikake and want to make a quick home version, try this simple recipe:
In a dry skillet, toast 2 tablespoons white and 2 tablespoons black sesame seeds for about a minute over moderately low heat.
Finely crumble a few sheets of nori (dried seaweed) and about 1 tablespoon of bonito flakes (dried fish flakes) if you have them. Add a touch (about 1 teaspoon) of salt and sugar and stir the mixture to thoroughly mix.
Avocado Quesadillas
This is one of my favorite go-to snacks or quick dinners when I'm hungry and time is short. You can add leftover chicken or fish or other vegetables and play around with the recipe as you like. Serves 2 to 4.
Ingredients
4 corn tortillas or large flour tortillas
About 1/2 cup grated cheddar, Mexican cotija or your favorite hard cheese*
1 ripe avocado, cut into thin slices
1/4 cup fresh cilantro, chopped (optional)
Optional Toppings
Guacamole (see recipe above)
Salsa
Tomato slices
Hot pepper sauce
Pickled jalapeños
*If you use a small 4-inch corn tortilla you'll need less cheese. If you use a large 8- to 10-inch flour tortilla, you'll need more cheese.
Instructions
In a large dry skillet, or two skillets if using large flour tortillas, heat 2 tortillas over moderate heat for about 2 minutes or until warm.
Flip the tortillas over, divide the cheese, avocado and cilantro into two portions and sprinkle one portion on each tortilla. Cover each tortilla with one of the remaining tortillas and cook about 2 to 4 minutes, or until cheese is almost melted. Using a wide spatula, flip the tortilla over and cook another 2 minutes or so until the cheese is melted.
Remove from skillet and cut the quesadilla into quarters. Serve hot with any or all of the toppings.
---
Here's more information about Ono Farms and their avocado and fruit-tasting tours.
This segment aired on March 9, 2018.