Who Might Be Behind The Austin Bombings?
06:56
Play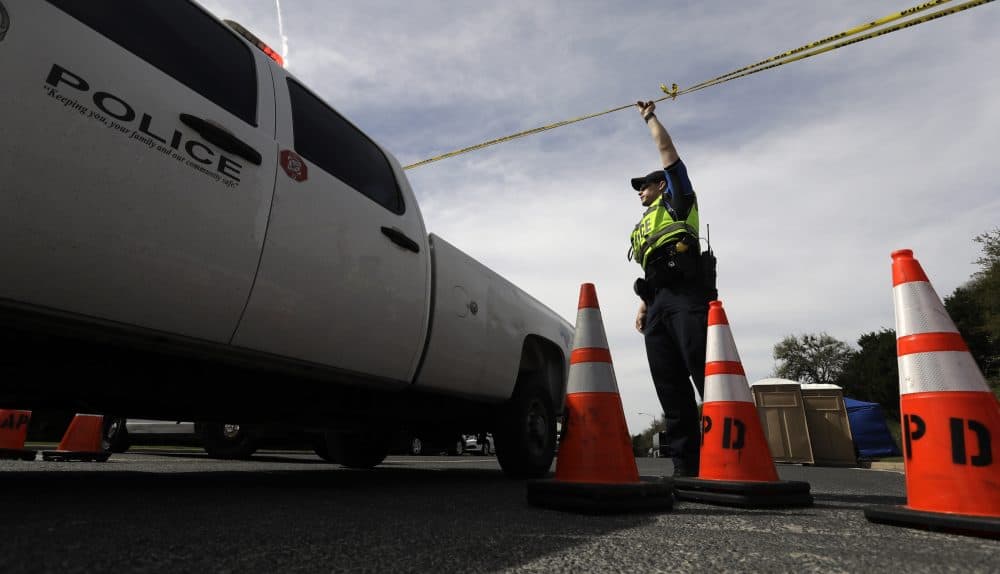 This article is more than 3 years old.
A package on its way to Austin exploded overnight at a FedEx facility in San Antonio, the fifth explosion of a device either in Austin or bound for the city.
Clint Van Zandt, a former FBI profiler who helped expose Ted Kaczynski as the Unabomber, joins Here & Now's Robin Young to discuss who might be behind the string of bombings that has wracked the area.
"I heard an FBI agent suggest this is the bureau's most important case in the country right now, and I think that's probably true, because it is so deadly and the potential for it to grow more deadly," says Van Zandt, who's not involved with the Texas investigation.
Interview Highlights
On what he's thinking amid the reports of explosions and suspicious packages
"Well it's really a challenge right now. ... As you suggest, there was an initial explosion, package explosion, then we went 10 days, then we had two more. Then we went six days, and we had an explosion, and now we've gone two days, the most recent one at the FedEx facility.
"So the individual or individuals that are building and using these devices, they've shown a very interesting ability to change the triggering of the devices themselves, to change the target. They're staying one step ahead of law enforcement, and of course the challenge is the frequency is growing smaller, so this individual or persons are very deadly. We assume, like in the case of most bombers, they have a message, they have something they wanna say. Law enforcement's indicated, 'We're here to listen,' but so far that message has not been conveyed."
"They're staying one step ahead of law enforcement, and of course the challenge is the frequency is growing smaller, so this individual or persons are very deadly."

Clint Van Zandt
On working on the Unabomber case in the '80s and '90s, and the history of serial bombers in the U.S.
"Ted Kaczynski's brother David, as far as I'm concerned, he was a national hero. He had his suspicions, he came to me just after I left the bureau. We did an analysis that suggested the Unabomber's manifesto and letters from Ted were the same. He went to the FBI, and of course that solved the Unabomber case. But we look back through history, we have George Metesky, the so-called Mad Bomber in New York in the '40s and '50s. He was angry because he had been fired by Con Ed. You've got Eric Rudolph, the Olympic Park bomber, '96-'98, who amongst other things didn't like abortion clinics. Of course, we've talked about Kaczynski. And then there was Luke Helder, the so-called Midwest pipe bomber, he was the young man who traveled 3,200 miles putting pipe bombs in mailboxes all across the country because he was trying to paint a giant smiley face, with explosives, on a map of the United States.
"So the motivation that we see in serial bombers, which this individual, these individuals, are, it's across the board, and there's nothing to suggest international terrorism. Of course, the [Bureau of Alcohol, Tobacco, Firearms and Explosives] and FBI are looking for any similarities between any international group that might use something like this. But right now, it appears this is someone local. And of course, this person didn't just fall off a turnip truck last week. There's some motivation, some reason."
On what authorities might be looking for in Texas
"One of the things that of course authorities will be looking at is the components of the bomb, and we're told at least in the last two devices, the shrapnel inside the bombs included nails. So if you or I were FBI agents, we would say, 'OK, we've got five penny nails, or 10 penny nails. Let's go to every hardware store in Austin — and eventually Texas, if we have to — and see who's bought up a large amount of these nails within the last month, six months,' something like that. So that's why they have at least 500 federal agents [in Texas]. I assume they've got 1,000, 1,500 law enforcement officers on this. This is the time, any theory, any tip, you still run down, because you've got the manpower to do it at this moment. And shame on them if they don't."
This article was originally published on March 20, 2018.
This segment aired on March 20, 2018.