This Robotic Fish Could Create A 'New Field Of Underwater Research'
Play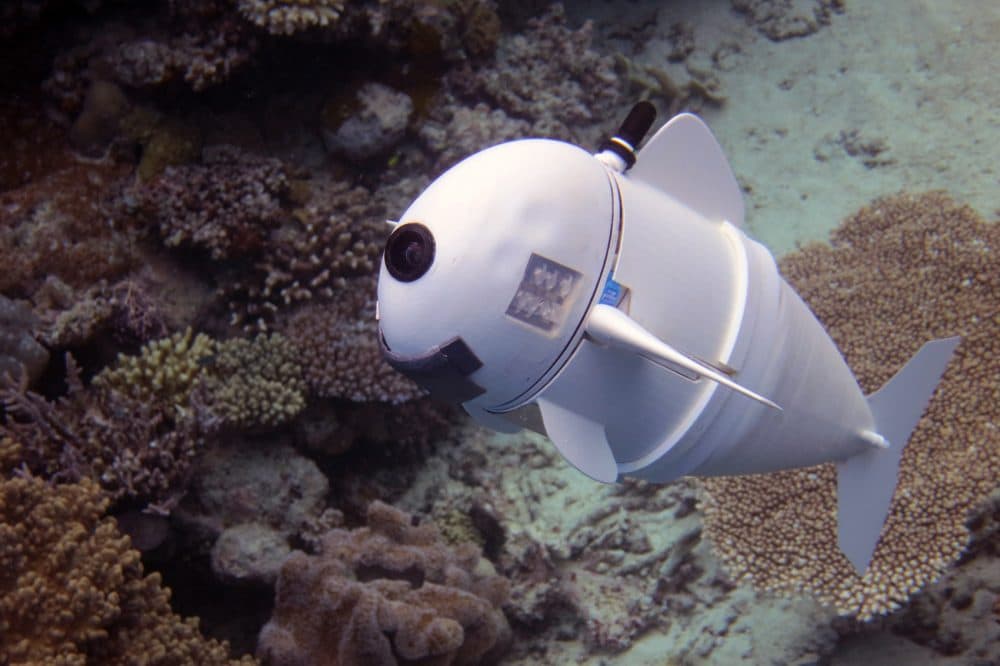 This article is more than 4 years old.
Roboticists at MIT have created a robotic fish named SoFi — short for soft fish — that can swim underwater and help researchers study ocean life up close.
Here & Now's Jeremy Hobson learns more about SoFi, and how scientists might use the technology, from Robert Katzschmann (@katzschmann), a graduate student with MIT's Computer Science and Artificial Intelligence Laboratory.
Interview Highlights
On how SoFi works
"SoFi is a fish that is made of a soft tail. So the posterior, like the back half of this fish, is made of a rubber material, and SoFi can go in the ocean and uses the water of the ocean inside of its tail to cause a fish-like swimming motion, and we use that to explore the ocean."
"My dream would be to have a school of SoFi going through the ocean."

Robert Katzschmann
On its ability to move like a real fish
"That was definitely something we were going for, like the whole development of this robot was with the intention to use this soft material, and hydraulics, to actually make a fish that can look and feel and also swim like a fish, in the sense of motion — they call it the undulation, meaning the tail, it undulates like a fish. So when you put some sort of force or pressure into this tail, then the motion that is created it looks like a fish and also it swims similar to the strokes of that tail, to a real fish."
"Previous versions of the robotic fish would traditionally use motors, a whole series of motors that are connected with rigid links, and you have to bring them into a very coordinated motion to simulate a somewhat undulation of a fish tail."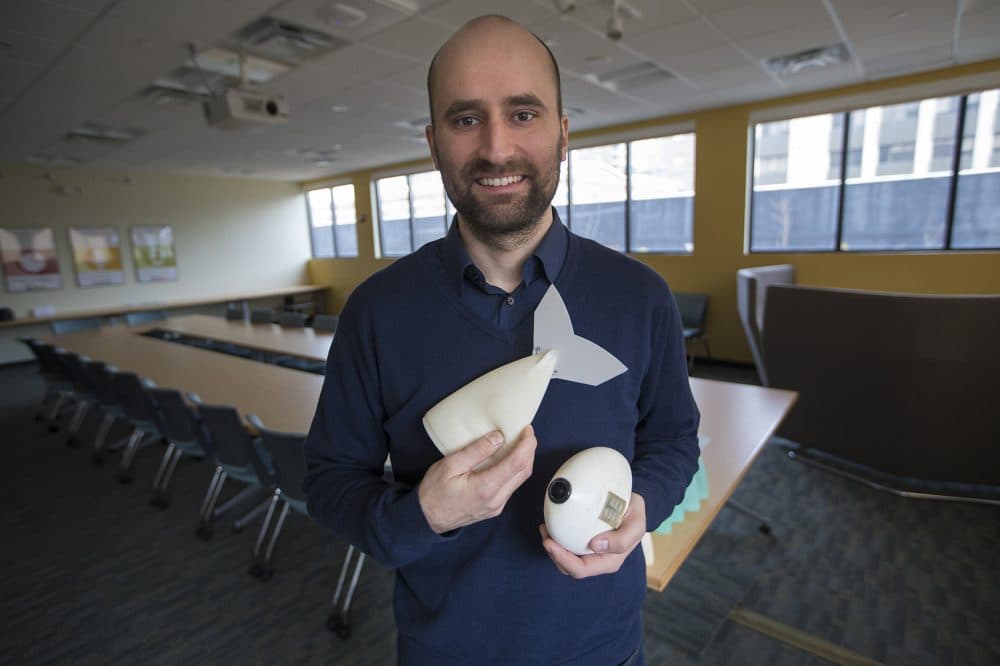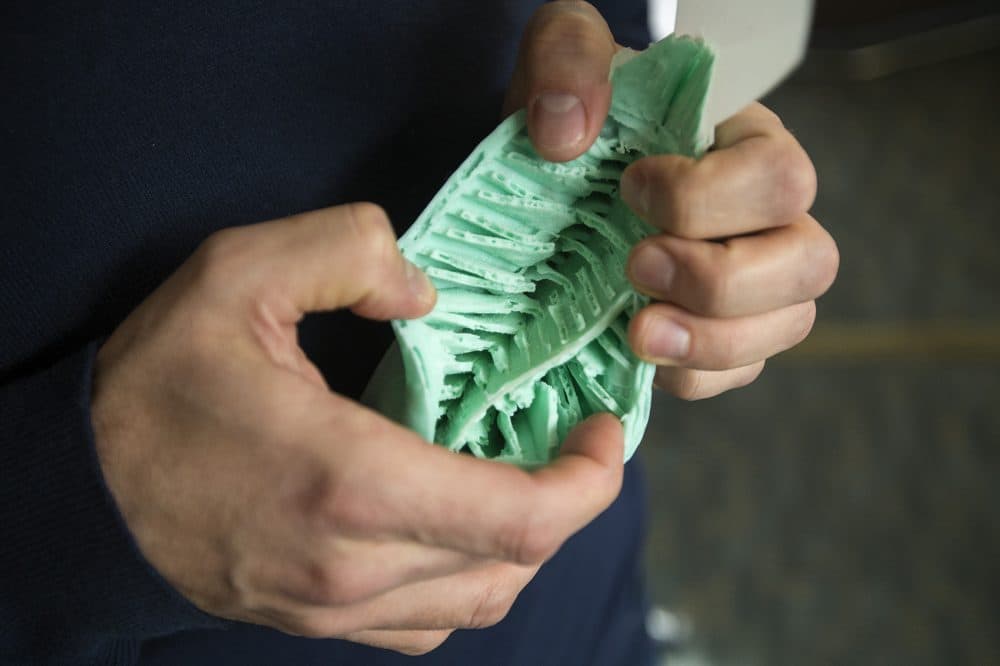 On the importance of acoustic signals for controlling SoFi, and how 3-D printing was used to make the robot's components
"For SoFi, acoustic signals have the importance of high-level commands. So SoFi can be told us commands about, 'Please keep going to your left, or keep exploring to your right.' You have a diver several feet away, and the diver tells that to SoFi, and it happens every second that SoFi gets a ping from the diver using ultrasonic sound waves."
"All of the molds that we used to make the tail are 3-D printed. The tail itself is made of a silicone elastomer, it's a type of rubber. Otherwise, the hull and the nose and all of these things are made of 3-D printed material."
On how other fish react to SoFi in the ocean
"We had a various set of reactions, but mostly they were not bothered by SoFi. So most fish were continuing in their path, to continue swimming. We saw some fish swimming alongside of SoFi, and yeah, just following SoFi on the sides, and some of the fish — especially when they're very small — we could see them swimming away. I assume it was just the size, and the eye facing forwards, but that's just a guess of mine."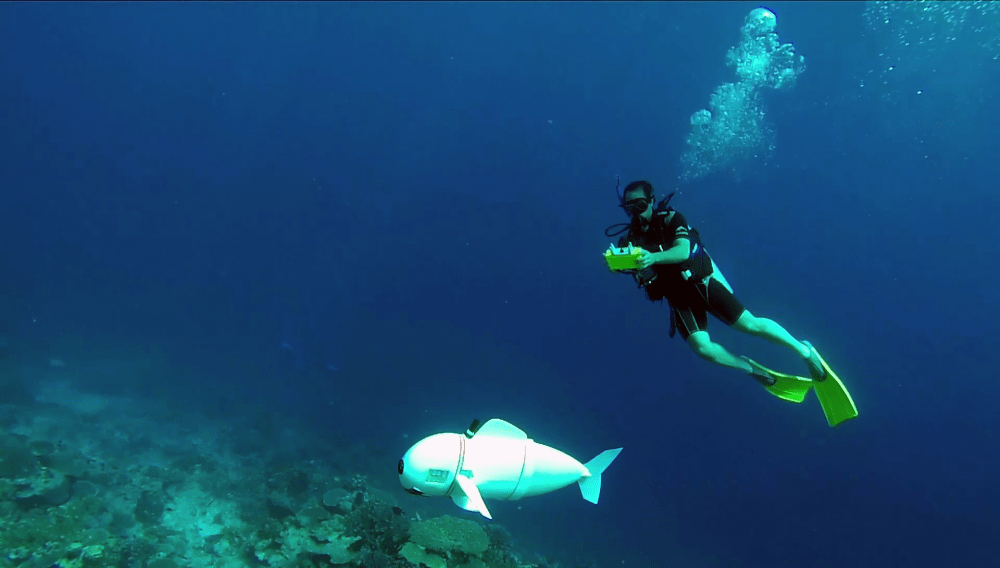 On concern about SoFi being eaten by a bigger fish
"I am both worried, but also curious to get the video footage of that."
On applications for the technology
"I hope that SoFi can be used for studying the ocean, and I think to that there are several aspects, like studying how other fish behave, study interaction between robots and fish, but also to use SoFi with its camera but also additional sensors that we plan to add to SoFi, to actually study pollution, to study change in temperature and other factors that affect the oceans."
"A lot of people laugh, they think it's mesmerizing to see SoFi swim and to move its tail, and a lot of people feel convinced that going in this direction can open up a new field of underwater research and understanding the interactions with actual biology, but actual real fish and with marine life."
On his dream for SoFi
"My dream would be to have a school of SoFi going through the ocean, and helping humans to get information and to learn more about the ocean and the things we have not learned about yet."
This article was originally published on March 30, 2018.
This segment aired on March 30, 2018.