Female Trump Supporter: Let's Look At Policies, Not Private Behavior
05:34
Play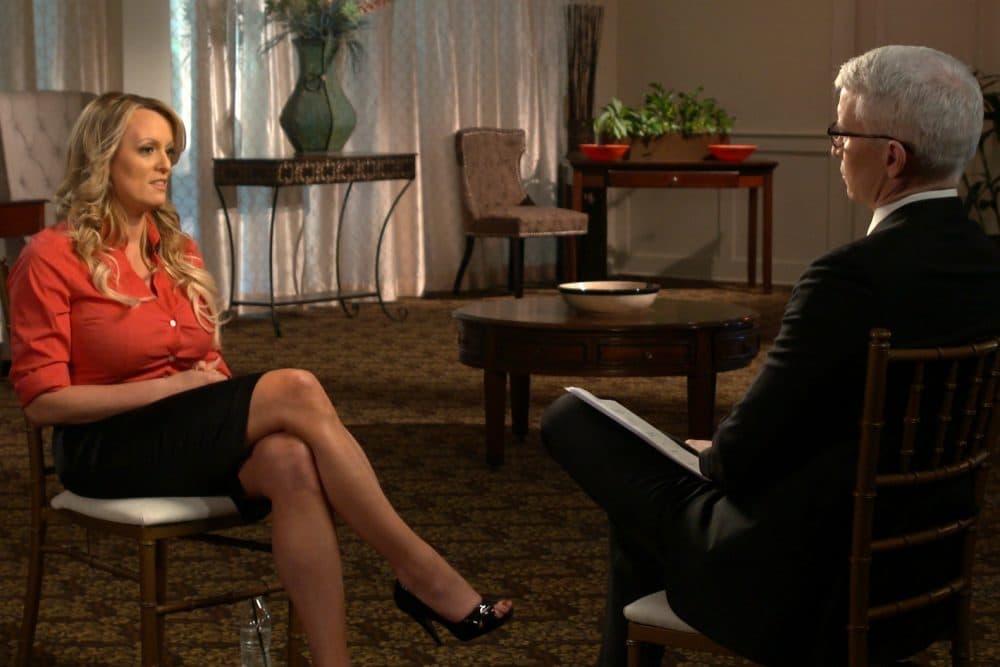 This article is more than 3 years old.
Despite allegations of extramarital affairs against President Trump by two women — former Playboy playmate Karen McDougal and adult film actress Stormy Daniels — many women continue to support Trump.
Here & Now's Robin Young checks in with Kim Dowdle (@kimfucious10), who says the focus should be on policies and not Trump's personal life.
Interview Highlights
On supporting the president despite believing McDougal's and Daniels' stories
"Now, what he did with Karen was an affair. What he did with Stormy Daniels, Stephanie Clifford, is a one-night stand and she's running on it. Here's my opinion: There are many men that have been in high authority that have had extramarital affairs. And also, just because I support my president does not mean that I think he's a good man. I think he loves America. Let's get that straight. Look at JFK, Martin Luther King Jr. I love Martin Luther King Jr. He had an affair. And so why can I support my president and not support someone like Roy Moore? Let's go there. Not supporting Roy Moore is a big deal in this state. What I think Stormy Daniels is doing is a win for herself. What I think that Beverly [Young Nelson] and Leigh [Corfman, Moore's accusers] did, what I think they did was they chose to help solve the problem for America. My personal view is that I feel like Stormy Daniels is borderline treason.
"And the thing is, why did she not come out prior? If you really do your research, you're going to see that she's denied five different times. I'm so sick and tired of people telling me that the people like Beverly and Leigh came out as an opportunistic venture against Roy Moore. What they did was help solve a problem in America so that we didn't have another problem in Washington."
On private life versus policy
"What unsettles me the most is the fact that the attention is being taken off of policy and put onto rhetoric, and there's so much wrong with this country, and there's so much right with this country. But no one can see the right and the wrong so that we can correct the first and emphasize the latter, because we're worried about what he's doing privately.
"I cannot even begin to fathom how different my life would be living in the South, particularly in Birmingham, Alabama, if people had focused on Martin Luther King Jr.'s sexual behavior versus the words that came out of his mouth, the heart behind what he was trying to call for all color. You know, people don't like President Trump because he's not polished. That's why we voted for him, everyone. Hello. He's got great policies. If we just stop and look at the policies, Roy Moore could be stopped before he began. Trump's in office right now. So you better figure out what he's about and not where he is in the bedroom."
This article was originally published on April 02, 2018.
This segment aired on April 2, 2018.