'Library On Wheels' Travels The Path Of America's First Bookmobile
Play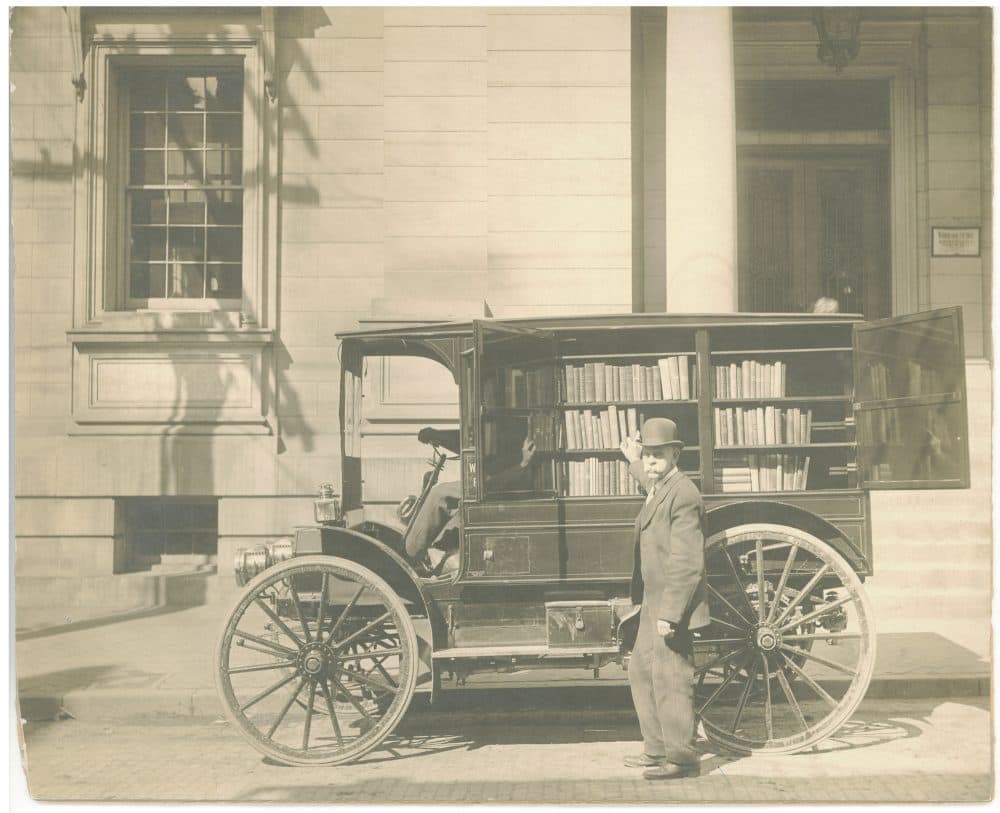 This article is more than 4 years old.
The first bookmobile was the brainchild of Mary Lemist Titcomb in early 20th century Maryland.
Author Sharlee Glenn (@SharleeGlenn) tells her story in the new children's book, "Library on Wheels: Mary Lemist Titcomb and America's First Bookmobile." Glenn joins Here & Now's Peter O'Dowd to talk about the book.
Interview Highlights
On Mary Lemist Titcomb

"The fact that it was a woman who came up with the — not only did she come up with the idea of what we now call the bookmobile, but she actually designed the very first one. It was a horse-drawn wagon pulled by two horses named Dandy and Black Beauty.
"Really the only careers open to women at that time were nursing or teaching. And neither of those really appealed to her, but she learned that there was a new field, librarianship, and that appealed to her. There was no formal training programs at that time so she had to sort of apprentice herself, and this was at a library in Concord, Massachusetts. And so she learned how to be a librarian and then was asked to come, so it's an interesting story. Public lending libraries were a pretty new thing in America. The movement sort of started in New England, but there was a forward-thinking individual in Hagerstown, Maryland, and he felt that not just Hagerstown, but the entire county, needed a library. So he raised the money to build a library, and then he had to go find a librarian to run it, and so he went to New England and found Mary Lemist Titcomb."
On the original bookmobile
"Hagerstown is the county seat of Washington County, which is 500 square miles. About half of the population of the county, 25,000, lived in Hagerstown. But there were 25,000 other residents of the county that lived in outlying areas. And so there were a lot of farmers and outlying villages and farms that they never made it into the library in Hagerstown, and she felt very strongly that if this was to be a county library it needed to serve the entire county."


On how the bookmobile has evolved through the years
"It began, as I say, as a horse-drawn wagon that could hold about 200 books. The second book wagon was actually motorized. It could hold about 300 books. There has been, from that time, from 1905 was when the first book wagon made its maiden voyage, until now, there has always been a book wagon/bookmobile in Washington County."
"She felt very strongly that if this was to be a county library it needed to serve the entire county."

Sharlee Glenn
On what Mary Lemist Titcomb would think of the bookmobile's legacy

"I think she would be thrilled to know what came of her idea of the bookmobile. In the 1960s and '70s, which was sort of the heyday, there were over 2,000 functioning bookmobile across America that's fallen off a little bit.
"My bookmobile, where I grew up ... here in Utah also no longer exists, which is very sad because the bookmobile, to me, was everything. I grew up in northeastern Utah in a small, rural farming community. And there were seven children in my family. My father died in a mining accident when I was 5. We didn't have a lot of money. The nearest library was 15 miles away from our home, but, every two weeks, the bookmobile pulled up ... in my little farming community and brought the universe to me in the form of books to read. It's very personal, yes, and there's still a use for the bookmobile, not only in rural areas, but in South America, for example, in some places, they use burrows to carry books to remote areas. Or in the Middle East and Africa, they use camels. You know, this idea that she had of the need of getting books to people — not just the elite, but everyone — there still is need for that, certainly."
This article was originally published on April 10, 2018.
This segment aired on April 10, 2018.