Spring Greens Recipes That Will Make You Forget The Winter Cold
Play
This article is more than 5 years old.
With spring in full swing, Here & Now resident chef Kathy Gunst is experimenting with seasonal greens like watercress, arugula, chives and dandelion greens. She brings host Robin Young recipes and dishes that show off their fresh, vibrant flavors.
---
Spring greens are like a tonic after a long winter, and these recipes provide color, texture, nutrients and a fresh taste of the new season. Think arugula, watercress, dandelion greens, sorrel, chives and dill.
Use these fresh greens in egg dishes (spring green frittata), soups, salads and stir fries.
Green Herb Spring Salad
This is a very simple salad that pays tribute to the fresh green flavors and crunchy textures of spring. The only "trick" is to thoroughly wash and dry all the greens.
Try not to make the salad too far in advance. The dressing, however, can be kept in a jar in the refrigerator for at least a week. The salad can be served as a "condiment" with grilled fish, meat, cheese, bread or as a traditional salad.
Serve with crusty toasted bread. Serves 4 as side dish or 2 as a more main-course salad.
The Lemon-Chive Dressing
1 1/2 tablespoons minced fresh chives
1 scallion, very thinly sliced
Juice of 1 large lemon, about 2 1/2 tablespoons
1 tablespoon white wine vinegar
1/3 cup olive oil
Salt and freshly ground black pepper to taste
The Salad
1 medium fennel bulb, cored, cut in half and very thinly sliced
1 1/2 tablespoons fennel fronds (the dill like herb on top of the fennel bulb), finely chopped
4 radishes, very thinly sliced
1 bunch Italian-style parsley, chopped with stems, about 2 packed cups, or 1 cup parsley and 1 cup young dandelion greens, stems removed and large leaves coarsely chopped
1/4 cup fresh dill (and stems), chopped
1/3 cup fresh mint leaves, removed from stems and torn or coarsely chopped
1 1/2 tablespoons minced fresh chives
Instructions
Make the dressing: In a small jar or bowl, mix all the ingredients and taste for seasoning, adding more lemon, oil, salt or pepper as needed. Cover and refrigerate until ready to use.
In a shallow salad bowl or large plate, mix all the salad ingredients.
Just before serving, toss the salad with half the dressing. Serve the remaining dressing on the side.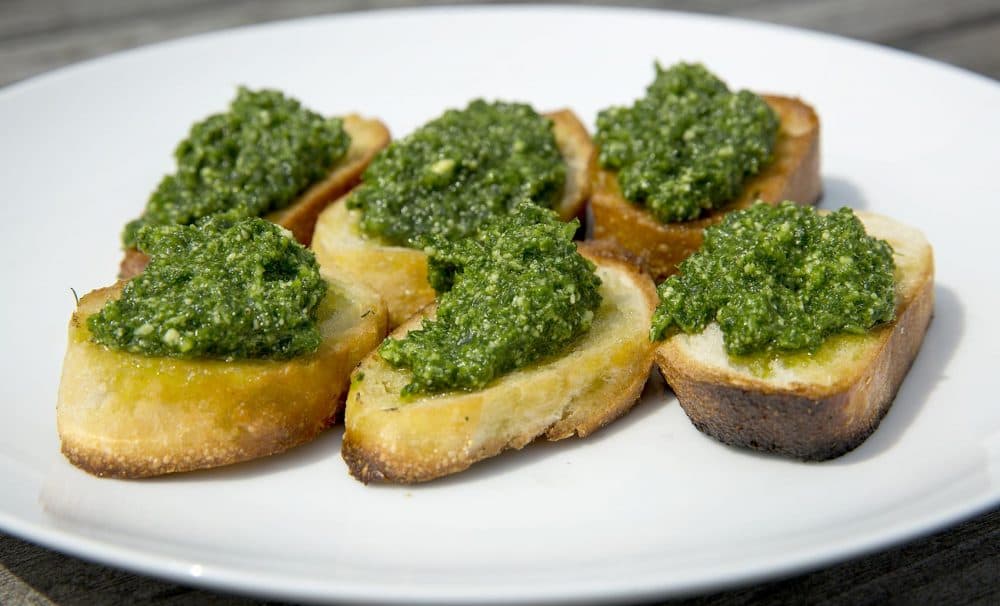 Arugula Pesto
This green pesto features the peppery bite of spring arugula, not traditional basil, and is as comfortable on pasta or grilled salmon as it is spread onto a slice of crusty bread.
Makes about 1 cup.
Ingredients
4 packed cups tender arugula, with or without stems, depending on how tender they are
1 clove garlic, chopped
3/4 cup olive oil
Salt and freshly ground black pepper
Speck red pepper flakes, optional
1/2 cup grated Parmesan or Romano cheese
Instructions
Place the arugula (and the stems if they are young and tender) in the bowl of a food processor. Whirl to chop. Add the garlic and whirl. Slowly add the oil, salt, pepper, and red pepper flakes if using.
When almost fully pureed, remove from the food processor and place in a bowl or jar. Stir in the cheese and taste for seasoning.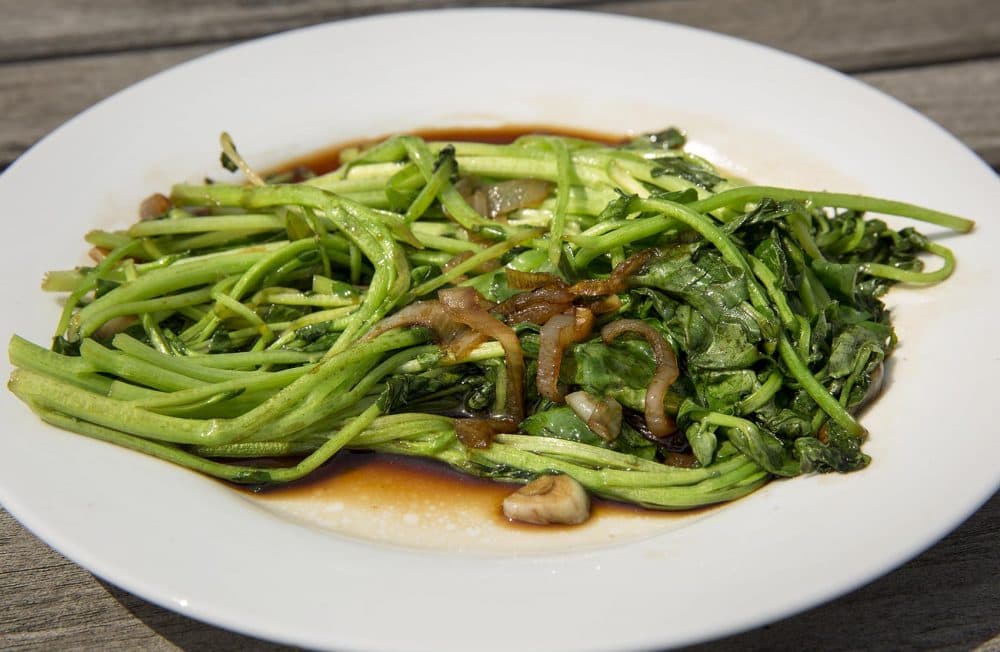 Sauteed Watercress With Ginger And Soy
You may think of watercress as something you put in a pretty tea sandwich or as a garnish for other foods. But watercress, a spring green, can take center stage.
This is the simplest stir fry imaginable: Fresh spring watercress is stir fried with shallots, garlic, ginger, a touch of red chile flakes and a splash of soy sauce. The whole dish takes under 15 minutes. Serve with steamed white or brown rice.
You can easily add or substitute spring spinach, sorrel and/or dandelion greens. Serves 4.
Ingredients
1 1/2 tablespoons canola oil
1 large shallot, or 2 medium, cut into thin slices
1 1/2 tablespoons minced fresh ginger
1 clove garlic, finely chopped
2 large bunches watercress*
Pinch red chile flakes, optional
About 1 to 2 teaspoons soy sauce or tamari
*If the watercress and its stems taste tender, add them. If not, remove them. Wash watercress and thoroughly dry before cooking.
Instructions
In a wok or a large heavy skillet, heat the oil over medium-high heat. Add the shallots and cook 2 minutes, stirring frequently. Add the ginger and garlic and cook another minute, stirring to make sure the aromatics don't burn.
Raise the heat to high and add the watercress and cook about 2 to 3 minutes, stirring frequently, until wilted and just soft. Add a pinch of chile flakes and the soy sauce and cook another minute, letting the sauce boil, stirring frequently. Serve hot.
Spring Sorrel Soup
Sorrel is an early spring green that has a subtle lemony flavor — it's slightly bitter, but pleasing. It grows wild in many fields and gardens in early spring and the more it matures, the stronger the flavor becomes. It's really easy to grow and can also be found at farmers markets and specialty food shops.
We have it growing wild in and around our garden; I can always identify the leaves by taking a small bite of the green and discovering the lemon flavor. You can also add or substitute spring spinach or dandelion greens. Potatoes make for a thicker soup, but if you want more of a thin green broth, you can omit them.
One of the best things about this soup (other than the flavor) is that it works equally well served hot or ice cold on a hot spring day. Serves 4 to 6.
Ingredients
1 tablespoon butter
1 tablespoon olive oil
1 large leek, cut lengthwise and into small pieces
1 large potato, or 2 medium potatoes, peeled and cut into small pieces
5 packed cups sorrel, cleaned and picked over, discard any tough stems, plus 1/2 cup sorrel for garnish
Salt and freshly ground black pepper
4 cups vegetable or chicken stock
About 1/3 to 1/2 cup cream, depending on how creamy you want the soup to be
Instructions
In a large soup pot heat the butter and oil over low heat. Add the leeks, stir well and cover. Cook about 10 minutes, making sure the leek isn't browning. Remove the lid and add the potato, salt and pepper to taste and stir well.
Add the stock, raise the heat to high and bring to a boil. Reduce the heat to moderately low, stir in the 5 packed cups of sorrel, cover, and let simmer about 15 minutes or until the potatoes are tender.
Remove from the heat and, using an immersion blender or food processor, blend the soup. Taste for seasoning. Return to the pot, add 1/3 cup of the cream, and simmer gently. Taste again for seasoning adding more cream if you like; you can also drizzle a little cream on top just before serving.
To serve, spoon the soup into a bowl and garnish with some of the remaining sorrel leaves. The soup is delicious hot or cold.
This segment aired on April 25, 2018.