'Keep Doing It Until You Get It Right': Alabama Pastry Chef On James Beard Award Recognition
Resume
Birmingham, Alabama, pastry chef Dolester Miles won this year's James Beard Foundation award for Outstanding Pastry Chef. She's been making desserts at Highlands Bar & Grill, Bottega and Chez Fonfon for more than 30 years.
The awards — known as the "Oscars of food" — honor excellence in cuisine, culinary writing and education.
Here & Now's Jeremy Hobson spoke with Miles prior to the win about her work, and her advice for aspiring pastry chefs. She says her love of cooking desserts began as a child, when she made lemon meringue pie and German chocolate cake with her mom and her aunt.
"I would get in the kitchen with them. I'm like, 'Well hey, give me the spatula. Let me lick the beaters!' " Miles says. "So I used to enjoy it, and I wanted to be a part of it, so you know, as I got older, they used to start letting me cook."
Interview Highlights
On what she enjoys about making desserts
"[Dessert is] really the first that you remember because that was the last thing that you had. And you know, just see the expression on people's face when they eat them, and you know, everybody likes something sweet, so that person is always popular."
On how being diagnosed with diabetes has influenced her life and career
"Oh well at first when I found out, it was depressing because you find out that the thing that you love do you really can't eat. So I had to like, you know, I try to space myself because you know, you have to taste. And you know, it is still hard even today, you know, I was diagnosed with it about 10 years ago, but I'm doing good."
"Everybody likes something sweet, so that person is always popular."

Dolester Miles
On her advice for young, inspiring pastry chefs
"I would tell them to follow their dream. You know, I really didn't go to college for it. … I didn't go for cooking, but I learned by doing and watching, and I think that's the best way. When in my younger days I used to mess up desserts, throw that it in the trash and tried again! You know, you just keep doing it until you get it right."
Miles' Coconut Pecan Cake Recipe
Serves 12 to 14
1 cup firmly packed, sweetened shredded coconut
3/4 cup pecans halves, toasted
2 cups of sugar
2 1/4 cups all-purpose flour
1 tablespoon baking powder
3/4 teaspoon salt
1 1/2 sticks unsalted butter, softened
1/4 cup cream of coconut
4 large eggs
1 cup plus 2 tablespoons unsweetened coconut milk
1 teaspoon liquid coconut extract, or 5 drops of concentrate
1 cup simple syrup for brushing onto the cake layers
For the filling:
2 large egg yolks, lightly beaten
3/4 cup sweetened condensed milk
4 tablespoons unsalted butter
1 tablespoon cream of coconut
1 cup shredded coconut
For the icing:
1 cup of heavy cream
1/4 cup confectioners' sugar
1 teaspoon coconut extract
2 cups sweetened coconut, toasted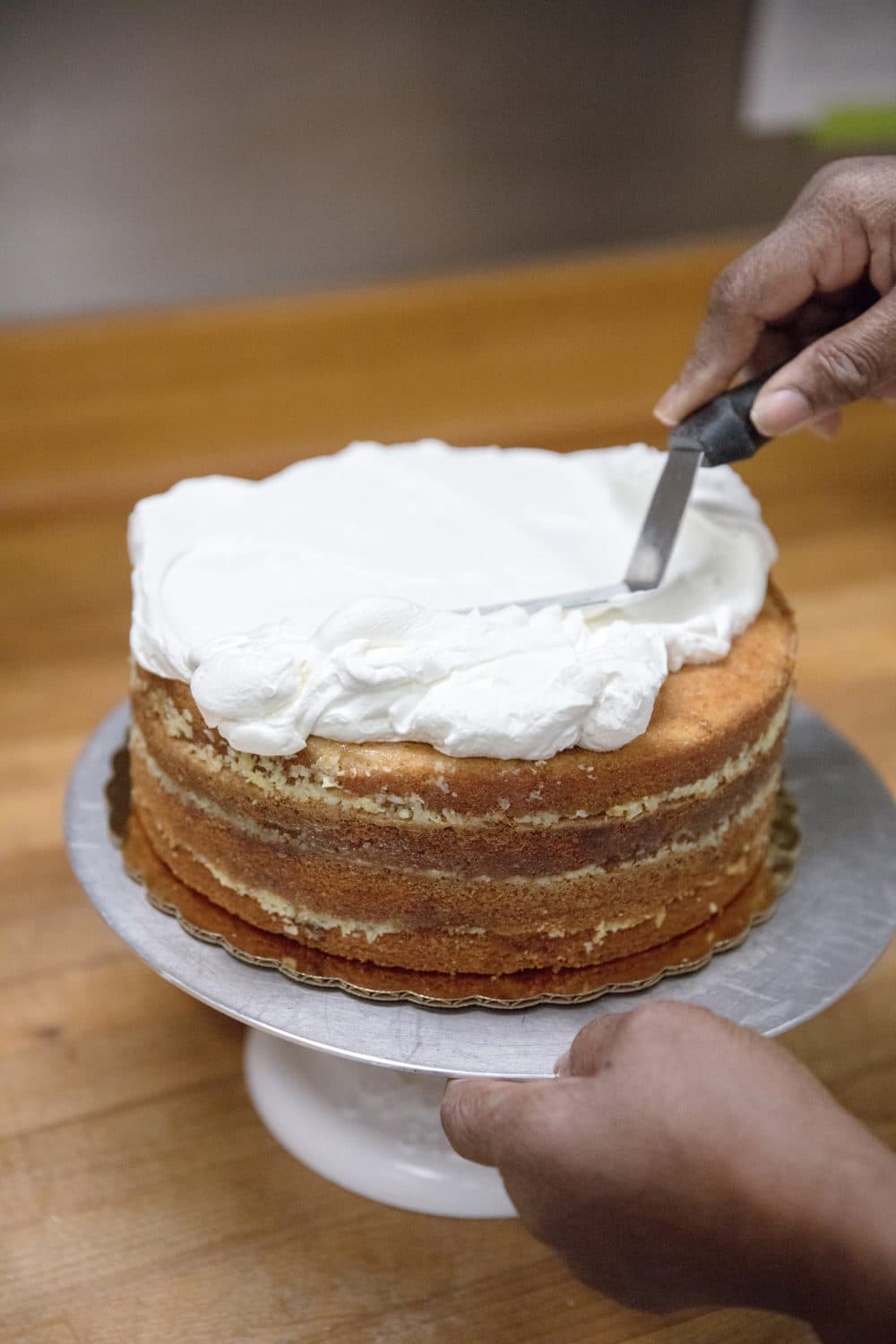 Steps:
Preheat oven to 350°F.
Grease two 9-inch round cake pans and line the bottom of each with a circle of parchment paper. Grease the parchment paper, then dust with flour, tapping out any excess.
Finely grind the coconut in a food processor, then transfer to a bowl.
Add the pecans to the processor, along with 2 tablespoons of the sugar, and finely grind them.
Sift together the flour, baking powder, and salt into a large bowl. Stir in the ground coconut and pecans.
In the bowl of an electric mixer fitted with the paddle attachment, beat the butter, cream of coconut, and the remaining 1 1/4 cups plus 2 tablespoons sugar on high speed until light and fluffy, about 4 minutes.
Beat in the eggs one at a time, beating well after each addition, then beat in the coconut extract. Add the flour mixture in 3 batches, alternating with the coconut milk, starting and ending with flour mixture.
Divide the batter between the prepared pans and smooth the top of each with a spatula. Bake until the cakes are golden and a tester comes out clean, 30 to 35 minutes.
Let the cakes cool in the pan on a rack for 30 minutes. Run a knife around the edge of each cake, invert onto wire rack, and remove the parchment. Let cool completely.
While the cakes are cooling, prepare the filling.
Place the egg yolks in a small heatproof bowl.
Combine the condensed milk, butter, and cream of coconut in a small saucepan and cook over medium-low heat for 4 minutes, stirring constantly, until hot.
Whisk one-third of the hot milk mixture into the egg yolks.
Transfer the egg mixture to the saucepan of milk and whisk constantly over medium-low heat until the consistency of pudding, about 4 minutes. Do not allow the custard to become too thick.
Transfer the custard to a bowl and stir in the shredded coconut. Let cool completely.
To assemble the cake, cut each cake horizontally in half. Build the layer cake in a cake pan: Place one layer in the bottom of a 9-inch cake pan. Moisten the top with some of the simple syrup. Spread 1/2 cup of the coconut filling in a thin, even layer with an offset spatula. Repeat to make 2 more layers of cake and filling, then place the last layer on top.
Refrigerate the cake for about 1 hour.
To unmold, run a spatula around the edges of the chilled cake, invert a cake plate over the top, and flip the cake over onto the plate.
To make the icing, whip the cream with the confectioners' sugar and coconut extract until stiff peaks form. Spread the whipped cream on the top and sides of the cake and sprinkle with toasted coconut.
Refrigerate until ready to serve.
This article was originally published on May 07, 2018.
This segment aired on May 7, 2018.