Don't Panic Over Reports North Korea May Pull Out Of U.S. Summit, Scholar Says
06:39
Play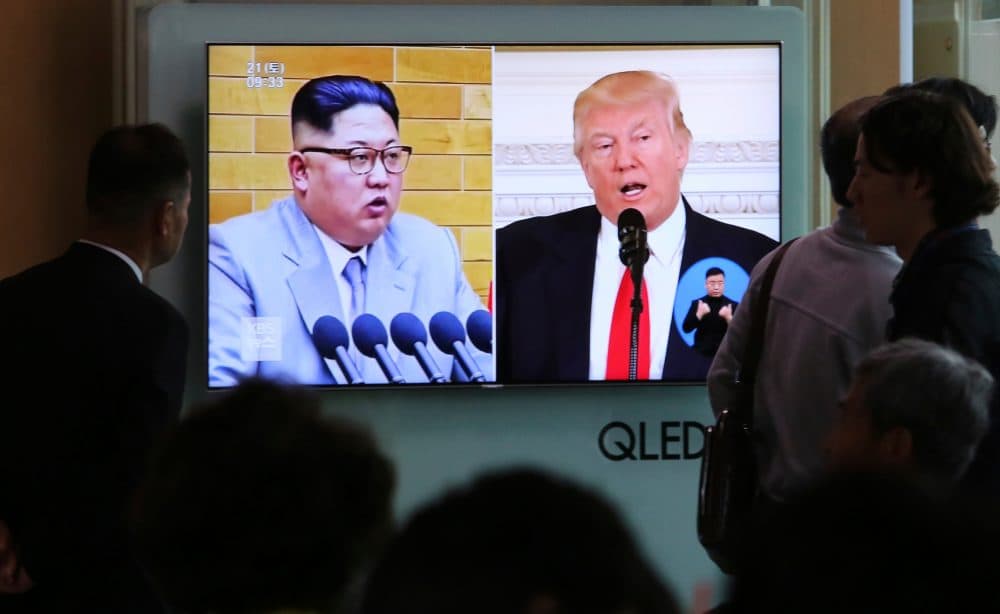 This article is more than 2 years old.
Pyongyang is threatening to pull out of next month's summit with President Trump, if the U.S. insists North Korea unilaterally give up its nuclear weapons.
In an angry statement, North Korea's vice foreign minister criticized national security adviser John Bolton, who recently said North Korea should follow a "Libya model" of verifiable denuclearization.
Balbina Hwang, visiting professor at Georgetown University and a former State Department senior adviser, says the North's change in tone isn't "impulsive," but rather "part of a longer-term strategy."
"I don't think that we should be panicking," Hwang tells Here & Now's Peter O'Dowd. "And I think we should let this play out and see what happens."
Interview Highlights
On the North's announcement that the summit might not happen
"Well in fact this is not quite a sudden shift. Remember this is foreign minister Kim Kye Gwan, who is or has been for quite a long time, the lead negotiator that was involved in the discussions and negotiations of the denuclearization process for North Korea. And remember too that Kim Kye Gwan is the gentleman that is quite familiar with John Bolton, because John Bolton was in the [George] W. Bush administration, and he was the one that was the undersecretary for nonproliferation.
"Now, North Korea is very familiar with the history of what happened with Libya. [Libyan leader] Muammar Gaddafi was so terrified of what had happened with Iraq and Saddam Hussein, and so had willingly given up his fledgling nuclear program — which by the way had not really gotten off the ground — and was willing to give it up in exchange for essentially amnesty. But of course what happened afterwards is well known in history.
"But now, what is happening today is that Kim Kye Gwan is the foreign minister. Now, President Trump would not be meeting Kim Kye Gwan. President Trump would be meeting Kim Jong Un. What is very interesting about this is that nobody in North Korea — other than Kim Jong Un — has ever been punished for ever sticking his neck out and sounding fierce and coming out and sounding very, very tough, and very strong and threatening. The point being that Kim Jong Un does not punish anybody for sounding very, very hard-line."
"This could yet be the initial stages of the pre-negotiation process, because this is exactly the pattern that we always typically see with North Korea."

Balbina Hwang
On whether this is a negotiating tactic or a threat
"We simply don't know. But I also don't think that we should be alarmed right now and assume that North Korea is absolutely walking away, and that the summit has fallen apart and that now we are back on the precipice of ... back to the possibility of a nuclear war. I simply don't think that's the case. And I think we have to still give it a chance, and that this could yet be the initial stages of the pre-negotiation process, because this is exactly the pattern that we always typically see with North Korea."
On if North Korea decided to shift its decision on the summit because it needed to appear stronger
"No, not necessarily. And the reason I say that is because in that case we would be making the assumption that North Korea had sort of recklessly or impulsively raced to make this sudden turn, and had decided impulsively to go ahead and engage in this kind of very sudden change. And I don't think that that is the case.
"I think that in fact Kim Jong Un is not this crazy impulsive leader. I think that he's actually very rational. I think that he has been very calculated, and that for the last five years that he has been in power, he has very steadily proceeded with his program. And I think that what we have seen recently was the result of a very, very steady and carefully plotted strategic decision that he has made. And so no, I don't think this was an impulsive decision."
On whether the White House has underestimated North Korea
"Possibly, but it's quite hard to tell what exactly is going on inside this White House. President Trump is making his own decisions. Secretary [of State Mike] Pompeo, [national security adviser John] Bolton, they seem to be quite confident in their roles as his advisers. But in the end, I think President Trump is the decider. I think President Trump is going to decide during the meeting, if that happens with Chairman Kim, he will decide whatever he wants to decide to do. ... I think that these two very unusual leaders are evenly matched."
This article was originally published on May 16, 2018.
This segment aired on May 16, 2018.