Meet The U.S. Military Dogs Being Honored For Their Service Overseas
Resume
Four K-9 veterans will receive the American Humane Lois Pope K-9 Medal of Courage on Tuesday on Capitol Hill, for demonstrating "exceptional valor" during their service in the U.S. military.
Jag, a 12-year-old Labrador retriever, was a specialized search dog in the Army, working to detect improvised explosive devices. Taba, a 9-and-a-half-year-old Dutch shepherd, also worked with the Army detecting explosives and doing patrol work.
Then there's 7-year-old lab Summer, the youngest of the group, and 12-year-old lab Taker, an explosives detection dog with the Marine Corps.
"Three of them are enjoying their retirement," says Amy McCullough, national director of American Humane's Lois Pope Life Center for Military Affairs. "Summer is the one that is still working."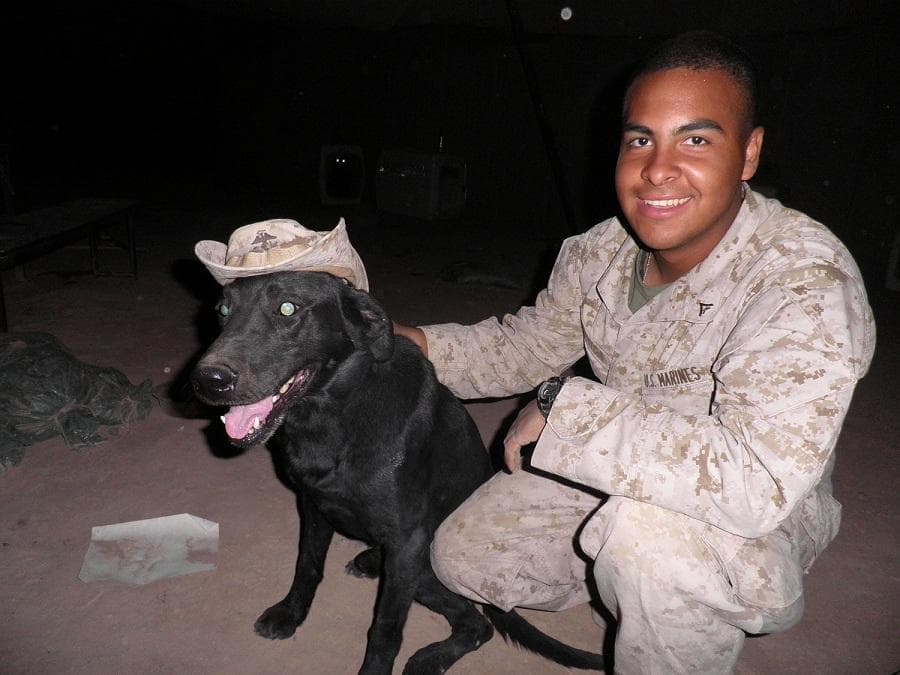 Many of the around 2,500 active-duty U.S. military dogs have sniffed out bombs, saved lives and helped soldiers get through difficult tours of duty.
"Not only do they protect our troops, but they provide that camaraderie and boost morale and help comfort people when they're off and on their downtime as well," McCullough (@amymccullough) tells Here & Now's Jeremy Hobson. "It's great to have a friendly dog around."
Three of the four dogs being honored Tuesday are labs, a breed that's well-suited for military life, McCullough says.
"They have that desire to chase and search tirelessly," she says. "They're very trainable, highly motivated by play and food. So labs make great military working dogs as well."
A military dog will work with several handlers throughout its career, McCullough says, serving for a few months to up to a year before switching to a new one.
"They go on to their next duty as the handler does. So the handler spends a few weeks getting to know that particular dog," she says. "But they're trained similarly and perform similar tasks, so the transitions are pretty smooth."
And just as service members can confront health challenges like post-traumatic stress disorder, military dogs can, too.
"What that looks like is some of the sounds that they've heard, they have traumatic memories associated as well," McCullough says. "In fact, Summer ... has that experience when she hears loud booms or gunshots. You can see she sort of shuts down and gets very still and calm."
This article was originally published on May 22, 2018.
This segment aired on May 22, 2018.