'She Was The One That Took Care Of Me,' Says Husband Of Santa Fe Shooting Victim
Resume
Students are returning to Santa Fe High School in Texas for the first time since the mass shooting there less than two weeks ago. Ten people were killed, including Cynthia Tisdale, a substitute teacher at Santa Fe High who had been teaching an art class when the shooting began.
Cynthia also was a full-time caregiver for her husband, William "W.R." Tisdale, after he was diagnosed with a life-threatening lung disease.
"It's been the most difficult time of my life," W.R. tells Here & Now's Jeremy Hobson. "I never, ever expected to lose my wife. The night before she was shot, we were making funeral arrangements for me, because I've got this lung disease. It's just one of those things you never, ever think your wife or anyone you know is going to be shot and killed the way she was."
Interview Transcript
On money that's been raised for his lung disease treatment
"[I'm going to] someday this week call the Lung Institute in Dallas and get the procedure started, where they take stem cells out of my bone or my body, take the old ones out. They go through a process where they only use the new ones, and then I go back the next day and they inject them into my body. I've been told it works and I've been told it doesn't work. But I do know if I don't at least try it, I probably may make it through the end of the year, and that's about it. So to me, it's worth try. I mean, I can't lose."
"She was just that woman, you know, the one you read about that never gets any praise, but she should have been."

W.R. Tisdale
On what Cynthia would be doing to help him
"She would be setting an appointment for me, and even driving me up there. She was the one that took care of me, and cared for me, babied me, for almost 47 years. Also the night before this happened, I was extremely ill, and she came home from school and looked at me and said, 'You don't look well.' I said, 'Well honey, I've had a terrible day.' 'Did you eat?' And I said, 'No I didn't. I just, I don't feel like eating.' So she opened a can of soup, chicken noodle, warmed it, sat on the floor by my chair and spoon-fed me, and made me eat. When I said I was full, she said, 'No you're not.' And she made me eat nearly that whole can. She was just exceptionally good to me, I mean almost 47 years."
On a note Cynthia left him the day of the shooting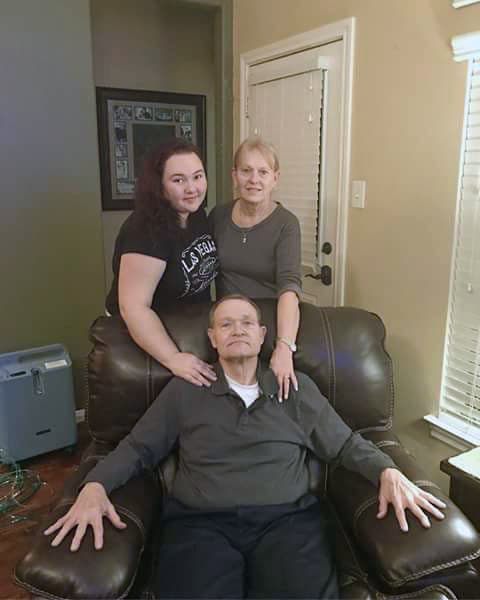 "I'll read it to you ... and she wrote me a lot of notes about things, and I never saved them. I wish I would have. This one, she said, 'I had to go meet a teacher' — and I assume it's the other teacher that got killed — 'I love you. Hope you feel better today. Love, Mom. And I left you breakfast.' So I just left a note in the bathroom, and when I went into the kitchen, there was some breakfast. I guess by the end she had already been shot. But we didn't ... I mean, you know, they called me about it. It just became a blur that day, until my son ... came over that night and told me. And we buried her Friday. One week before birthday she was killed, and we buried her on her birthday.
"And when Mother's Day was here, my daughter took me out and went into the local store that sells cards, and she came out and got me where I could ride the cart in, and I bought her a Mother's Day [card], and went on and bought her a birthday card while I was there. I never knew that was the last one. We were going to buy an anniversary card, because I don't know if I'm going to be here in September. That would have been 47 years. I told my daughter, I said, 'I want to buy her a 50th wedding anniversary card, too, because I know unless something changes, I won't be here.' And I asked my daughter to give it to her. And now that won't happen. But people have been ... the Lord's good to me. Really, I've had an outpouring of love and encouragement from people."
On what he would want people to know about Cynthia
"Well, she loved her husband, loved her grandkids, loved her children. The daughter I mentioned got flooded during [Hurricane] Harvey, and she was working also to help fix her house. So she was a lady that loved me, loved her family and just loved people in general. I've had people walk up to me and tell me stories [of what] she did for them, and I never knew, and she never expected anything in return. She just was a good mother, and a good grammy. And for me, she took care of me. And I've had back surgery, I've had heart [surgery], I've had just about everything go wrong with me as I've gotten older. And she had been there when I had my back surgery. I didn't want someone bathing me. But she came up and would bathe me every night. She was just that woman, you know, the one you read about that never gets any praise, but she should have been. I'll miss her, and many friends are going to miss her."
---
Here's more information about Tisdale's lung disease treatment fundraiser.
This article was originally published on May 29, 2018.
This segment aired on May 29, 2018.