How Flint's Water Crisis Happened, And Why It Isn't Over
Play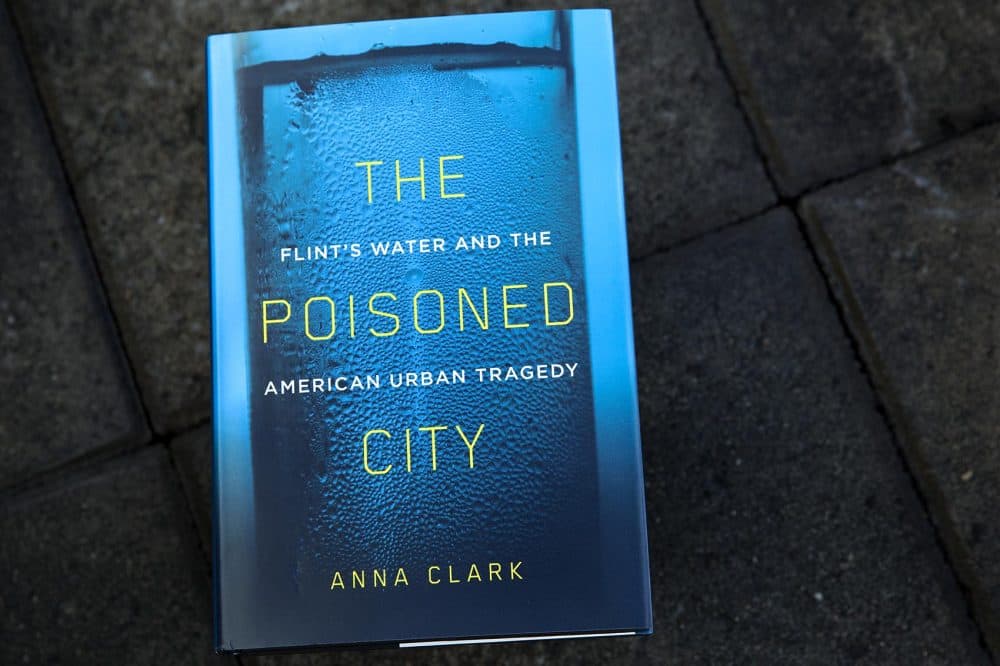 This article is more than 4 years old.
In April 2014, Flint, Michigan, changed its water source and residents were exposed to high levels of lead and other pollutants. Reporter Anna Clark writes about the factors that led to the crisis in her new book "The Poisoned City: Flint's Water and The American Urban Tragedy."
Here & Now's Jeremy Hobson talks with Clark (@annaleighclark) about the book.
Scroll down to read an excerpt from "The Poisoned City"
Interview Highlights
On why Flint officials wanted to change where the city got its water from
"It had been relying on water from Lake Huron from the Detroit Water Department for about 50 years. The quality was good, but there was a lot of unhappiness about the affordability. It was extremely expensive — the most expensive or among the most expensive water rates in the country. And especially for a city with a very high poverty rate, this was really getting to the point of crisis. And a lot of folks really felt like, 'We want our own water system. We want some more control.' So it decided, it was under state-appointed emergency management, that it was going to switch to a new water department. And until that new water department was built, it was going to temporarily use the Flint River as its drinking water source, and sort of reboot its 50-year-old water plant to provide that."
"Treating river water is vastly more complex than treating lake water. The upgrades to the water plant were insufficient to deal with that."

Anna Clark
On the dramatic announcement of the city's switch to Flint River water
"It was really celebrated. I mean, media was there, they had this ceremony at the water treatment plant, with a countdown and cheers and toasts with the river water and a lot of folks are really celebrating that, 'This is us getting back to our roots, and returning to some self-determination, self sovereignty.' And of course looking back, this is terribly heartbreaking, because the river ... I mean the problems were that treating river water is vastly more complex than treating lake water. The upgrades to the water plant were insufficient to deal with that. And most ominously, the water was not treated with something called corrosion control, and this is something that you add to the water to help keep our very old, ill-maintained water lines from breaking down and having the metals contaminate the water by the time it gets to our tap."
On the health effects of lead from corroded water pipes getting into the water
"There was a series of bacterial issues and other issues with the water even before lead came on the radar. There was also a huge outbreak of something called Legionnaires' disease. That's what actually killed people. With lead, what's frightening about this is that there is no amount of lead that is safe. Children are much more susceptible to it, because their developing bodies absorbed up to five times more lead than adults. And its toxic effects, which can range from more antisocial aggressive behavior, stunted growth, anemia. For adults, miscarriages, reproductive problems — it can take a little while for some of these to show up. But they are also unfortunately uncurable."
On how Flint being run by unelected emergency managers factored into the crisis
"It was huge. In Flint, they had an emergency manager appointed in 2011, and a series of them were in place consecutively up and through April 2015. So essentially through the entirety of this crisis, and all the decisions that were made here. Two of these officials ended up being indicted in the criminal investigation that has since followed. There's an unusually direct route for the state's accountability for what happened in Flint, given that this was a system that was in place in Flint."
"There are reasons people love it, why they want to stay, why this is a community worth fighting for."

Anna Clark
On Flint's history with issues like racism, segregation and redlining
"The water crisis did not start with the switch in April 2014. I think it really goes back decades. Flint, unfortunately, was the most segregated city in the North and the third most segregated city nationwide. And as it became a destination for African-American migrants from the South, where its population was exploding, everybody's coming to these General Motors plants, this was really brought to a point of crisis. It had two neighborhoods where black people could live, and very explicitly they were denied access to other homes. Once there was fair housing laws and school desegregation laws that broke down the system, Flint's population started to decline, as a lot of these white middle-class and upper-class folks left.
"So Flint today has less than half the number of residents as it had in the 1960s. The infrastructure did not shrink along with the population. So it has far fewer and poorer people, who are expected to pay to support a water system meant to serve twice as many — and not just residents, but also all those huge industrial plants. The pipes were built with large circumferences to support all the water that they needed. So this directly relates to how unaffordable the water was for residents. It directly relates to how this infrastructure was disintegrating, and it also meant that the folks who lived in areas where there was a lot of vacancy, they had water that was much riskier to drink, because the water sits stagnant longer, and pipes that go over stretches of vacant land in these large pipes, it has more time to absorb the corroding lead and iron and other contaminants from the pipes."
On what surprised her while working on this book
"So many things surprised me. One thing, I don't know if this was exactly a surprise, but it is one of the great gifts of having the opportunity to spend a few years working on this: I really love Flint. I think so many times when we tell Flint's story nationally, we do this litany of loss — the people, the business, the industry, all these things, and it's real, and it's serious and we need to talk about it. But this sometimes can erase what is there in Flint, which is nearly 100,000 amazing people, a lot of wonderful institutions that are doing great things in the community. For example, they have the largest planetarium in the state. Their art museum, which is amazing, just did this wonderful expansion. There's those volunteers who are taking care of the Flint River. There's neighborhood festivals all the time. It's just a great place to be.
"There are reasons people love it, why they want to stay, why this is a community worth fighting for. That is something that I feel like is a story that needs to be told right alongside the chronicle of the city's hardships."
Book Excerpt: 'The Poisoned City'
by Anna Clark
On a hot day in the summer of 2014, in the Civic Park neighborhood where Pastor R. Sherman McCathern preached in Flint, Michigan, water rushed out of a couple of fire hydrants. Puddles formed on the dry grass and splashed the skin of the delighted kids who ran through it. But the spray looked strange. "The water was coming out, dark as coffee, for hours," McCathern remembered. The shock of it caught in his throat. "Something is wrong here."
Something had been wrong for months. That spring, Flint, under direction from state officials, turned off the drinking water that it had relied upon for nearly fifty years. The city planned to join a new regional system called the Karegnondi Water Authority, and while it waited for the KWA to be built, it began bringing in its water from the Flint River. McCathern didn't pay much attention to the politicking around all this; he had enough to worry about at his busy parish. But after the switch, many of his neighbors grew alarmed at the water that flowed from their kitchen faucets and shower heads. They packed public meetings, wrote questioning letters, and protested at city hall. They filled clear plastic bottles from their taps to show how the water looked brown, or orange, and sometimes had particulates floating in it. Showering seemed to be connected with skin rashes and hair loss. The water smelled foul. A sip of it put the taste of a cold metal coin on your tongue.
But the authorities "said everything was all right and you could drink it, so people did," McCathern said later. Residents were advised to run their faucets for a few minutes before using the water to get a clean flow. As the months went by, the city plant tinkered with treatment and issued a few boil-water advisories. State environmental officials said again and again that there was nothing to worry about. The water was fine.
Whatever their senses told them, whatever the whispers around town, whatever Flint's troubled history with powerful institutions telling them what was best for them, this wasn't actually hard for people like McCathern to believe. Public water systems are one of this country's most heroic accomplishments, a feat so successful that it is almost invisible. By making it a commonplace for clean water to be delivered to homes, businesses, and schools, we have saved untold lives from what today sound like antiquated diseases in a Charles Dickens novel: cholera, dysentery, typhoid fever. Here in Flint, it was instrumental in turning General Motors—founded in 1908 in Vehicle City, as the town was known—into a global economic giant. The advancing underground network of pipes defined the growing city and its metropolitan region, which boasted of being home to one of the strongest middle classes in the country.
McCathern is a tall, bald man with a thin mustache and a scratchy rasp in his baritone voice. At the time of the water switch, he had led the nondenominational Joy Tabernacle Church for about fifteen years. It was founded in the YWCA in downtown Flint, where it held baptisms in the swimming pool. But in 2009, it made a home in Civic Park, when a Presbyterian church closed after eighty-five years and gave its sanctuary over to the young and hopeful congregation.
By then, Civic Park, one of America's oldest subdivisions, was "a desert of deserted historically significant homes," the pastor said. Built between 1917 and 1919 by General Motors and DuPont and Company along curving, tree-lined boulevards, the tidy houses were designed for Flint's autoworkers and their families. But over the years, the neighborhood was blighted by vacancy. Empty two-stories with lurching front porches and crumbling roofs sat alongside crisply painted homes where Flint residents—they sometimes call themselves "Flintoids" or "Flintstones"—still lived their lives. When the sound of gunshots on the street outside interrupted services, McCathern gave a nod to the church musicians, urging them to play louder. Some called Joy Tabernacle a "thug church," he said, but McCathern saw the good. The young men filling his pews built a proud society, if not by getting their names on the honor roll, then by tagging their names with spray paint. In the end, people just want to be seen.
The ghosts of the past went well beyond Civic Park. Between General Motors and the United Auto Workers (which won the right to collectively bargain in Flint's sit-down strike in the 1930s), the city had been a flourishing hub for American innovation. There were more than a hundred different manufacturing establishments in town—ten of them employed at least a thousand people—and they made not only automobiles, but paints, varnishes, tools, dies, cotton textiles, and a wealth of other products. Flint had one of the highest per capita incomes in the nation and, despite being severely segregated, it was a magnet for African American migrants from the South. When Vice President Hubert Humphrey stopped by during the campaign for the 1964 presidential election, he praised Flint for "zooming ahead with unbelievable economic growth and progress." Workers earned wages that "are very good," Humphrey said, "and because of the great labor management program in this community over many years, there has been a constant rise in the standard of living."
Away from the assembly lines and the executive suites, the people of Flint felt that the city shouldn't just be a place to work; it should also be a place to thrive. Charles Stewart Mott, an auto pioneer who became GM's largest single stockholder and a three-term mayor, created a nationally renowned community schools program that provided education, skills-building workshops, and social services. (His influence is still felt through the C. S. Mott Foundation, a philanthropic power broker headquartered in the city.) The Parks Department had a robust Forestry Division that cultivated a beautiful thicket of willow, oak, and elm trees along the avenues. The Michigan School for the Deaf expanded into new buildings that served hundreds of students from around the state. And on a green campus just east of downtown, the city invested in its cultural life by developing the Flint Symphony Orchestra, as well as a state-of-the-art stage and auditorium, schools for both the performing arts and visual arts, a youth theater, a sunny public library, museums of local history and classic cars, the largest planetarium in the state, and the sweeping Flint Institute of Arts, which lined its galleries with everything from Matisse paintings to Lichtenstein silk screens to carved African masks.
But in the latter part of the twentieth century, GM closed most of its plants in the city and eliminated almost all the local auto jobs. Smaller companies followed suit or simply shut down for good. Between 1998 and 2013 alone, nearly 150 of them exited the downtown area. With the shuttered businesses came the shuttered houses and schools. More than half the population, which had reached a high point of nearly two hundred thousand in 1960, disappeared. Some twenty-two thousand left between 2000 and 2010, an 18 percent drop in just ten years, and the fourth-largest population loss in the country, behind only Detroit, New Orleans—which had suffered Hurricane Katrina—and Gary, Indiana. Not long later, Flint's population plunged below a hundred thousand for the first time since 1920. The empty structures they left behind were both disheartening and dangerous, not only because they were prone to break-ins and fires, but also because they literally crumbled onto the sidewalks where people passed by. At the same time, the Flint metro region—that is, the suburbs—grew exponentially. It was a widening circle of wealth with a deteriorating center.
With so much lost, Flint needed help. An emergency plan. A large-scale intervention of some kind. But not only was there no hope of a bailout—of the kind given to the auto industry and Wall Street banks in 2008 and 2009—the State of Michigan exacerbated Flint's woes by dramatically reducing the money that it funneled to its cities. In a practice called revenue sharing, the state redistributes a portion of the money it collects in sales taxes to local governments. That plus property taxes are what cities use to pay for public services. But between 1998 and 2016, Michigan diverted more than $5.5 billion that would ordinarily go to places such as Flint to power streetlights, mow parks, and plow snow. Instead, the state used the money to plug holes in its own budget. This was highly unusual. As Michigan made cuts, forty-five other states managed to increase revenue sharing to their cities by an average of 48 percent, despite a national economic downturn that affected everyone. Among the five states where revenue sharing declined, Michigan slashed more than any other, by far. For Flint, this translated into a loss of about $55 million between 2002 and 2014. That amount would have been more than enough to eliminate the city's deficit, pay off its debt, and still have a surplus. But the money never came, and, at the same time, Flint was thumped with the Great Recession, the mortgage crisis, a major restructuring of the auto industry, and a crippling drop in tax revenue.
If you wanted to kill a city, that is the recipe. And yet Flint was very much alive. In 2014, the year of the switch to a new source of drinking water, it was the seventh-largest city in the state. On weekdays, its population swelled as people commuted into town for work in the county government, the region's major medical centers, four college campuses, and other economic anchors. For all the empty space, teens in shining dresses still posed for prom photos in the middle of Saginaw Street, the bumpy brick road that is Flint's main thoroughfare. Parents still led their children by the hand into the public library for Saturday story time. Older gentlemen lingered at the counter of one of Flint's ubiquitous Coney Island diners, and the waitresses at Grandma's Kitchen on Richfield Road kept the coffee flowing. For about ninety-nine thousand people, Flint was home.
And they did what they could to fill the gaps. When Pastor Sherman McCathern and his congregation at Joy Tabernacle realized that Civic Park was not on anyone's list of priorities, they launched their own programs to fix up the neighborhood. They covered over the vacant windows and doors "to take the abandonment look away," helping people to imagine what a healthy Civic Park could look like. They paid young men to mow lawns and board up empty homes. People who never dreamed of owning a place of their own moved into some of the left-behind houses. The church created the Urban Renaissance Center to serve as a social ministry for single parents, seniors, ex-offenders, recovering substance abusers, and anyone else who walked in the door. In its vision for Flint, they adopted President Barack Obama's campaign slogan, which itself was an adaptation of an old union worker chant: "Yes, we can!" Inspired by these efforts, local institutions such as the University of Michigan's Flint campus and Habitat for Humanity started to work alongside the church. "The community was at one time totally ignored by everybody," McCathern said. "But because young people stood up, now everybody came on board." You could feel a shift in the momentum. You could see the change. "It was a different Flint that was coming."
But on that sweltering summer day, there was that water pouring out of the fire hydrant, as children sprinted back and forth through its spray. Dark as coffee.
---
Excerpted from the book THE POISONED CITY by Anna Clark. Copyright © 2018 by Anna Clark. Republished with permission of Metropolitan Books.
This article was originally published on July 10, 2018.
This segment aired on July 10, 2018.