Turn Your Summer Get-Together Into A Taco Party With These Recipes
Resume
Here & Now resident chef Kathy Gunst has recipes for fish, pork, and chicken and black bean tacos — which can easily be adapted to serve a hungry summer crowd — as well as condiment suggestions, and brings them in for hosts Robin Young and Jeremy Hobson to try.
---
Fish Tacos With Mango Salsa And Lime Cream
This is great summertime eating. Use any type of fish you like — virtually everything works here: a thick cod, swordfish, salmon, haddock, cooked lobster or crab. The mango salsa is refreshing and a great compliment to any type of fish or seafood.
Make the salsa and lime cream just a few hours ahead of time and you can put these tacos together in less than 30 minutes. Serves 4, but the recipe can easily be doubled or tripled to serve a crowd.
Mango Salsa Ingredients
1 ripe (but not mushy) mango
2 scallions, finely chopped
1/4 cup fresh cilantro, chopped
1/2 cup ripe tomato, chopped
1 1/2 teaspoons chopped fresh jalapeño, with or without seeds, depending on how spicy you like it
Juice from 1 large lime
1 tablespoon olive oil
Salt and pepper, to taste
Lime Cream Ingredients
1 cup sour cream
1 teaspoon lime zest
1 tablespoon lime juice
Salt and freshly ground black pepper
The Fish And Tacos
1/3 cup flour
Salt and freshly ground black pepper
1 pound fish, like cod, flounder, haddock or swordfish, or 1 cup cooked crab meat or lobster
About 8 corn tortillas or 4 flour tortillas, or taco shells
Other accompaniments: lettuce, arugula or spicy greens, avocado slices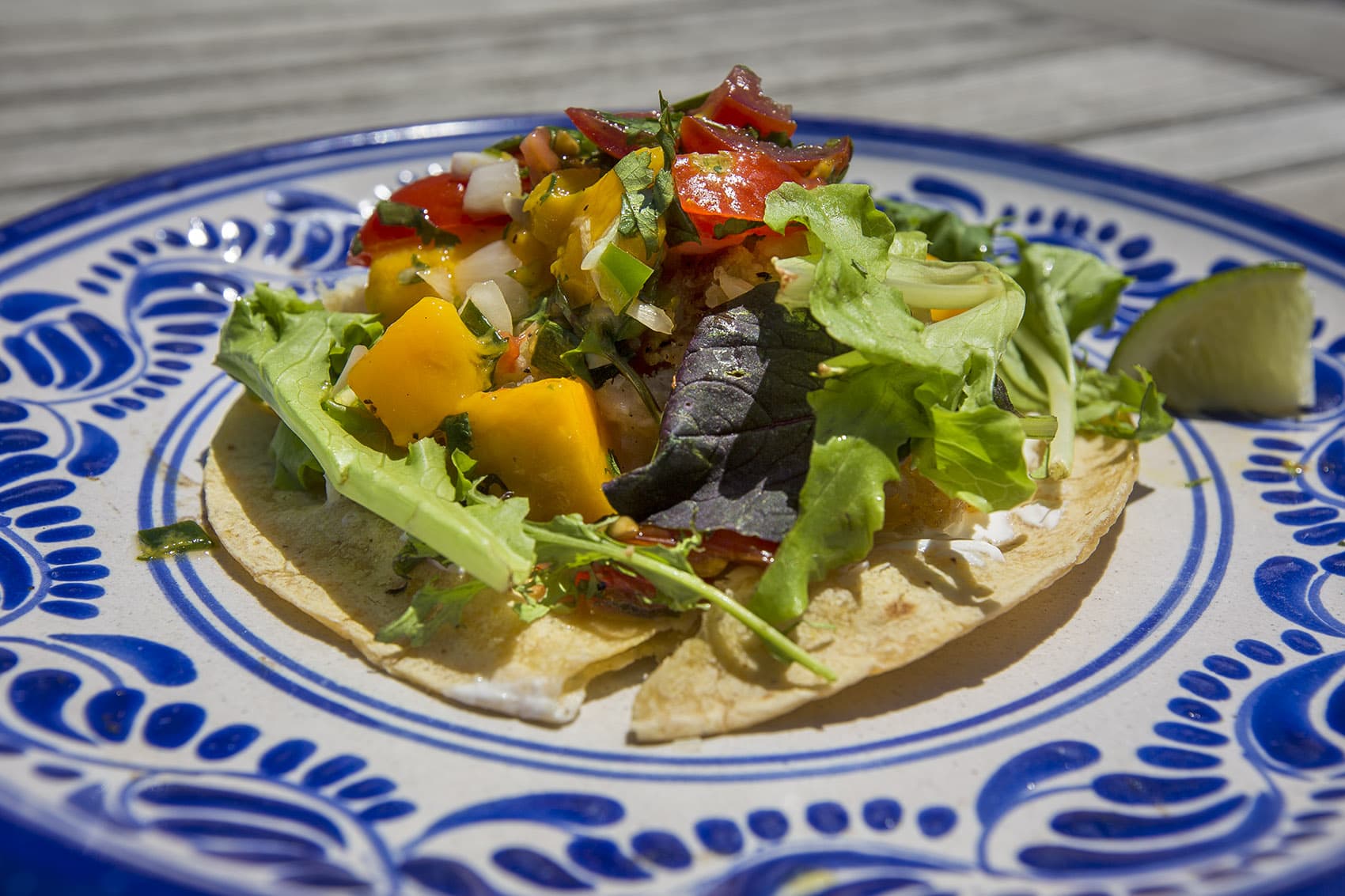 Instructions
To cut the mango: Hold the mango upright on a cutting board and, using a large sharp knife, cut just over 1/3 of the fruit off the side of the mango. Repeat with the opposite side so you have two large pieces of mango, without the irregular-shaped pit. Use a small sharp knife to cut a tic-tac-toe pattern into the fruit, with lines about 1/2-inch apart. Push the mango pieces out of the skin. Cut any remaining fruit off the pit and eat — you only need the two side pieces.
In a medium bowl mix the mango, scallions, cilantro, tomato, jalapeño, lime juice, olive oil, salt and pepper to taste. Don't make the salsa more than 3 to 4 hours ahead of time. Cover and refrigerate.
Make the lime cream: Mix the sour cream, lime zest, lime juice, salt and pepper to taste. Cover and refrigerate.
Make the fish: On a large plate, season the flour with ample amounts of salt and pepper. Heat the oil in a large skillet over moderately high heat. Dredge the fish in the seasoned flour and cook about 3 to 4 minutes per side, depending on the type of fish you're using and the thickness. If using crab or lobster, warm the cooked shellfish in a skillet with 1 tablespoon of olive oil.
Meanwhile, heat the tortillas is a heavy skillet (like cast iron) on both sides, or heat the taco shells in a low, 200-degree oven for a few minutes to warm them up.
To serve, place the salsa, cream, fish and warm tortillas out and let everyone assemble their own tacos. My version: two warm corn tortillas topped with some lime cream, a bit of salsa, topped with a piece of fish, topped with more lime cream, salsa and greens.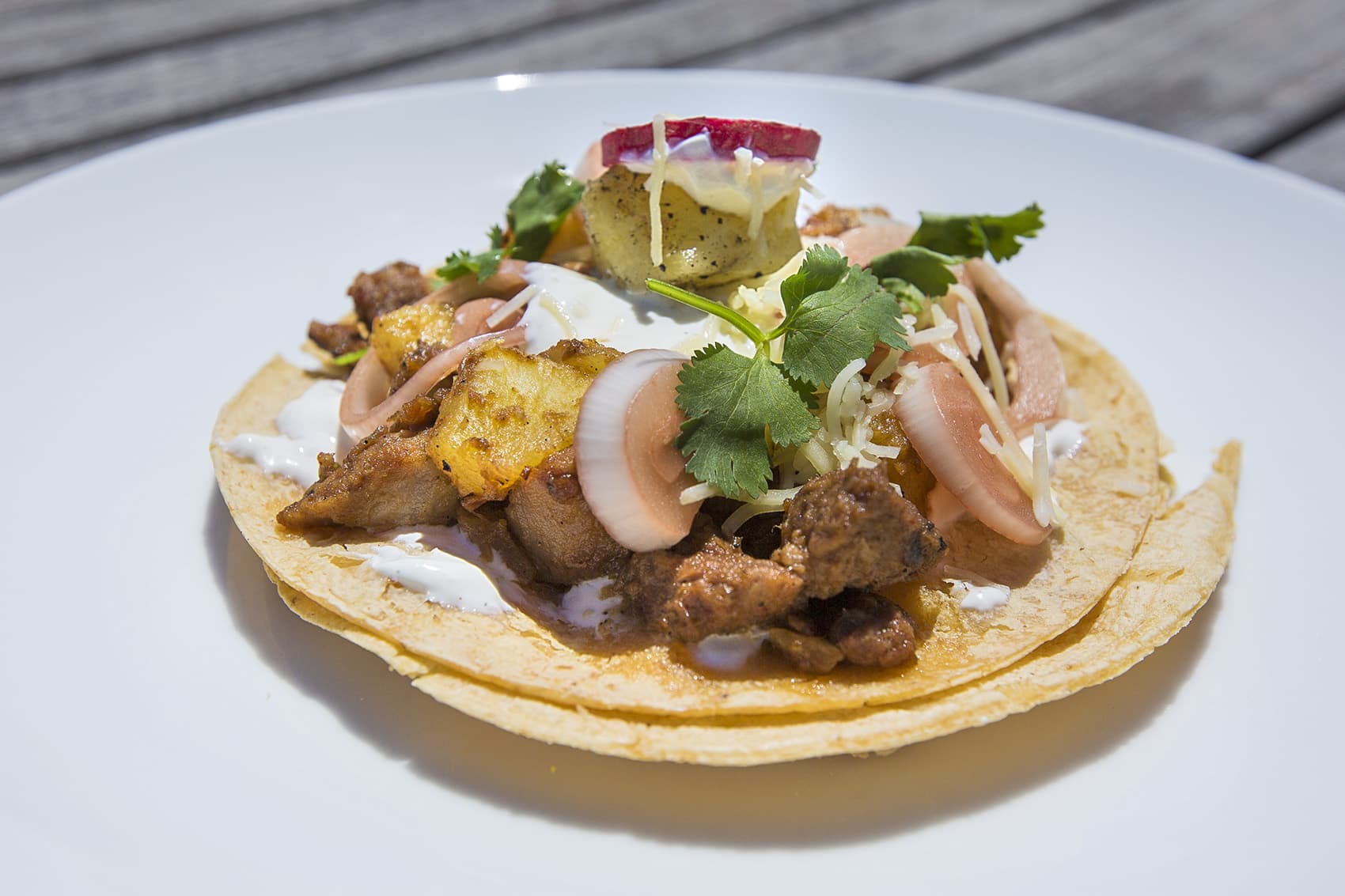 Tacos Al Pastor Rápido With Pickled Onions
This is my simplified fusion of classic pork carnitas and tacos al pastor. Traditionally, the pork is marinated and then cooked long and slow. But I simply marinate it, cut it into slices and then quickly grill the marinated pork with pieces of juicy pineapple. Once the pork and pineapple come off the grill, they're chopped and then thrown back onto the grill in a hot skillet to crisp them up.
Serve with any and all of the toppings listed below. Serves 8.
Marinade Ingredients
One 7-ounce can chipotle peppers in adobo sauce
1 cup pineapple, chopped
1/2 cup onion, chopped
1 clove garlic, chopped
1 teaspoon ground cumin
1 tablespoon dried Mexican oregano or fresh oregano
1 1/2 tablespoons white wine vinegar
Salt and pepper
Pickled Onions Ingredients
1 large red or white sweet onion, cut into thin rings
1 tablespoon cilantro leaves
1 dried chile pepper, crumbled
About 1 cup white or red wine vinegar or cider vinegar
1 teaspoon salt
Freshly ground black pepper
1 tablespoon sugar
The Pork, Tortillas And Accompaniments
One 2- to 3-pound pork shoulder or pork picnic roast
1 cup pineapple cut into rings or cubes
1 tablespoon olive oil
8 to 16 corn or flour tortillas
1/2 cup fresh cilantro
Pickled red onions
Sliced radishes
Sour cream
Crumbled cotija or feta cheese
Instructions
Make the marinade: Place all the ingredients in a blender and whirl until smooth.
Cut the pork into 1-inch slices.
Place the marinade in a bowl or plastic bag and add the pork, making sure it's coated on all sides. Refrigerate and marinate for 4 to 24 hours.
Make the pickled onions: Place the onions in a small wide-mouth glass jar. Cover with all the ingredients, pushing the onions down into the vinegar solution. Let pickle at room temperature for about an hour, in the refrigerator or overnight. The pickles will keep for several days.
Heat a charcoal or gas grill until hot, about 400 degrees. Place the pineapple on a skewer and brush with the olive oil. Grill for 2 to 3 minutes per side, or until grill marks appear and the pineapple is hot. Remove and let cool. Place the pork slices directly over the hot flames and cook about 4 to 5 minutes per side. Remove from the heat and, when cool enough to handle, chop the pork and pineapple into bite-sized pieces.
Place a cast-iron or heavy heatproof skillet on the hot grill (or over a medium hot heat) and cook the chopped pork/pineapple mixture about 3 to 4 minutes, or until the pork crisps up and is hot.
Warm the tortillas on the hot grill or in a low, 200-degree oven.
Serve hot and let everyone assemble the pork and pineapple, pickled onions, etc., to create their own tacos.
Chicken And Black Bean Tacos
This is the best kind of simple summer eating. Chicken thighs are marinated in a simple lime and spice mixture, then grilled and thinly sliced. The beans are sauteed with spices and onions, and everything is used to top corn or flour tortillas.
I like to melt cheese in a hot skillet directly on the grill, slap a tortilla directly on top of the melted cheese and flip it over. It's a great way to make quesadillas and serve hot, cheesy tacos.
Serves 2 to 4, but the recipe can easily be doubled or tripled.
Chicken Ingredients
1 pound chicken thighs
1 tablespoon olive oil
1/2 teaspoon chile power
1 1/2 teaspoons dried oregano
1 teaspoon dried thyme, or 1 tablespoon fresh chopped
Juice from 1 large lime
Salt and freshly ground black pepper
Black Beans Ingredients
1 tablespoon olive oil
1 clove garlic, chopped
1 cup chopped onions
1 teaspoon ground cumin
2 tablespoons chopped fresh cilantro
Hot pepper sauce to taste
Salt and freshly ground black pepper
15-ounce can black beans, drained and rinsed
The Tortillas, Cheese And Accompaniments
4 corn or flour tortillas
1 cup shredded cheese or crumbled cotija cheese or feta
1 avocado, cut into thin slices
Hot pepper sauce
Pickled onions (see recipe above)
Instructions
Marinate the chicken: Place the chicken in a pan or bowl and cover with all the ingredients, tossing well. Marinate for 1 hour or up to 24 hours.
The beans: In a large skillet heat the oil over low heat. Add the garlic and onions and cook for 8 minutes, stirring. Add the cumin, cilantro, hot pepper sauce, salt and pepper and the beans and cook 5 minutes.
The chicken: Light a charcoal or gas grill until hot, about 400 degrees. Clean off the grill or grilling basket and grill the chicken 5 to 6 minutes per side, until cooked through. Baste with the marinade. Remove and cool for a few minutes; cut the chicken into bite-sized pieces.
To serve: Place a cast-iron skillet on the hot grill or over a moderately high heat. Add 1/4 cup of cheese at a time in a clump directly into the skillet. As soon as the cheese begins to melt and bubble, place the tortilla on top and let it sit on the cheese for 10 seconds. Immediately flip the tortilla over — making sure the cheese is on top of the tortilla — and add the chicken and a spoonful of beans. Remove from the grill and let everyone add cilantro, avocado slices, tomato, hot sauce, etc.
Taco Bar Condiments
You can turn a few simple tacos into a taco party in no time. Set up a table with lots of add-ons and a pitcher of cold beer or margaritas, and you've got the makings of a super "cool" summer night.
Here are a few ideas:
Assortment of warm corn and flour tortillas and taco shells
Pickled onions (see recipe above)
Grated or crumbled cotija, feta or shredded Mexican cheese, or sharp cheddar
Find fresh herbs like cilantro, mint and oregano to sprinkle on your tacos
Serve thinly sliced garden radishes
Fresh greens like arugula, mustard greens or butter lettuce
Variety of salsas
Thin slices of summer tomatoes
Sour cream or Mexican crema
Lime wedges
Cooked beans
Guacamole or thinly sliced avocado
Cooked rice
This segment aired on July 12, 2018.