Cold Noodle Salad Recipes For Hot Summer Days
Resume
During the dog days of summer, the last thing many of us want to do is spend long stretches in the kitchen. Luckily, resident chef Kathy Gunst has ideas for summer noodle dishes that don't call for much cooking, and shares the recipes with Here & Now's Jeremy Hobson.
---
Vietnamese-Style Rice Noodle Salad With Vegetables, Herbs And Peanuts (Bun-Style)
I could eat this salad/noodle dish a few times a week. It's bursting with colors, textures and fresh flavors.
If you make the sauce a day ahead of time and prepare all the ingredients, you can pull this together in no time. It's perfect no-cook summer food. Serve with a warm baguette and call it dinner.
Serves 4 as a main course and 6 as a side dish or first course.
Sauce Ingredients
1/3 cup Asian fish sauce
2 1/2 tablespoons light brown sugar
2 1/2 tablespoons rice wine vinegar
3 tablespoons fresh lime juice
1 large clove finely chopped garlic
2 tablespoons finely chopped fresh peeled ginger
1 tablespoon chopped fresh jalapeño, with or without seeds, depending on how spicy you like it
3 tablespoons finely chopped fresh scallions
1 tablespoon cilantro, chopped
Salad Ingredients
8 ounces dried rice vermicelli noodles, cut in half with your hands
1 small red pepper, cored and thinly sliced
1 small yellow or green pepper, cored and thinly sliced
1 cup shredded carrot
1 cup fresh snow peas, thinly sliced
1 cup lettuce leaves or arugula
1/3 cup fresh cilantro leaves
2 tablespoons fresh mint leaves
2 tablespoons fresh shiso (or perilla*) leaves or basil
1 lime, cut into 8 sections
1 cup salted peanuts
*Perilla leaves are popular in Korean cuisine and a member of the mint family. Shiso, used in Japanese cuisine, is a smaller leaf and a bit stronger. These herbs are interchangeable here, or you can substitute extra fresh mint or basil.
Instructions
Make the sauce: In a bowl or glass jar mix all the ingredients and taste for spice level. The sauce will keep covered and refrigerated for several days.
Make the salad: Boil water. Place noodles in a large heatproof bowl and cover with the boiling water. Let sit until softened, about 5 minutes. Drain and place under cold running water. Drain again. If you want to make the noodles ahead of time, place in a covered container with 1/4 cup cold water to keep the noodles from sticking together. Be sure to drain the noodles before putting the salad together. The noodles can be made a day ahead of time.
Place the drained cooled noodles in the center of a large serving plate or salad bowl. Arrange the red pepper, yellow pepper, carrots, peas, lettuce and herbs in small piles around the outside of the noodles. Scatter the lime sections and peanuts on top and around the salad. Just before serving, pour the sauce over the noodles and vegetables.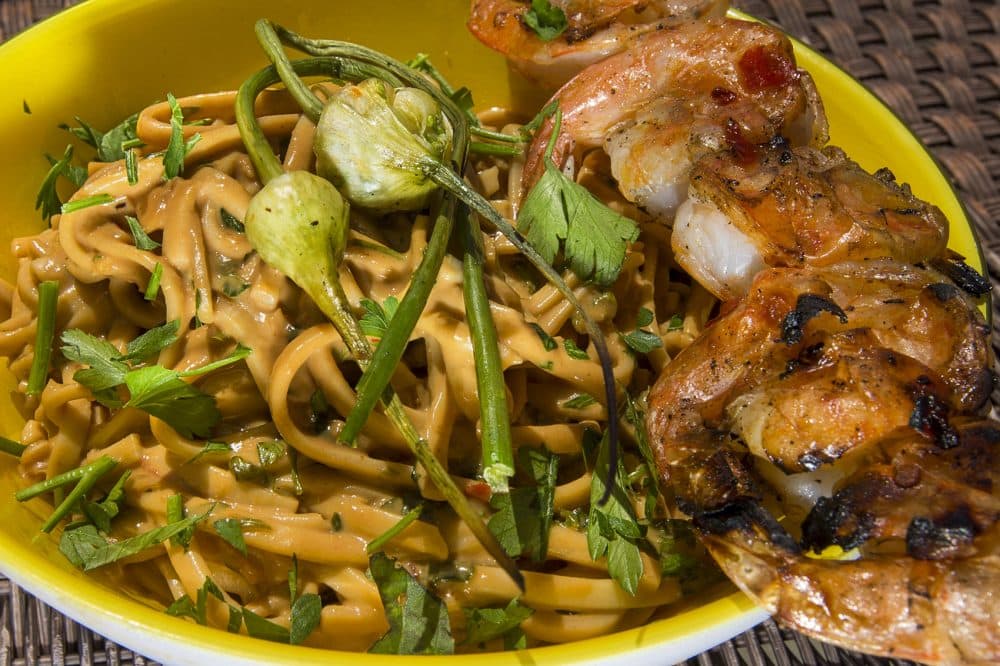 Spicy Cold Sesame Noodles With Grilled Chile Shrimp
This favorite Chinese cold noodle dish is simple and straightforward — but there are a few tricks:
Boil the noodles up to a day ahead of time and toss with the sesame oil. Cool and then cover and refrigerate.
Do not toss the noodles with the sauce until just before serving — the noodles are like a sponge and will soak up the sauce and result in a dry, gloppy dish if you toss them too far ahead of time.
Grill the shrimp as close to serving time as possible.
I use udon noodles (thick, wheat noodles) in this dish, but you could also use soba noodles (buckwheat noodles), thin ramen noodles or linguine.
You can easily double the recipe or omit the shrimp. Serves 4.
Sauce Ingredients
2 cloves garlic, finely chopped
2 tablespoons ginger, finely chopped
1/4 cup tahini, at room temperature
1/4 cup chunky peanut butter, at room temperature
1/3 cup chopped cilantro
2 large scallions, chopped
1 teaspoon Chinese chile paste*
1 teaspoon Chinese bean paste*
2 1/2 tablespoons rice wine vinegar
3 1/2 tablespoons soy sauce
1 teaspoon sesame oil
1/2 cup boiling water
Hot pepper sauce to taste
*Available in Asian food markets and the Asian food aisle of your grocery store.
The Noodles
8 ounces udon noodles, or soba, ramen or linguine
1 tablespoon sesame oil
The Shrimp
12 medium shrimp, deveined with shell still on
1 teaspoon Chinese chile paste or hot pepper sauce
1 tablespoon olive oil
Instructions
Make the sauce: Mix the garlic, ginger, tahini, peanut butter, cilantro, scallions, chile paste and bean paste to create a somewhat thick, smooth sauce. Add the vinegar, soy sauce, sesame oil and boiling water and stir to create a smooth, somewhat thickened sauce. If it's still too thick, add a touch more soy or boiling water. Add hot pepper sauce to taste. Cover and refrigerate; the sauce will keep for several days.
Cook the noodles: Boil a large pot of salted water over high heat. Add the noodles and cook until almost cooked, al dente. The timing depends on the type of noodle you use; be sure not to overcook to make the noodles too soft — they should still have a bite. Drain under cold running water and drain again. Toss with the tablespoon of sesame oil, cover and refrigerate. You can cook the noodles a day ahead of time.
Make the shrimp: Place the shrimp on one big skewer or several smaller ones. Place on a cookie sheet and spread the chile paste and oil on both sides of the shrimp. Let marinate for at least 10 minutes, or cover and refrigerate overnight.
Heat a grill until hot, about 400 degrees. Place the shrimp on the grill and cook about 3 minutes per side, or until just cooked.
To assemble: Just before serving toss the noodles with almost all the sauce, making sure it's well coated. Add any remaining sauce on top. Place the shrimp on top of the noodles and serve cold.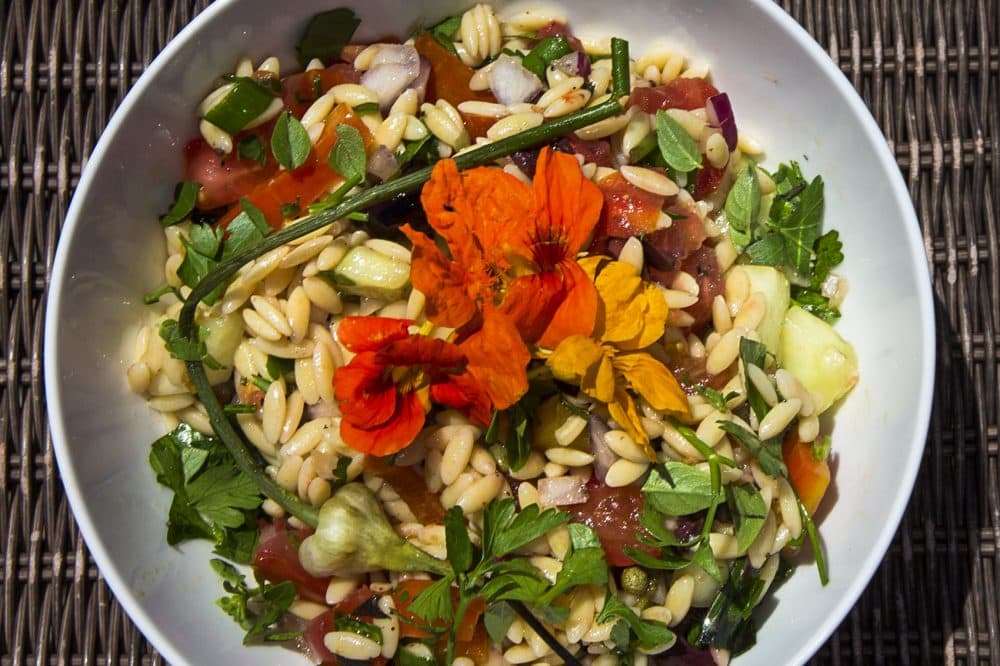 Mediterranean-Style Orzo Salad
This is a fresh, bright, summery salad that can be put together just a few hours before serving. Add any favorite herbs or vegetables to the list provided below. Serve with warm crusty bread. Serves 6 to 8 as a side dish.
Ingredients
Salt
16 ounces orzo
1/3 cup olive oil
3/4 cup finely chopped red onion
2 cups pitted black and/or green olives
1/4 cup finely chopped scallions
2 cups peeled, chopped cucumbers
1/3 cup fresh basil, thinly sliced
1 red pepper, cored and thinly sliced
1/4 cup fresh chopped parsley
1/4 cup drained capers
Freshly ground black pepper
1/4 cup fresh lemon juice
6 nasturtium, or any edible flower
Instructions
Bring a large pot of salted water to a boil over high heat. Add the orzo and cook about 11 to 12 minutes, or until al dente or just cooked through. The pasta should still have a bite. Drain and place under cold running water; drain again.
Place the pasta in a large serving or salad bowl. Add the oil, onion, olives, scallions, cucumbers, basil, pepper, parsley, capers and pepper. Add the lemon juice last; toss and taste for seasoning, adding more salt, pepper, oil or lemon juice as needed. Top with the nasturtium, if using.
This segment aired on July 25, 2018.