Easy Recipes To Try When School Starts Up And Time Tightens
06:02
Play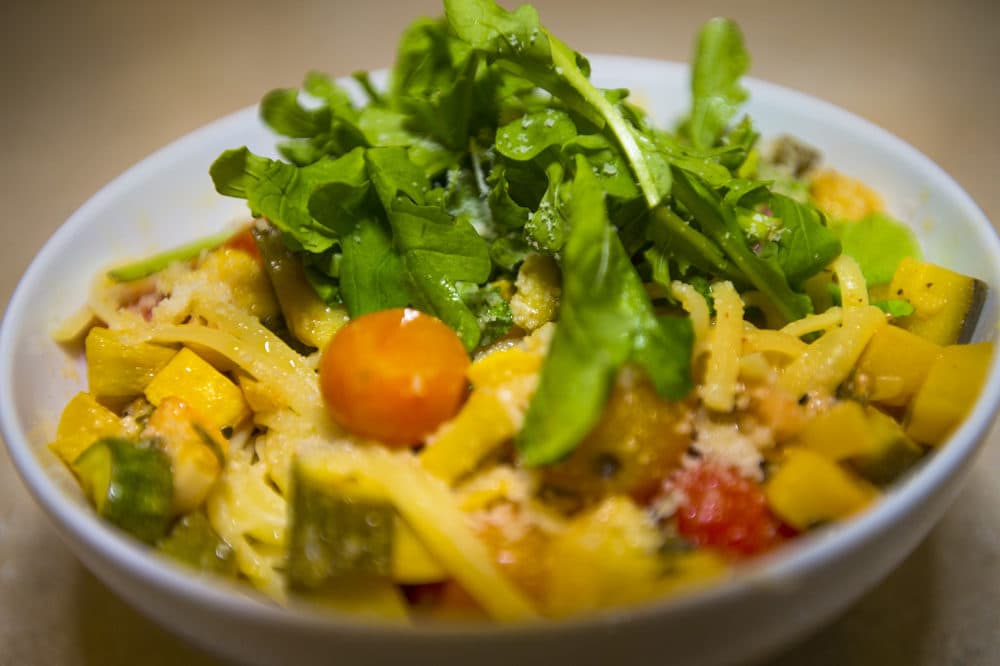 This article is more than 3 years old.
With school beginning and time at a premium, Here & Now resident chef Kathy Gunst has ideas for make-ahead dinners, plus a quick-prep dessert, to share with hosts Robin Young and Lisa Mullins.
---
End-Of-Summer Shepherd's Pie
This version of shepherd's pie uses ground turkey or beef, fresh summer corn, zucchini, carrots and tomatoes crowned with buttery mashed potatoes. You can make the entire dish at least a day ahead of time or it can be frozen for several weeks and baked just before serving. Serve with a simple salad.
Serves 4 to 6.
Ingredients
1 1/2 tablespoons olive oil
1 medium onion, finely chopped
1 clove garlic, finely chopped
Salt and freshly ground black pepper
1 cup finely chopped carrot
1/4 cup chopped fresh herbs, like rosemary, sage, basil and/or thyme
1/4 cup finely chopped parsley
1 pound ground beef or ground turkey
1 teaspoon tomato paste
1 1/2 cup fresh ripe tomatoes, finely chopped, or canned
1 1/2 cups corn kernels, cut off the cob or 1 1/2 cups frozen corn
1 cup chicken broth
The Potatoes
2 pounds potatoes, peeled and cut into small pieces
4 tablespoons butter
1/2 cup milk
1/2 to 3/4 cup heavy cream
Salt and freshly ground black pepper
1/3 cup grated Parmesan cheese (optional)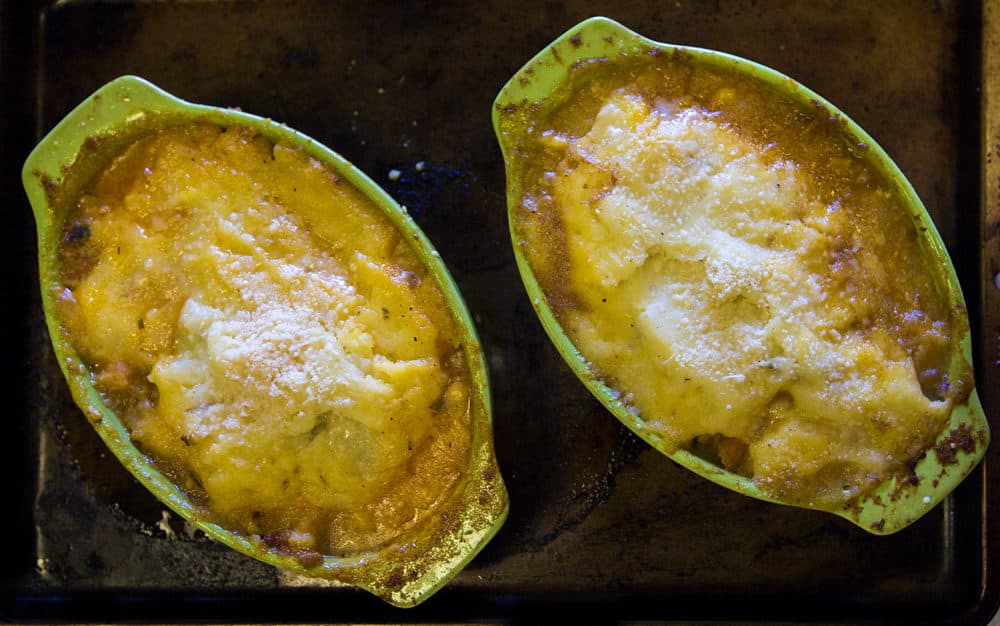 Instructions
Prepare the meat/vegetable mixture: In a large skillet, heat the oil over low heat. Cook the onion, garlic, salt and pepper for 8 minutes. Add the carrot and half the herbs and parsley; cook 4 minutes. Add the ground meat and raise heat to moderately high; cook 8 minutes. Drain excess fat in skillet. Reduce heat to moderately low and stir in the remaining herbs and parsley, tomato paste and chopped tomato and cook 4 minutes. Stir in the corn, and then add the broth; cook, stirring, for 10 minutes, or until slightly thickened and the meat is fully cooked with no signs of pink. Taste for seasoning and add salt and pepper to taste.
Prepare the potatoes: Over high heat, bring a large pot of lightly salted water to boil. Add the potatoes and cook for about 15 minutes, or until tender when tested with a small sharp knife. Drain the potatoes. In the same pot over low heat, melt the butter. Add the drained, cooked potatoes and, using a potato masher, mash the potatoes until almost smooth. Add the milk and cream and mash until just about smooth. Add salt and pepper to taste.
Place the meat/vegetable mixture in a large ovenproof skillet or in four 2-cup ramekins. Place the potato mixture on top of the skillet or divide between the ramekins, pressing down gently to create a crust that covers all the meat/vegetable mixture. Cover with foil and refrigerate for 24 hours, or double wrap and freeze for several weeks.
To bake: Heat the oven to 375 degrees. If the pie is fresh, bake for 35 to 45 minutes; if frozen, bake for 1 hour to 1 hour and 15 minutes, or until the potatoes are golden brown and the meat mixture is bubbling hot. Add the cheese, if desired, and cook another 5 minutes or until the cheese is melted.
Harvest Linguine With Roasted Tomatoes, Zucchini And Arugula
This is one of my favorite go-to, quick weekday dinners.
Sweet, end-of-season cherry tomatoes are slow roasted with garlic, herbs and olive oil ahead of time. While the pasta cooks, you saute some zucchini or summer squash, chop a fresh raw tomato and toss the whole dish up with peppery arugula leaves. The colors, textures and flavor make a sweet pasta sauce. You can also add toasted pine nuts for a buttery topping.
Serves 4.
Ingredients
2 1/2 cups cherry tomatoes, red and/or yellow
1/3 cup olive oil
Salt and pepper
1/3 cup basil, thinly sliced
1 tablespoon chopped fresh thyme
6 cloves garlic: 3 peeled and left whole, 3 thinly sliced
1 pound zucchini and/or yellow summer squash, cut into small slices or cubes
1 pound linguine or spaghetti
1 tablespoon butter
1 large or 2 medium tomatoes, cubed
1/3 cup toasted pine nuts (optional)
1/2 cup grated Parmesan cheese
1 cup arugula leaves
Ingredients
Roast the tomatoes: Heat the oven to 275 degrees. Place the tomatoes in an ovenproof skillet or gratin dish and toss gently with the oil, salt, pepper, half the basil and all the thyme for 1 hour. The tomatoes can be roasted a day ahead of time; cover and refrigerate until ready to use.
Bring a large pot of lightly salted water to boil. Cook the pasta for about 11 minutes, or until al dente, or almost cooked through but still has a slight bite.
Meanwhile, remove 2 tablespoons of the oil and 2 garlic cloves from the roasted tomatoes and place in a large skillet; heat over moderately high heat. Add the zucchini, salt and pepper and cook, stirring, for about 8 to 10 minutes, or until tender and golden brown. Reduce the heat to low and add the roasted tomatoes and oil from the pan. Add 2 tablespoons of the water from the pasta pot and simmer over low heat for 4 minutes.
Drain the pasta and add to a large serving bowl or plate. Add the butter, salt and pepper. Add the roasted tomatoes/zucchini mixture, the chopped raw tomatoes, 1/2 the Parmesan cheese and the arugula. Top with the pine nuts, if using. Serve the remaining cheese on the side.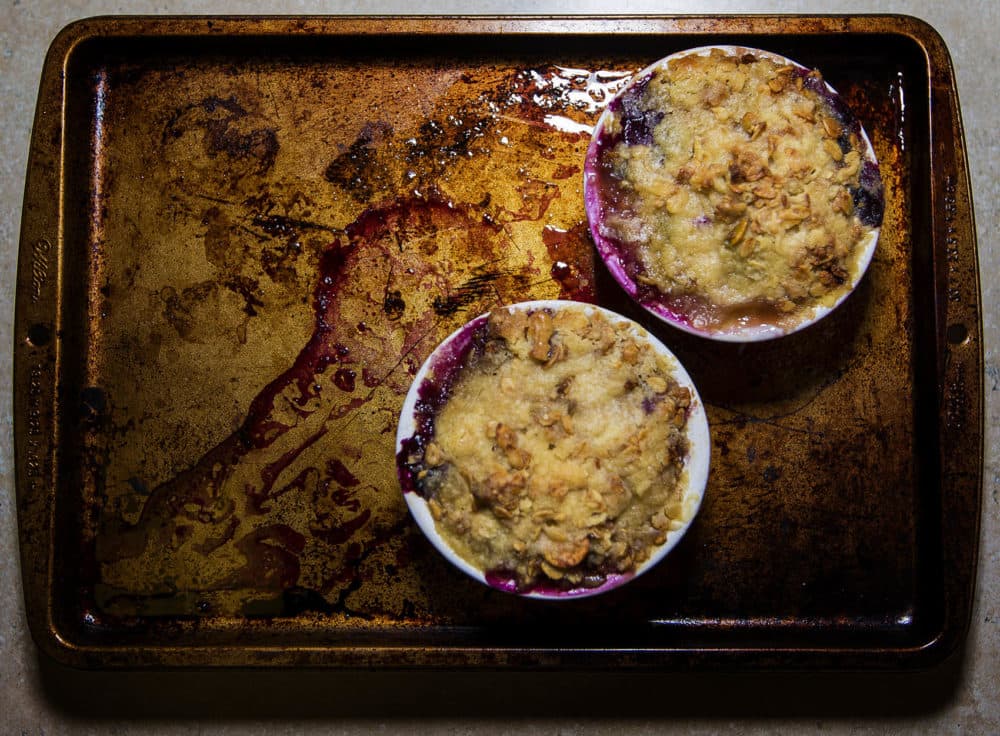 Late-Summer Fruit Crumble
Ripe late-summer fruit like blueberries, peaches and plums are tossed in a pie plate or gratin dish — or in individual small ramekins — and topped with a simple flour-butter-granola topping. The whole thing can be made ahead of time and baked just before you want to eat dessert — a quick treat for a weeknight with very little effort.
Serves 4.
The Fruit
3 to 4 cups fruit, berries and/or thinly sliced peaches and plums, or a combination of all
2 tablespoons maple syrup
Pinch ground ginger and/or cinnamon
The Topping
1 cup flour
Pinch salt
1/2 cup light brown sugar
1 stick chilled butter, cut into small pieces
1 cup granola
Pinch ground ginger and/or cinnamon
Instructions
In a pie plate or an 8-inch gratin dish, toss the fruit with the maple syrup and spices.
In a bowl, toss the flour, salt and brown sugar. Add the butter and, using your finger, incorporate the butter into the flour until it resembles coarse cornmeal. Add the granola and spices and toss.
Place the topping on the fruit and gently pat it down to create a kind of top crust.
The crumble can be made 24 hours ahead of time up to this point. Cover and refrigerate.
When you sit down to dinner, heat the oven to 400 degrees. Place the crumble on the middle shelf and bake 20 minutes. Reduce the heat to 325 and bake another 30 to 40 minutes, until the topping is golden brown and the fruit is bubbling.
This segment aired on August 29, 2018.