'Oklahoma!' Adaptation Featuring Same-Sex Couples Hits The Stage
Play
This article is more than 4 years old.
The classic Rodgers and Hammerstein musical "Oklahoma!" pulls out all the stops: romantic ballads, all-cast dance sequences, a villain and two classic romances.
But in an adaptation of the show being performed at the Oregon Shakespeare Festival, there's a twist: one of the romances is between two women protagonists named Curly McLain and Laurey Williams, and the other between two men named Will Parker and Ado Andy.
Here & Now's Robin Young talks with artistic director Bill Rauch about the adaptation, in which the character of Aunt Eller is also played by a transgender woman.
Interview Highlights
On how he came up with the idea, and how he convinced Theodore Chapin, who manages the copyrights of Rodgers and Hammerstein, to allow the adaptation
"I was in two productions of 'Oklahoma!' when I was in elementary school and then when I was in high school and grew to love its gorgeous score, and then some years later, I began to just think about how much I loved classic musicals, but also, as a gay man, how I felt outside the stories, because they always celebrated heterosexual love.
"I began to fantasize about, what if Laurey and Curly were two women, what if Ado Annie and Will were two men? Honestly, I talked to a few people about it, and they said, 'You will never get the rights to do that. It will never, ever happen,' and I really believed, 'I will never live to see the day when this production will happen,' and I carried that in my heart for about 25 years.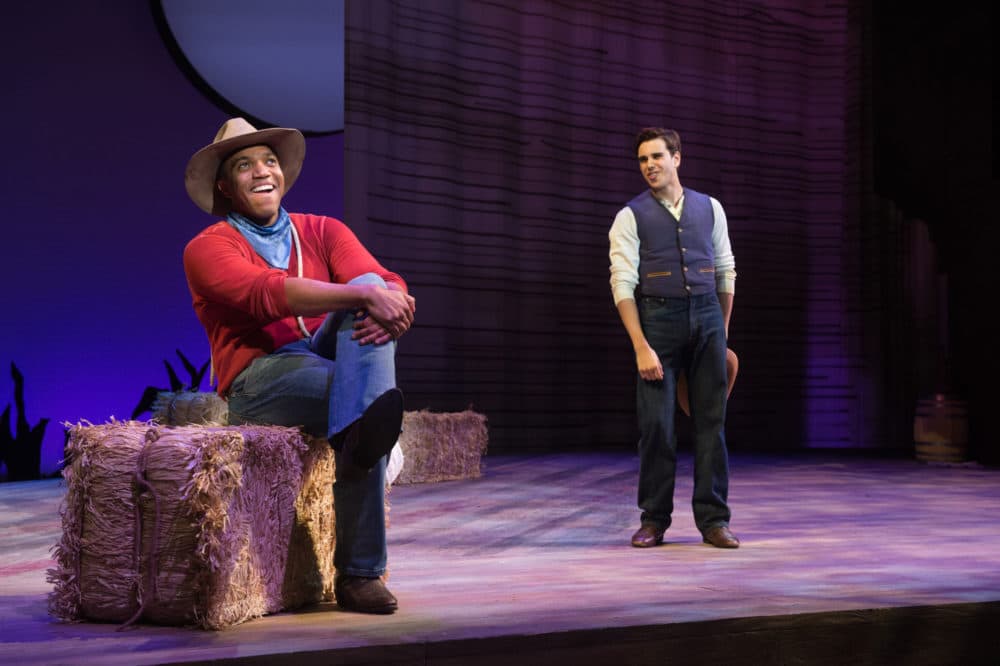 "Ted [Chapin] protects the catalog of Rodgers and Hammerstein with great ferocity, and at the same time, he understands the way great classics remain relevant is through thoughtful expansion and reinvention and experiment. So, I was really, really honored — not only to get the permission in general, but the fact that this is the 75th anniversary of 'Oklahoma!' It was created in 1943."
"The audience — gay, straight, bisexual, you name it — everybody's on the ride together."

Bill Rauch
On audience reactions to the production, and the strength of the cast
"Well, it's remarkable, because it is both completely traditional — it is Rodgers and Hammerstein's 'Oklahoma!' and everything that makes people love this musical is present — and at the same time, it's completely revolutionary.
"I think when that especially shows is in the love song 'People Will Say We're In Love,' a beautiful love song that Laurey and Curly share, but their fear that people will say we're in love takes on a completely different resonance and a completely different depth when it's sung by two women, and the courage that it takes for these two people then, you know, finally when they sing, 'Let people say we're in love.' The audience just cries and cheers, because it's an affirmation in a completely different way.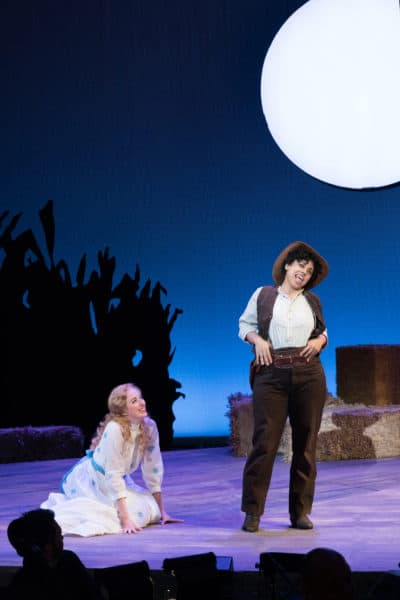 "These actors here at the Oregon Shakespeare Festival are so completely relaxed and confident, and they just went over the audience immediately. Jonathan Luke Stevens as Ado Andy actually in his reprise of 'I Cain't Say No,' he actually goes out into the audience and sits on the laps of gentlemen in the audience, and the audience — gay, straight, bisexual, you name it — everybody's on the ride together.
"There's a potent line in Hammerstein's libretto that comes actually from Lynn Riggs' original play, 'Green Grow the Lilacs,' and it's 'country of change and gotta change with it' that Curly says when she proposes to Laurey … the audience cheers. They cheer, and here we are 75 years later from when that line was first said in 'Oklahoma!' and yet, it's the same thing. It's about, how do we create a United States community that is rooted in acceptance and love and optimism?"
On the historical context of the musical, and antagonist Jud Fry's obsession with Laurey put into a new context in the adaptation
"['Oklahoma!'] opened during World War II, and the country absolutely needed a story to rally behind. And I do feel like there's a parallel between the struggles of World War II and the cultural struggles that we're facing as a country right now and the political struggles.
"Jud's frustration that Laurey won't choose him is also part of frustration that she would choose to be with a woman and not with him as a man, and I do think that that brings an emotional darkness."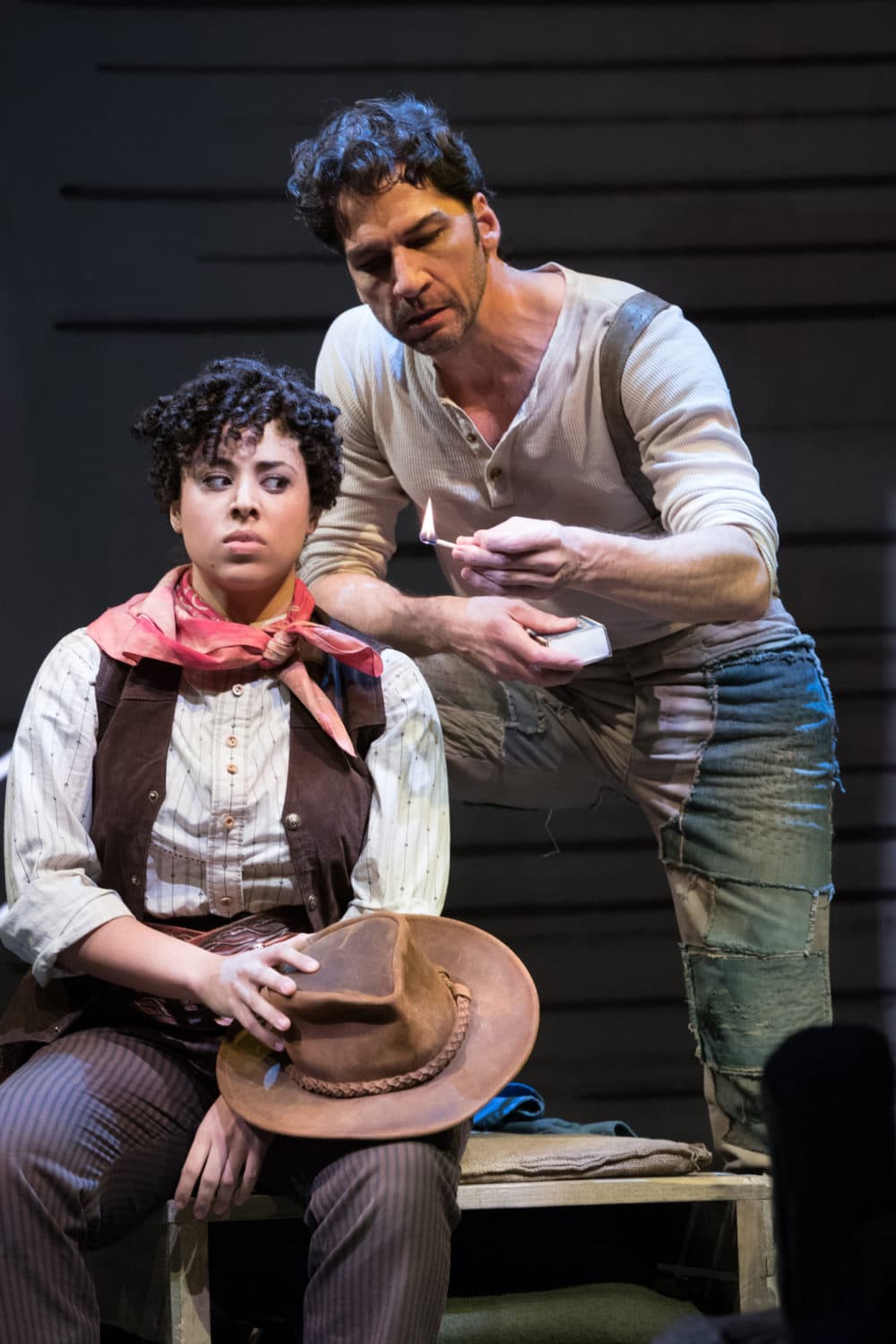 On the inclusion of straight allies to the LGBT community in the production
"There are other straight couples. There's a husband and wife with a young daughter, and the wife is actually pregnant and delivers the baby. We wanted also to make sure that the world was not just LGBTQ-inclusive, but that it was clear that this was a community that was thriving, because there are straight allies. They are choosing in this small rural corner of Oklahoma to make a community that is inclusive and that is loving."
This article was originally published on September 10, 2018.
This segment aired on September 10, 2018.