Democrat Running To Unseat Illinois' Governor Makes His Pitch To Voters
06:14
Play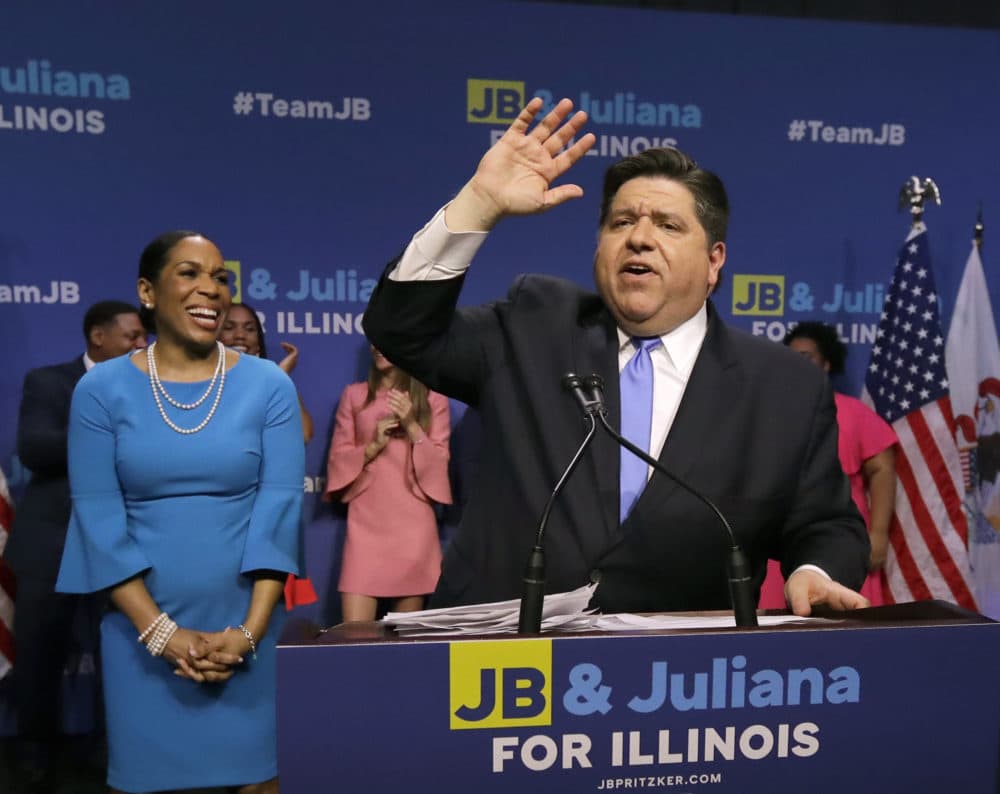 Illinois is one of 36 states with a gubernatorial race this year. Incumbent Gov. Bruce Rauner's tenure has been marked by a historic budget impasse that left the state without a budget for three years. Rauner didn't want to raise taxes, but the state legislature did anyway.
Here & Now's Jeremy Hobson speaks with Democratic candidate J.B. Pritzker (@JBPritzker), who is trying to unseat Rauner, about his message for voters ahead of the November election.
Interview Highlights
On Rauner running ads saying residents may have to leave the state if Pritzker's elected because he will raise taxes
"That's just false. Like everything else with Gov. Rauner, he's been an utter failure and now he's lying. I put forward a plan to implement a fair tax in the state which would lower taxes for the middle class and those striving to get there, and would raise taxes on Bruce Rauner and people like him and me. It's a fair tax system like the ones that exist in most states in the United States, and of course the federal government has a progressive income tax system as well."
On the issue of population loss in Illinois, and young people who are educated in the state moving away
"There are two big things that are driving the exodus that's occurred from Illinois. The first is that we have very high property taxes, and the reason for that is that we pay for our schools improperly in the state. Most of the funding for local schools comes from local property taxes and it really should come from the state. We should be about half and half.
"The other thing that's driving people out of the state is, under Bruce Rauner with his proposed 30 percent cut in higher education and the failure to pass a budget for two years and a veto a third year, that students have been forced to leave the state. In fact, 72,000 kids have chosen not to go to school in the state of Illinois as a result of his failure to fund map grants and his proposal for an enormous cut in higher education. So that's part of the exodus that we're experiencing. I want to reverse that. I want to make sure that we're funding higher education and keeping our kids in the state. They're our best economic resources. They're also our kids, and we want them to stay here."
On departing Chicago Mayor Rahm Emanuel's time in office
"I think he's accomplished some good things. I think there have been challenges during his term. Overall, I want to honor his service of course — you spend seven years fighting to do things for your city and for your state. But you know, look, I'm excited about the prospect that if we have a new mayor, and we will, that I'll get to work with them on the challenges that face the state. Bruce Rauner was unwilling to even talk to the mayor of the city of Chicago. I'm going to be the opposite, in that I'm going to work with the new mayor and make sure that we're meeting the challenges: our pension system, making sure that we're expanding our health care system and of course funding the state budget will have a lot to do with the success of the entire state, but also the city of Chicago."
On people from central and southern Illinois who say governors from Chicago don't pay attention to them
"First of all, Bruce Rauner's from the Chicago area, as am I. But the fact is that throughout this campaign I've spent more time than any other candidate traveling around central and southern Illinois, making sure that people understood what my priorities are, and maybe more importantly listening to what their priorities are. The fact is, we're one Illinois. We really have the same issues from family to family. Working families care about making sure that their kids get a good education, that they can afford to send them to college and that they have an opportunity to get a better job and to raise their wages. That's something Bruce Rauner hasn't worked on at all for four years. That's one of the reasons that he'll lose in November."
This segment aired on September 11, 2018.