'We Were A Stain On The County': San Bernardino Survivor Gets New Start In Arizona
10:58
Play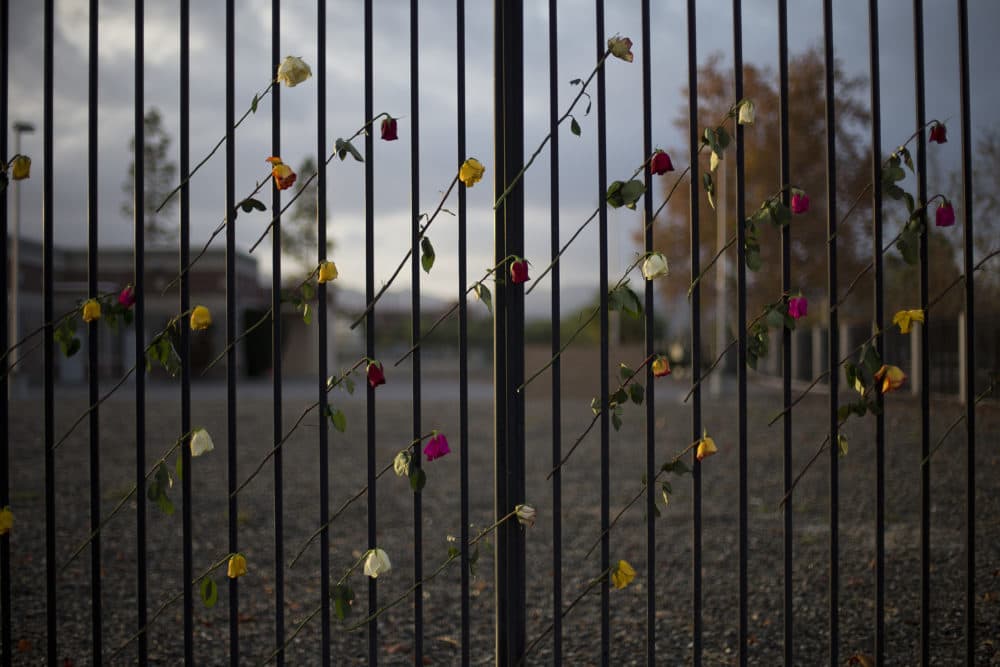 This article is more than 2 years old.
In 2015, Julie Paez was shot twice at the Inland Regional Center in San Bernardino, California. Paez, an inspector with San Bernardino County Environmental Health Services at the time, was at the center for a training event.
A health department co-worker and his wife opened fire inside the building on Dec. 2, 2015, killing 14 people and injuring 22.
Since then, Here & Now's Jeremy Hobson has checked in with Paez during her recovery. She says she recently left San Bernardino for Flagstaff, Arizona, to "start over." Paez says she received medical retirement from San Bernardino County due to her injuries. Her husband retired too, and that's when they decided to move.
"It was just really tough being there," she says of San Bernardino after the shooting. "We just decided we wanted a kind of a smaller town, a safer atmosphere and just a quieter, calmer life."
Interview Highlights
On how taking medical retirement has impacted her financially
"Once I separated from the county, I was required to resign from my job. And then once the resignation took place, then I am responsible for all my medical care from here on.
"My husband has health insurance, so for me personally, it's OK. For some of my co-workers who have had to do the same thing, they're paying for their own health insurance on their own now, and it's tougher. Since we talked last, I've had I think five surgeries and seven hospitalizations. With each hospitalization, with each surgery, I had to wait for the county to approve any kind of treatment. And oftentimes, they would deny, and that's really, that's like a punch to the gut. It's takes the wind out of sales. So I would rather take care of my own rather than waiting for them to approve or deny treatment."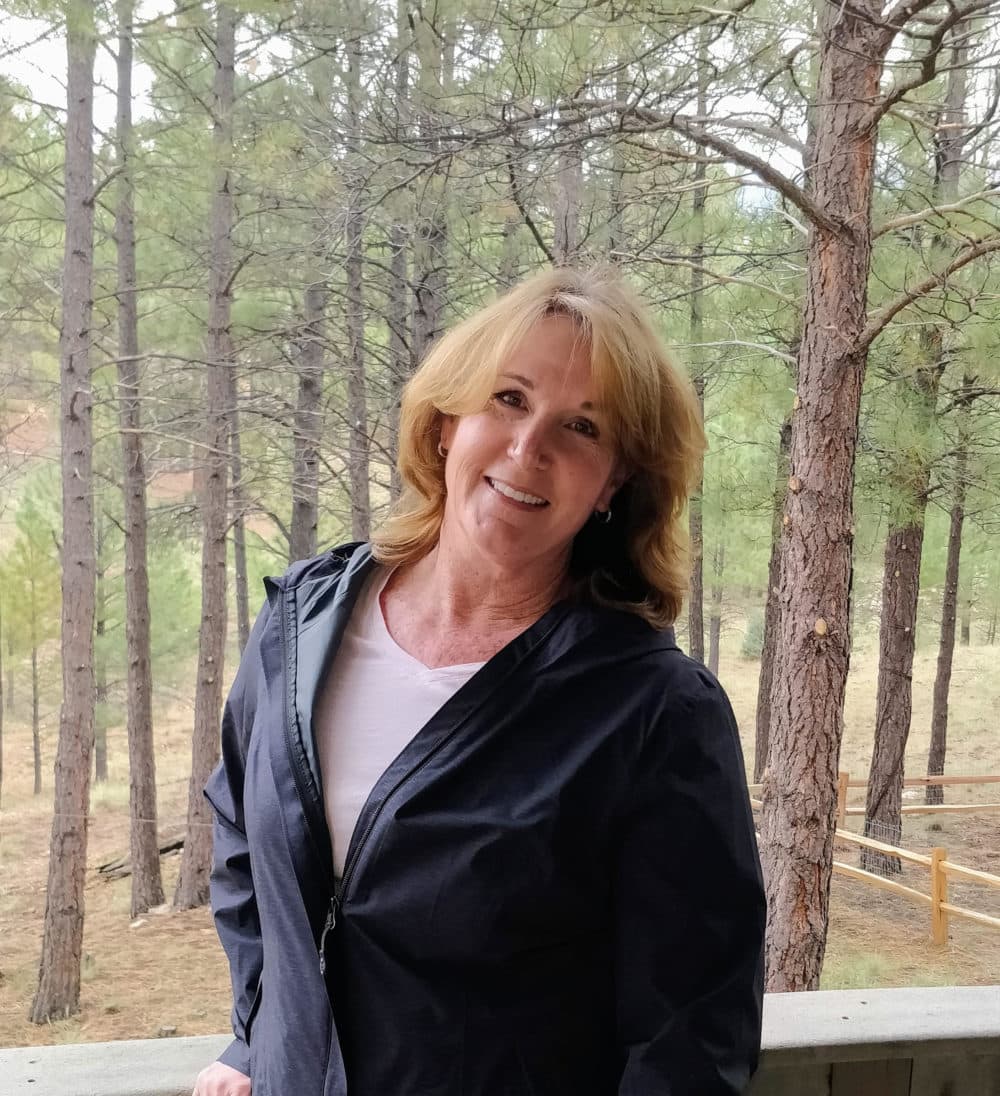 On how Paez and other victims didn't receive help from the state
"Our county was saying, we were 'county family,' and that they'll take care of us, we're county family. Really what they want, my impression is they want to sweep us away. We were a stain on the county. Even for the second anniversary, they did nothing. There was nothing. They said there should be a moment of silence. You know, 11 o'clock or something. But that's it. There was no memorial. There was no, there was nothing."
On how she is feeling physically after her injuries 
"I think I'm doing better now, and I'm having the opportunity to go bike riding now and do much more activities. Mentally, here it's much better because it's a whole new space. It's a whole new start."
"A few of my co-workers, all they saw was law enforcement, their boots, and in their mind, they thought this was the bad guys coming to shoot them."

Julie Paez
On her work sharing her story with law enforcement 
"That's actually been very healing to be able to talk and to talk to law enforcement about what happened and to get their perspective, and they like to hear from the victims' and the survivors' point of view.
"We tell them our experience. It's a little bit of a lessons learned because so much of the law enforcement community very rarely hears from the victims of something like this shooting. They want to know what they can do better, and there's a few things that they learned. Each of us had such a different perspective in that room. Where I was shot, one of my best friends, she's the one who made one of the first 9-1-1 calls. My supervisor, who's doing this also, he was our chief of our department, and he gives his perspective from a supervisor's position, watching the entire thing, but also feeling responsible for everyone in the room. So each person sort of has their own niche of what they experienced and what was running through their mind and how law enforcement can improve their responses for the victim's side.
"I know quite a few of my co-workers, all they saw was law enforcement, their boots, and in their mind, they thought this was the bad guys coming to shoot them. And so the law enforcement hadn't really thought about that. Just the shoes, someone seeing their shoes alone would make people assume they were bad. "
"My impression is they want to sweep us away. We were a stain on the county."

Julie Paez
On how people react when they find out she was shot 
"Usually they're surprised that I'm outwardly not more injured, that they can't tell from looking at me with my clothes on and just walking around that I was shot twice. I think they expect to see someone much more crippled maybe, or using a cane, or maybe even looking more emotionally crippled, if that makes sense. So typically they're more shocked that I went through that, and I'm standing there looking kind of too normal to them."
On if it is difficult to talk about the shooting 
"It's not now. I think thanks to these presentations that I've done it's actually been really healthy to repeat the story and to say the story. It's become more maybe, I don't know, natural, or it's allowed me to remove myself a little bit from it. I think, it's actually, it's been very healing for me."
On what she thinks can be done to prevent future shootings 
"It's so frustrating to me, and it just always seems that the ease of obtaining weapons here, but especially the weapons like the AR-15s, and these weapons remain to hunt human beings. Really that's what they're made for. They're not made for going in sport shooting or hunting. These are made for hunting humans. And it's frustrating to me that they're so readily available in this country because it seems that all the shootings, these mass shootings, have involved that type of weapon.
"I don't think anything's going to be done anytime soon. Unfortunately, no."
On presenting her nurse, Dexter, with a Star of Hope 
"[Dexter] is a huge blood donor for the blood bank for LifeStream in San Bernardino, and I became a spokesman for them or spokesperson. And he's one of these over 100-gallon club guys who has given for years and years, so to mark his 100th gallon, they had a special ceremony and invited me, and I gave him a special Star of Hope. So I'm also doing the Stars of Hope and sending them to other communities. With my daughter's school last year, I got Stars of Hope for all of the kids to paint that then went to another tragedy. It was a mass shooting that were sent to Texas. And so Dexter, that's the nurse, I have been in touch with him. He's just special to me, and the Stars of Hope I'm still involved with, and their founder, Jeff Parness, and I have become good friends also through all of this."
Correction: An earlier version of this post stated Paez was an employee of the Inland Regional Center, that she was at the center for a Christmas party on the day of the shooting and that shooter Syed Rizwan Farook was an employee of the center. In fact, Paez worked as an inspector for San Bernardino County Environmental Health Services, and was at the center for a training event. Farook also worked for the San Bernardino County health department. We regret the error.
This article was originally published on October 10, 2018.
This segment aired on October 10, 2018.