Alexa, Pop My Popcorn: Smart Microwave Heats Up 'Internet Of Things' Debate
05:47
Play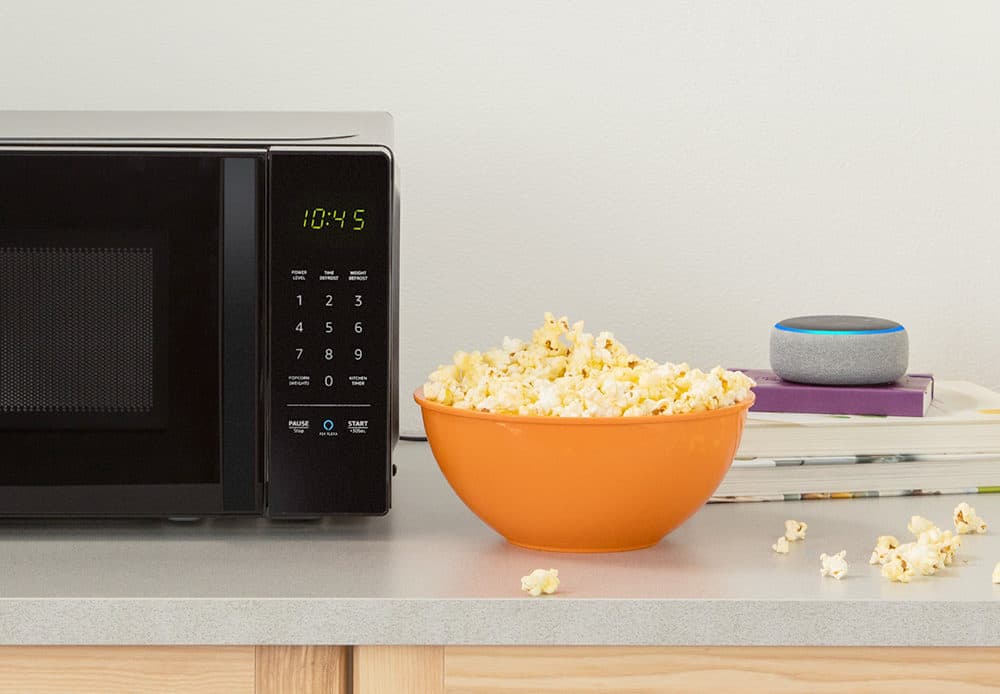 This article is more than 2 years old.
Amazon now has a $60 microwave that connects to its smart assistant Alexa. It's one more foray into the "internet of things" — a world in which every object in your home is connected to the internet, from your refrigerator to your ceiling fan.
Here & Now's Jeremy Hobson talks with tech correspondent Ben Brock Johnson (@TheBrockJohnson), host of the WBUR and Reddit podcast "Endless Thread," about some smart home FAQ and consumer advice.
What Are The Risks Surrounding Smart-Home Devices?
"Anything that you connect to the internet comes with the potential good and bad the internet offers," Johnson says. "We've seen hackers get into baby monitors and scream at babies, for instance. You can imagine crazy things like thermostats going off and your pipes freezing while you're on vacation, undetected break-ins because your smart locks have been hacked, people turning off your lights on you, smart fridges have given away Gmail credentials and payment information in the past. So the more things get connected, the more creative hackers are going to get in breaking into them.
"It's not inconceivable that ransomware, for instance, where hackers take over your computer and make you pay up to access it again, could make it into the smart home and could really hold people hostage in their own homes. So this does get kind of scary in this potential future that we're talking about."
"Anything that you connect to the internet comes with the potential good and bad the internet offers."

Ben Brock Johnson
What Are Tech Companies Doing About Those Risks?
"Honestly, not a lot yet," Johnson says. "Larger companies have the money to invest in security. But as we saw with 50 million accounts at Facebook being compromised just recently, it's a bit of a crapshoot for consumers, even among big companies.
"There's a cultural thing happening, too. Internet-connected tech is trendy, so companies of all sizes are a lot more likely to spend money on connecting something than protecting something once it's connected. Facebook announced this video-chatting service portal — and this is a different issue — saying they weren't going to collect user data. Now the company has flip-flopped, saying that user data will be collected, so potentially hackers could get access to that.
"And it's important to remember that connecting something on the internet also lets companies move the goalposts after you've purchased the product in a kind of unique way. Companies can change terms of service or user agreements that none of us ever read, and voilà, we're in this brave new world."
How Can Consumers Balance Security With Convenience?
"My rule of thumb is, every time you buy something like this, ask yourself if it needs to be connected to the internet. And often the answer is no," Johnson says. "Again, each consumer has to decide for themselves where that line is drawn when it comes to whether it's convenient enough to make the argument to take that risk.
"It may be that the 'internet of things' is coming to our home whether we like it or not, but we can use our power as consumers to hopefully make smart purchases and that will then of course convince companies that either we want something or we don't."
This segment aired on October 19, 2018.