After Pittsburgh Synagogue Shooting, Jewish Leaders Speak Out Against Divisive Rhetoric
Play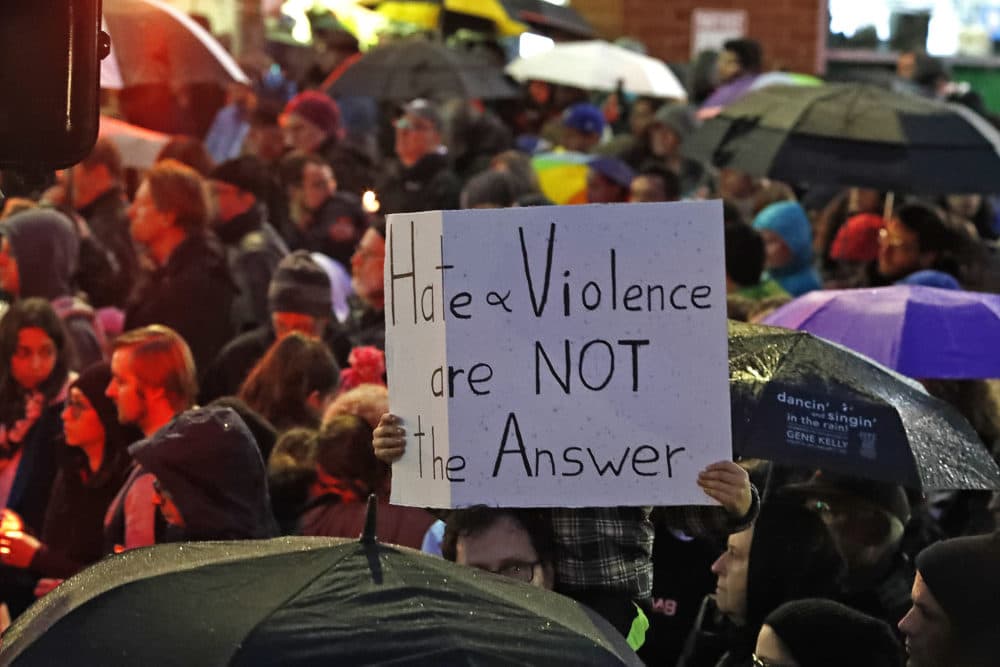 This article is more than 4 years old.
Since Saturday's mass shooting at a synagogue in Pittsburgh, Jewish leaders have been speaking out about the divisiveness they say is contributing to hate crimes around the country.
Jack Rosen, president of the American Jewish Congress, says that despite an increase in anti-Semitic incidents around the country over the last two or three years, the murders of the 11 people at the Tree of Life Synagogue on Saturday came as a shock.
In a statement released Sunday, Rosen said, "Everywhere unchecked racial and religious intolerance has spilled into its inescapable outcome: violence." Anti-Semitic acts of all kinds can follow from dangerous and inflamatory rhetoric at all levels of the political spectrum, Rosen says, starting with the president, who "has the largest bully pulpit."
Here & Now's Robin Young speaks with Rosen (@JackRosenNYC) about the aftermath of the mass shooting.
Interview Highlights
On his reaction to the shooting
"My first thought was this was a brutal anti-Semitic killing, in fact not only on Jews but Americans and our values. The shock of it all was that we Americans ... Jews have been living in America, comfortable, accepted in all communities around the country, [there's been] a sea change since the '50s and '60s in anti-Semitism and bigotry against Jews and many minorities. And here we are again, one more time. This ugliness has not only popped to the surface — it does periodically — but it seems to have gripped a good number of people in America. It's shocking and surprising."
"The answer to this ... are our political leaders. They have the microphones. And the most important political leader is our president."

Jack Rosen, on addressing divisive language
On the rise in anti-Semitic acts in recent years
"In the last two, three years, we've seen more anti-Semitic acts. Not violent acts, but Nazi symbols on Jewish cemeteries or schools, those kinds of attacks. It's made us a little bit uncomfortable. Part of that being uncomfortable is what we see happening around the world. We would have expected it wouldn't hit our shores here. So, although the numbers show increased anti-Semitism, it wasn't something that made Jews uncomfortable. This act on Saturday is quite a shock to the community, and to America it seems. It's something everyone's talking about for the last few days."
On whether the attack could lead to changes around divisive rhetoric
"I'm fearful that unless we mobilize, unless our political leadership decides to change its ways, that there won't be any major changes taking place. There's an opportunity next week when we vote in America, that maybe those that have been spewing out some of this viral language, politicians, those who have not spoken out against intolerance against minorities and politicians in America, maybe that'll send a message and shock the system.
"The answer to this ... are our political leaders. They have the microphones. And the most important political leader is our president. He has a bully pulpit, and has the biggest microphone in the country. I think it starts with him changing the tone of how he speaks about Americans and politicians from other parties.
"But it also has to go down to our representatives in Washington, our governors, our mayors. It's a local issue, and if we can mobilize and speak with a loud voice to make sure that they understand that this is not the American way, that Americans won't accept it, that they'll go to the polls if necessary to change it and it becomes a priority, that's where it has to begin."
This segment aired on October 29, 2018.