'The Silent Soldier' Tells One Veteran's Story Of Surviving Little-Known WWII Tragedy
Play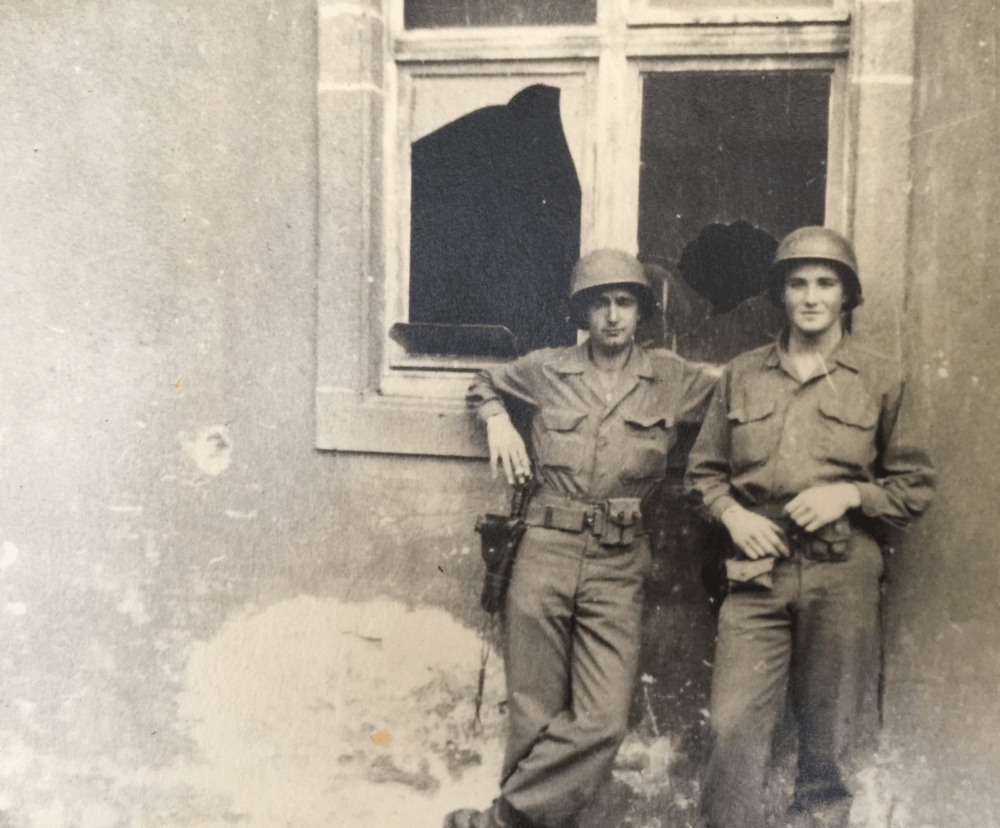 This article is more than 4 years old.
Editor's Note: This segment was rebroadcast on Nov. 11, 2020. That audio is available here.
On Christmas Eve 1944, more than 2,000 American soldiers were aboard the troop ship SS Léopoldville crossing the English Channel to France, when it was torpedoed by a German U-boat and sank. Nearly 800 soldiers were killed. Many families did not learn the real story of how their loved ones died until years later.
Here & Now's Robin Young talks with Garland Waller and Barry Nolan, co-directors and producers of the film "The Silent Soldier and the Portrait." She also speaks with John Waller, Garland's 93-year-old father and the focus of the film.
Interview Highlights
On the sinking of the SS Léopoldville in the English Channel in 1944
Barry Nolan: "These were the people that when they talk about the 'greatest generation,' John Waller is one of the prime examples. Born and raised on a farm, never been more than 50 miles from his home, he comes and signs up to go fight for his country. At 19. And now he's on a boat being sent across the English Channel to join the Battle of the Bulge. And it's Christmas Eve when a German U-boat torpedoes this converted steamship, and the attempt to rescue these people as the ship began to go down was just chaotic."
Garland, on not knowing what had almost happened to her father
Garland Waller: "They were told, 'Do not talk about this. It will be bad for morale.' And they didn't."
On surviving the torpedoes
John Waller: "I was in line to jump when the two ships collided. Those guys jumped from the Léopoldville, they missed. They fell in between and were killed. And then the [ballast] blew up, and the ship started to really sink fast. I walked down the side of the Leopoldville into the water, and I was there for 40-50 minutes in freezing, ice-cold water, before I was pulled out of the water and into a small fishing boat. … As I was in this water, the thing that I thought about is what my mother would say when she got the letter that I hadn't survived."
"They were told, 'Do not talk about this. It will be bad for morale.' And they didn't."

Garland Waller, on soldiers like her father John being told not to discuss the SS Léopoldville's sinking
On returning to the spot where the Leopoldville went down and throwing a wreath in the water
Nolan: "This was a moment of remembrance of greatest ideals. This was Europeans. And when they began to hear this, what they responded to was the power of those ideals that brought those boys from farms to fight for other people who were being oppressed. It's overwhelming — it was really quite a moment."
On the BBC covering that moment
John: "I was blown away. Just never in this world expect that anybody would even be interested in the Leopold. I never ... I got home. I just wiped it completely out of my mind and never even thought about it again. When I threw it overboard, it really brought back memories of that Christmas Eve. But you know it did ... I guess when I did that I remembered that a lot of my friends, a lot of my comrades didn't make it. They went down."
More Photos


---
Ashley Bailey produced this interview and Robin Young edited it for broadcast. Francesca Paris and Jack Mitchell adapted it for the web.
This segment aired on November 12, 2018.