Recipes From 3 Of Kathy Gunst's Favorite 2018 Cookbooks
Below are recipes from three of Here & Now resident chef Kathy Gunst's favorite 2018 cookbooks. You can also read Kathy's full reviews and learn more about some of her additional picks.
---
Rainbow Root Raita
Raita is the original savory yogurt bowl, which functions as a salad or a condiment. Throughout my youth, my parents used to serve chilled bowls of fresh creamy yogurt with cucumbers, carrots, beets, or even smashed boiled potatoes folded in, for a salad with plenty of texture and character. It was always one of my favorite parts of the meal. This raita celebrates the different colors of root vegetables. It can be enjoyed as a main course or a side and is the perfect accompaniment to spicy or hot dishes, such as Roast Leg of Lamb or Eggplant Pilaf.
Makes 6 to 8 servings as a side.
Ingredients
2 cups [480 g] plain full-fat yogurt
1 cup [240 ml] cold water
1 tsp fine sea salt
1/2 tsp ground white pepper
1/2 cup [35 g] peeled and grated carrot
1/2 cup [50 g] peeled and grated golden beets (see The Approach)
1/2 cup [50 g] peeled and grated red beets
2 Tbsp thinly sliced scallion (white and green parts)
1 Tbsp neutral-tasting vegetable oil
1/2 tsp black mustard seeds
5 to 6 curry leaves, preferably fresh
1/2 tsp grated peeled fresh ginger
Instructions
In a large bowl, whisk together the yogurt, water, salt, and pepper. Taste and adjust the seasoning, if necessary. Add the grated vegetables and the scallions, but don't mix them just yet.
In a small skillet, heat the oil over medium-high heat. Add the mustard seeds and curry leaves (be careful, as the mustard seeds will sizzle and pop when they hit the hot oil). Swirl the oil gently until the seeds stop sizzling and the leaves crisp up but are still green, 30 to 45 seconds. Remove from the heat and add the ginger to the hot oil, stirring for 10 to 15 seconds. Pour the seasoned oil mixture with the seeds, leaves, and ginger over the yogurt and vegetables in the bowl and stir just until blended. (Avoid overmixing or the red beet color will turn the entire dish pink.) Serve immediately.
The Approach: Here I use the Indian technique of tadka, or tempering (page 161). Hot oil is infused with spices and aromatics before it's poured over the yogurt, adding texture as well as flavor to this yogurt-based salad. Golden beets can darken when grated and exposed to air. To prevent this, add a few drops of lemon or lime juice (about 1 or 2 tsp per ½ cup [50 g] of grated beets).
Spiced Beef Kebabs
from "Season: Big Flavors, Beautiful Food," by Nik Sharma (Chronicle Books)
One of my most vivid memories of going to college in Bombay was heading out with my friends late at night to eat kebabs. Once or twice a week, we'd drive to the south side of the city and enjoy a feast of hot, succulent pieces of seasoned beef, chicken, or lamb, served with thin flatbreads and fresh chutney. Shami kebabs are usually made with ground lamb or beef, dried herbs, and chickpea flour for the binding agent; they don't require skewers and are cooked in large flat-bottomed woks. This recipe is inspired by the shami kebabs. Serve them with pickled red onions, Hot Green Chutney, or raita.
Makes 7 servings.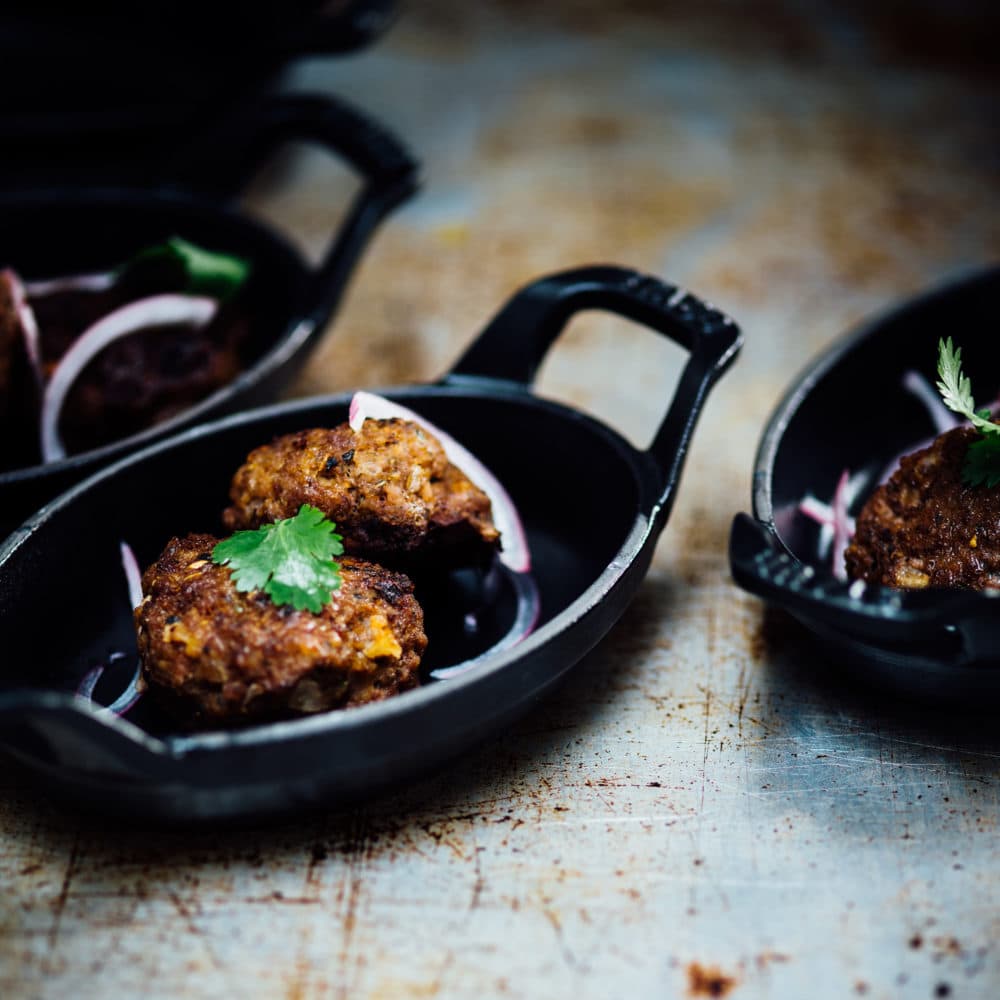 Ingredients
1 lb [455 g] ground beef (15 percent fat)
1 cup [140 g] finely diced onion
1 large egg, lightly beaten
1/2 cup [60 g] chickpea flour
2 Thai chiles, seeded, if desired, and minced
2 garlic cloves, minced
One 1 in [2.5 cm] piece fresh ginger, peeled and grated
1 Tbsp fresh lime juice
1 tsp cayenne pepper
1 tsp coriander seeds, coarsely ground
1 tsp dried mint
1/2 tsp ground cinnamon
1/2 tsp dried sage
1/2 tsp dried dill
1/2 tsp fine sea salt
1/2 cup [120 ml] neutral-tasting vegetable oil
2 Tbsp fresh cilantro leaves
Red Onions with Coriander (recipe follows)
Instructions
In a large bowl, mix the beef, onion, egg, chickpea flour, chiles, garlic, ginger, lime juice, cayenne, coriander, mint, cinnamon, sage, dill, and salt. Divide into fourteen equal parts and shape into 1 in [2.5 cm] disks.
Heat about 2 Tbsp of the oil in a large cast-iron or nonstick skillet over medium-high heat. Fry the kebabs in batches, adding more oil as needed, until golden brown, 3 to 4 minutes per side. Drain on paper towels. Transfer the kebabs to a serving plate, garnish with the cilantro, and serve with the pickled red onions.
When making kebabs (or even burgers, for that matter), I often prefer dried herbs because they contain very little to no water and are more potent in flavor than their fresh counterparts. Here the coriander enhances the heat of the chile peppers.
Red Onions With Coriander
This is my go-to pickle when I make kebabs, providing contrast in hot, spicy dishes.
Makes 1 cup [220 g].
Ingredients
1 cup [100 g] thinly sliced red onion
1 Tbsp fresh cilantro leaves
1 tsp coriander seeds
1/2 cup [120 ml] apple cider vinegar
1/4 tsp sugar
1/8 tsp fine sea salt
Instructions
Put the onions and cilantro in a clean 1 pt [480 ml] canning jar with a tight-fitting lid.
In a small, dry cast-iron or stainless-steel skillet, toast the coriander seeds over medium-high heat, until fragrant, swirling the seeds occasionally so they toast evenly, 30 to 45 seconds. Toss the seeds into the jar with the onions. Add the vinegar, sugar, and salt. Seal the jar and shake a few times. Refrigerate for at least 2 hours before serving. Store in the refrigerator for up to 3 days.
Reprinted from Season by Nik Sharma with permission by Chronicle Books, 2018.
---
Triple-Layer Parsnip And Cranberry Cake
from "Everyday Dorie: The Way I Cook," by Dorie Greenspan (Rux Martin/Houghton Mifflin Harcourt)
Makes 16 to 18 servings.
A layer cake is like a fanfare: It blares "Celebration!" This cake is meant for birthdays and anniversaries, graduations, holidays — I love it for Thanksgiving — house parties and any time you want to make a big group of people happy. Full of flavor, it's based on nuts, cranberries and grated parsnips, a vegetable that might not spring to mind immediately when you're thinking cake. I'm sure that's how people felt when carrot cakes were new. In fact, this is very much like a carrot cake—complete with cream cheese frosting — and if you wanted to swap the sweet, earthy parsnips for sweet, earthy carrots, or combine the two, that would be fine.
The cake is double-filled — it gets a layer of cream cheese frosting and then one of gingered-cranberry jam, made lickety-split. It's a fabulous combo, and the brilliant color of the cranberries makes the cake that much more of an occasion. I've given you a recipe for enough frosting to completely cover the cake, but whether you do or don't is your decision. I love the look of the cake with bare sides, so that you can see the double-decker filling, or with just a thin swipe of frosting for a skim coat. So many choices. All delicious.
Working Ahead
You can make the filling up to 3 days ahead and refrigerate it. You can make the cake layers a day ahead and keep them wrapped airtight. The cake slices better if it is refrigerated for an hour or two.
For The Cake
2 cups (272 grams) all-purpose flour
2 teaspoons ground coriander
2 teaspoons baking powder
1 teaspoon baking soda
1 teaspoon fine sea salt
1 cup (200 grams) plus 2 teaspoons sugar
1 tablespoon minced peeled fresh ginger
Finely grated zest of 1 small orange or 1 tangerine
1 cup (240 ml) neutral oil, such as canola
1/2 cup (100 grams) packed light brown sugar
4 large eggs, at room temperature
1 1/2 teaspoons pure vanilla extract
1 pound (454 grams) parsnips, trimmed, peeled and grated (3 cups)
1 cup (120 grams) chopped pecans or other nuts, toasted or not
1/2 cup (50 grams) chopped fresh cranberries
For The Cranberry Filling
One 12-ounce (340-gram) bag cranberries (if frozen, don't defrost)
3/4 cup (150 grams) sugar
1/2 cup (120 ml) freshly squeezed orange juice (or water)
1 teaspoon minced peeled fresh ginger
For The Frosting
3/4 pound (340 grams) cream cheese, cut into chunks, at room temperature
1 1/2 sticks (12 tablespoons; 6 ounces; 170 grams) unsalted butter, cut into chunks, at room temperature
6 1/4 cups (750 grams) confectioners' sugar
1/2 teaspoon fine sea salt
4 teaspoons pure vanilla extract
Instructions
To make the cake : Center a rack in the oven and preheat it to 325 degrees F. (If your oven can't hold three 9-inch cake pans on one rack, position the racks to divide the oven into thirds.) Butter three 9-inch round cake pans, dust the interiors with flour and tap out the excess; or use baker's spray.
Whisk the flour, coriander, baking powder, baking soda and salt together.Put 2 teaspoons of the sugar in a small bowl and stir in the minced ginger and zest.
Working in a stand mixer fitted with a paddle attachment, or in a large bowl with a hand mixer, beat the oil, the remaining 1 cup sugar and the brown sugar together on medium speed for about 2 minutes. The mixture might look grainy, but that's fine. One by one, beat in the eggs and then continue to beat until the mixture is smooth and velvety. Beat in the vanilla, followed by the ginger-zest mixture and any syrup that might be in the bowl. Turn off the mixer and add the flour mixture all at once. Pulse the mixer to start incorporating the flour, then mix on low just until the dry ingredients almost disappear. Add the parsnips and nuts and mix to incorporate. Switch to a flexible spatula and gently fold in the cranberries. Divide the batter evenly among the three pans and smooth the tops.Bake for 33 to 37 minutes, until the cakes are golden and just starting to pull away from the sides of the pans; the tops will feel springy to the touch and a tester inserted in the center will come out clean. If you're baking on two racks or your oven has hot spots, rotate the pans from front to back and top to bottom after 18 minutes. Transfer the cakes to racks and cool for 5 minutes, then run a table knife around the sides of the pans and turn the cakes out onto racks to cool to room temperature. (You can make the cakes a day ahead—wrap them well and keep them at room temperature.)
To make the filling: Put all the ingredients in a medium saucepan, stir and cook over medium heat, stirring, until the mixture bubbles, many of the cranberries pop and the sauce starts to thicken, about 10 minutes. The filling will thicken more as it cools. Scrape the filling into a bowl and cool to room temperature, then cover and refrigerate if you're not using immediately. (The filling can be made up to 3 days ahead and kept in the fridge.)
To make the frosting : Working in a stand mixer fitted with the paddle attachment, or in a large bowl with a hand mixer, beat the cream cheese, butter, confectioners' sugar and salt together on medium speed until very smooth; scrape the beater and bowl down frequently. Add the vanilla and beat to blend.
To assemble the cake : If the tops of the cakes have mounded (these usually bake pretty at), you can slice away the crowns to even them. Place one layer bottom side down on a cake plate. Using an o set spatula or a table knife, generously cover the top of the layer with frosting. Spoon half of the cranberry filling into the center of the frosting and spread it so that it comes to about an inch or two shy of the edges of the cake. Place the second layer on the cake, top side down. Cover with frosting and spread the remaining filling over it. Finish by placing the last layer on the cake, bottom side up. Cover the top layer with frosting, adding some swirls and whorls, if you'd like. If some of the cranberry filling oozed to the edges or maybe even spilled over a little, celebrate it! I love the casual look of this cake.You'll have frosting left over, so you can frost the sides of the cake, if you'd like. I like to leave the sides bare or run just a very thin layer of frosting around them, a layer that looks almost sheer, kind of naked, but not quite. The cake can be served as soon as it's assembled, but it's easier to slice if you give it an hour or two in the fridge.
Storing : You can keep the cake at room temperature (not hot or humid) for a couple of days or, wrapped, in the refrigerator for at least 5 days. You can also freeze the cake. Freeze it, then wrap airtight; if you can manage it, defrost it overnight in the refrigerator.
Sugared Cranberries
For an even more festive cake, crown it with sugared cranberries — finishing it like this is beautiful for the holidays. Make a simple syrup by boiling 1/2 cup sugar and 1/2 cup water together, stirring, for 3 minutes. Remove from the heat, drop in as many fresh cranberries as you'd like and roll them around to coat with syrup, then lift them out with a slotted spoon or mesh spider and transfer them to a rack. Let them set for about 1 hour — they'll be sticky and tacky, and that's what you want. Roll the cranberries around in a cup of sugar and then let them dry on a clean rack for another hour. Sugared berries are meant for the last minute — they'll get syrupy in the refrigerator and won't survive freezing.
Excerpted from Everyday Dorie © 2018 by Dorie Greenspan. Photography © 2018 by Ellen Silverman. Reproduced by permission of Rux Martin Books/Houghton Mifflin Harcourt. All rights reserved.
---
Spinach, Gorgonzola And Walnut Slab Pie With A Cream Cheese Crust
from "Pie Squared: Irresistibly Easy Sweet & Savory Slab Pies," by Cathy Barrow (Grand Central Life and Style)
Serves 12 to 24.
Slab pies turn out to be the perfect solution for cocktail hour. Inspired by a phyllo filling from The Silver Palate Cookbook, I first combined spinach, gorgonzola, and walnuts in my early 20s when I decided to have a cocktail party. I made so much, I spent five days filling and freezing tiny phyllo appetizers. They were devoured and everyone was amazed, but I never did it again. Since then, I've shied away from large fussy projects and tend toward simplification. Pie is all that. And this pie is all that and more.
Make Ahead: The pie may be assembled and baked several hours in advance and reheated from room temperature: Cover in foil and heat for 20 minutes at 350°F, then 5 to 10 minutes uncovered, until warmed through.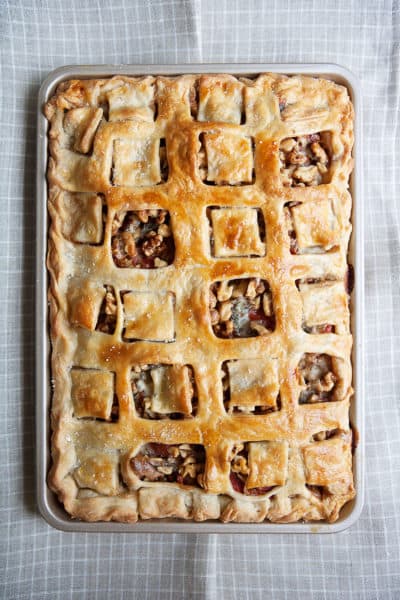 Cream Cheese Crust
2 1/2 cups plus 2 tablespoons (325 g) all-purpose flour
8 tablespoons (113 g) unsalted butter, cubed and frozen for 20 minutes
8 tablespoons (113 g) cream cheese, cubed and refrigerated for 20 minutes
1/4 teaspoon kosher salt
1/2 cup (120 ml) ice water
Filling
24 ounces (680 g) fresh baby spinach leaves (about 6 cups, firmly packed)
2 tablespoons olive oil
1 medium onion (142 g), diced (about 1 cup)
2 shallots (70 g), diced (about ½ cup)
1/2 teaspoon kosher salt
1/2 teaspoon freshly ground black pepper
1 (12-ounce) jar (340 g) sliced roasted red peppers, drained
6 ounces (170 g) gorgonzola, crumbled (about 1 ½ cups)
6 ounces (170 g) toasted walnuts, chopped (about 1 ½ cups)
1 egg yolk
1 tablespoon cool water
1/2 teaspoon flaky sea salt, such as Maldon or fleur de sel
Instructions
For the crust: In the food processor, pulse the flour, butter, cream cheese, and salt until the fats are in small pieces coated with flour, about 15 times. Add the water all at once and process until the mixture almost forms a ball. Form the dough into a 6- by 4-inch rectangle using plastic wrap and a bench scraper to firmly press the dough into a cohesive form. Wrap tightly and refrigerate a minimum of 4 hours.
Remove the dough from the refrigerator and allow it to warm slightly. Divide the dough into two pieces, one slightly larger than the other. Roll out the larger piece to 11 by 15 inches and place in the slab pie pan, pressing it into the corners of the pan and allowing the excess to drape over the sides. Refrigerate. Roll out the second piece of dough to 10 by 14 inches, place it on a lightly floured sheet of parchment, and refrigerate.
Heat the oven to 400F; if you have one, place a baking stone, Baking Steel, or inverted baking sheet on the center rack to heat.
For the filling: Place the spinach in a microwave-safe bowl, cover loosely, and microwave for 2 minutes. (If you do not have a microwave, steam the spinach briefly until just wilted.) Squeeze out any moisture.
Warm the olive oil in a medium skillet over medium heat until shimmering. Add the onion and cook until translucent. Add the shallots and continue cooking until both the shallots and onion have wilted; the entire process will take about 10 minutes. Stir in the spinach, salt, and pepper and coat everything in the oil. Taste and add more salt or pepper if you wish, keeping in mind the cheese is salty and there will be salt on the top crust as well. Scrape the spinach mixture into the prepared crust and sprinkle the roasted peppers, cheese, and walnuts on top of the greens.
Cut strips from the rolled-out top crust and drape them diagonally over the filling, or form a lattice, or top the pie with any other open form crust until the surface is mostly, but not completely, covered. To replicate the look in the photo, roll out the top crust and place it on a sheet of parchment. Chill well, then stamp out the squares with a cookie cutter, holding the cutouts aside. Drape the top crust over the filling, then replace the cutouts. Stir the egg yolk and water together and, using a pastry brush, paint the top crust with egg wash. Scatter flaky salt over the surface.
Bake (on top of the steel, stone, or baking sheet if using) for 40 to 45 minutes, until the filling is bubbling and the surface is golden brown. Cool on a rack for at least 10 minutes. Slide the entire pie out of the pan onto a large board. Cut the pie into smallish squares and serve with a cocktail.
Swaps
Use 24 ounces fresh kale or Swiss chard instead of the spinach.
Try goat cheese or feta instead of gorgonzola.
Use pecans or hazelnuts instead of walnuts.
Excerpted from Pie Squared: Irresistibly Easy Sweet & Savory Slab Pies, by Cathy Barrow. Copyright © 2018 by Cathy Barrow. Republished with permission of Grand Central Life and Style.