On A Campus Shaken By Scandal, These USC Students Say They're Hopeful For Change
10:42
Play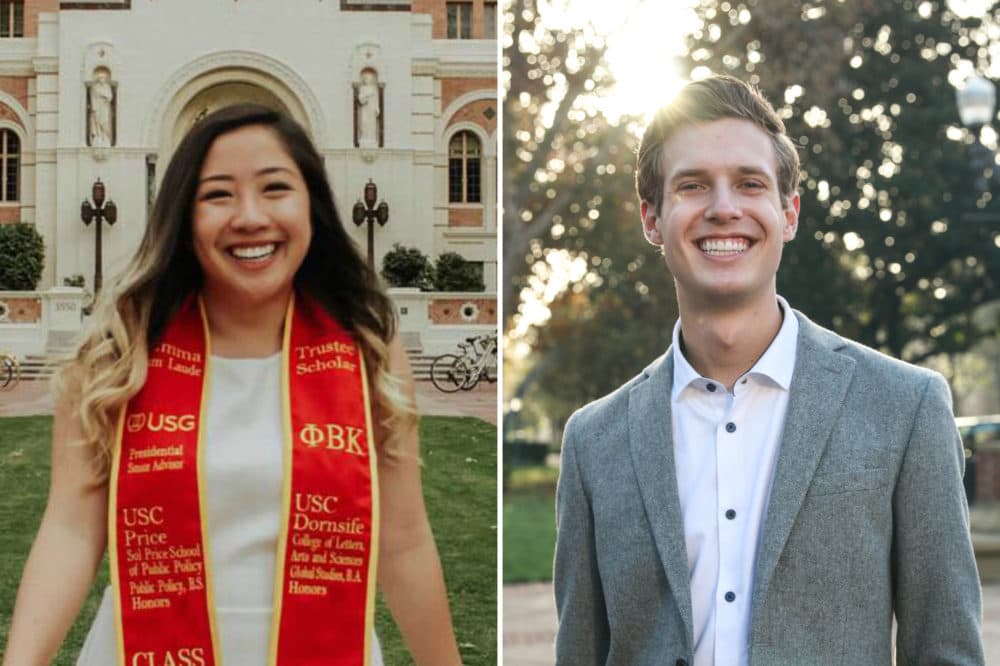 This article is more than 2 years old.
One of the schools at the center of the college admissions scandal? The University of Southern California.
More than half of the parents accused by the FBI of trying to bribe their kids' way into elite schools were targeting USC.
The campus has also faced several other high-profile troubles in recent months, including sexual misconduct allegations against a former USC gynecologist and sexual battery accusations against a former doctor at the university.
As commencement approaches, Here & Now's Jeremy Hobson talks with senior Ivana Giang (@ivanagiang), USC valedictorian for the class of 2019, and sophomore Trenton Stone, student body president for USC's undergraduate student government, about how students on campus have been reacting.
Interview Highlights
On reaction to the college admissions scandal
Ivana Giang: "Since my freshman year at USC, I've always kind of been in circles of activist students and friends who have always tried to push the needle with the university, in terms of diversity, inclusion, equity and ways to take advantage of all the resources at the university for all students. When the scandal came out, my friends and I were honestly just not surprised. It didn't quite come as much of a shock to us. Certainly, it was disappointing. And it is disappointing to have family and friends and everybody come together this Friday in light of all of that."
"I feel that there could be a more honest conversation about what the priorities of the university are. And I think those in power just don't have that same perspective."

Ivana Giang
Trenton Stone: "For me, I'm in this position [as student body president] now for about a month. I'm two years into USC and I still have two more years to go. A lot of what I've been focusing on is, how do I deal with my first half of college, and then how to move forward. And not only reconcile with our past, but really focus on a future that can drive change. As you might have heard and know, there's a lot of change in leadership. We have a new president and many new senior administrators and deans across USC. And I think what we want to focus on, and what we want to do, is make sure that the changing leadership isn't just a check mark, that ... we're gonna make change, but that it truly does happen."
On feeling some disappointment ahead of graduation
Giang: "This will be something that I'll mention in my [commencement] speech as well. I feel that there could be a more honest conversation about what the priorities of the university are. And I think those in power just don't have that same perspective. I attended some of the presidential search committee hearing sessions and the folks on the committee, there was a lot of, 'I am a 12th generation Trojan' or whatever that is — and I'm not. I'm a first-generation Vietnamese American. I'm not a first-gen student, but coming from a background where my parents were forced out of their country and had to rebuild a life here and my mom had to drop out of community college because she was pregnant with me. Yeah, it's disappointing, but I'm happy to be validated, I guess, for my achievements and I hope that in the future we can put a spotlight on underrepresented students on campus, as well."
On being hopeful for change at USC
Stone: "I don't want to be overly optimistic. I think there will always be challenges. … I think all of [the multiple scandals have] culminated now to this point that change truly can happen. Everyone across the university and truly, across the U.S. — especially with this admissions scandal — recognizes a lot of institutional challenges across the college ecosystem. There's now a moment to make that change, but I don't think that it'll be perfect just in this next year. I think it's [in] the long term and I think it takes people like Ivana at the forefront really driving that change and being there to really hold people accountable to make that change and progress."
On hearing about sexual misconduct allegations against former campus gynecologist George Tyndall
Giang: "I was really crushed because, as a student who uses the health center and as a woman on campus, it was really scary to think that that could have been me. And to be honest, it was many of my friends. Last summer, I was interning in Senator [Dianne] Feinstein's office and was just browsing through weekly reports and happened to see a blurb on this scandal. It was really crushing for me and the other USC student who was interning there at the time. And to know that I had been abroad the previous semester too, and that I was coming back to a campus that was going to be grappling with this, it was disheartening. That was a dark moment I think for a lot of students."
On hearing about sexual battery accusations against former campus doctor Dennis Kelly
Stone: "I think that added on to the Tyndall situation. I received a note from Dr. Kelly in July of last year after our president had resigned in May about his resignation from his post. And then it wasn't until February that the scandal broke from the lawsuit that he had been potentially harassing and assaulting students in our health center. For me, personally having been a patient of Dr. Kelly and as a student on campus, it really just added on to this complexity in this multi-leveled situation at USC. It really just showed larger systematic issues across our health system, rather than simply just one bad egg in this health center."
On making the best of college life amid scandals
Giang: "Certainly in the background, we all acknowledge all these things that have happened this year. But I mean, my college career has been spanning the past four years. I've been able to, like I said, I've interned in Senator Feinstein's office, I've been able to work and study abroad in places like Uganda and Nicaragua because of the opportunities offered through USC. There are people in USC who want us to take advantage of these opportunities and want us to reach our full potential and I've been very fortunate to be a part of that. It comes down to bringing that spirit, I guess, what it means to have that college experience of taking advantage of academics, extracurriculars and opportunities to travel. And I think that's there, and I think we just need to understand and get all of us on the same page about wanting that for every single student at USC and not just a privileged few."
Stone: "I think that's always at the foundation of why we're at school. But of course, student government and different endeavors do take a lot of time and end up pulling a lot of myself away from academics. As a student, you know, there's unparalleled opportunities at USC. Similar to Ivana, I've been able to participate in so many different programs and trips and really just being able to develop so much as a person. While these scandals and situations pose a very interesting challenge — not only for students, but for the larger university — the university continues to operate and be a great place and a great hub for academics and extracurriculars and professional development.
"I love USC, but I think that even requires more of us to be able to make sure that we're a part of that change and that we don't just write off the university, but that we can be a part of what needs to happen over the next coming years."
---
Ashley Bailey produced this interview and edited it for broadcast with Todd Mundt, and adapted it for the web.
This segment aired on May 7, 2019.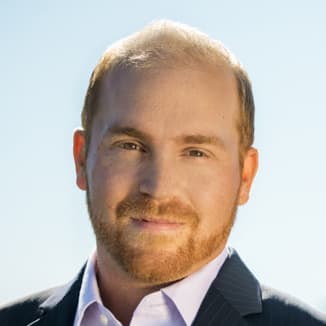 Jeremy Hobson Former Co-Host, Here & Now
Before coming to WBUR to co-host Here & Now, Jeremy Hobson hosted the Marketplace Morning Report, a daily business news program with an audience of more than six million.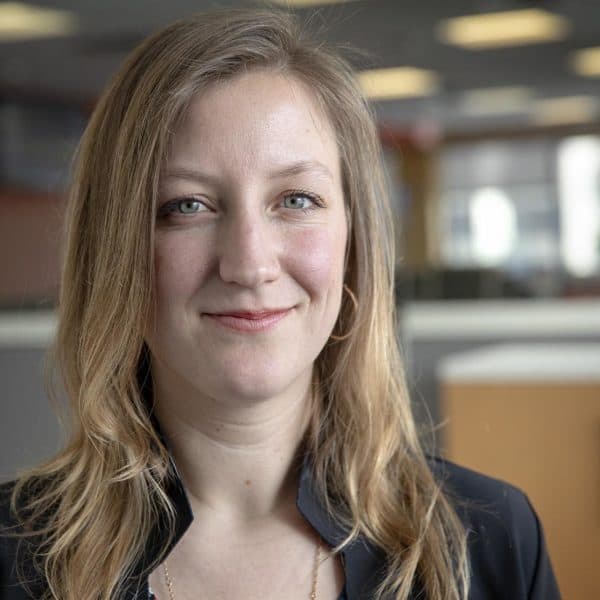 Ashley Locke Producer, Here & Now
Ashley Locke is a producer for Here & Now. She was formerly with Southern California Public Radio, where she started as a news intern, before moving to the Boston suburbs in 2016.