Bourbon's Old Kentucky Home: Inside The State's Tradition Of Whiskey-Making
10:19
Play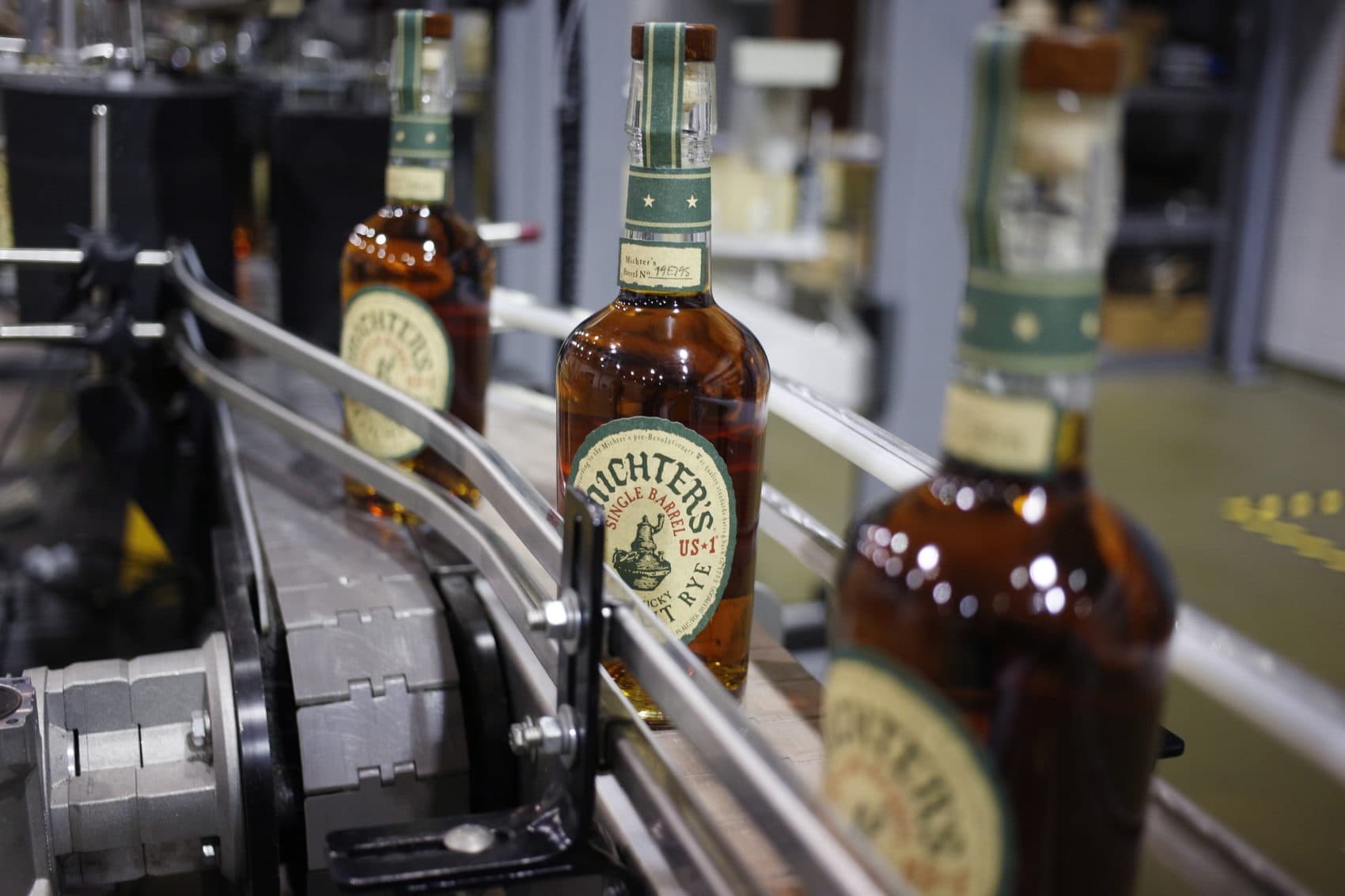 This article is more than 2 years old.
There are more barrels of bourbon in Kentucky today than at any point since the 1970s.
According to the Kentucky Distillers' Association, there are more than 7 million barrels of bourbon aging in Kentucky—a state with only about 4.5 million people.
Bourbon was born in Kentucky, and today the industry is in the middle of a renaissance, even as trade disputes and tariffs threaten its growth.
Years before a glass of bourbon can be served, it all starts with a 3-foot-high white oak barrel.
"What makes Kentucky stand out from all the whiskey-producing regions in the world is we alone always use a new, charred barrel," says Chris Morris, master distiller at Brown-Forman, the company behind Jack Daniel's, Old Forester, Woodford Reserve and many other liquor brands sold around the world.
The craft of making barrels is called cooperage, and this ancient industry lives on in Louisville at a World War II-era factory near the airport. Until 1945, the military used this brick warehouse to manufacture rifle stocks and plywood parts for airplanes.
"After the end of the war the military supply contracts were ended and we, Brown-Forman, purchased the plant and converted it into a barrel cooperage, and it's been making whiskey barrels ever since," Morris says. "Not only are the we the oldest cooperage, but we are also the only whiskey-maker who owns a cooperage making new barrels."
Inside the cooperage are dozens of workers — including one man who's been working there for 50 years — putting together and repairing barrels largely by hand. They have to make sure that the 33 or so staves of wood fit together perfectly before the barrels are bound together with metal hoops.
If there's a crack in the wood, the bourbon will leak out. So coopers test for leaks by putting water in the barrel. If they find one, the cooper goes to a wall of wood, picks a piece that perfectly matches the damaged stave, and replaces it.
Once the barrel is perfect, it's sent across the factory floor on a series of tracks and conveyor belts to an oven, where the interior of the barrel is blasted with fire to toast and char the wood.
If it weren't for this process, bourbon wouldn't have its color or its flavor.
Of course something has to go into the barrel to make bourbon, and that's where distilleries come in. Whiskey starts as a mixture of grains called mash, says Andrea Wilson, master of maturation and executive vice president for Michter's, a distiller with origins going back to the 18th century.
For the mash to become bourbon, it has to be at least 51% corn, Wilson explains. Other whiskeys usually use other grains, such as rye, malted barley or wheat. Distillers at Michter's boil that mash and condense the resulting vapor into what they call "low wine."
Standing under a stack of copper stills and and pipes that reach up several stories, Wilson follows the mash's journey into whiskey.
"And then we take that low wine and introduce it to our pot-still doubler, which is like a second refinement step, or a second distillation, it's boiled up, and as different compounds hit their boiling point again, they become vapor, go up to the second condenser, condense and then they come back down and that's what we call high wine," says Wilson. "That's what will be evaluated for quality prior to reduction and entry into the barrel."
That clear whiskey — also called white whiskey, or moonshine — gets piped into barrels that are hammered shut. Each barrel holds about 53 gallons of liquor and weighs about 500 pounds, so they have to be rolled along steel tracks and lifted by machines into storehouse racks several stories high. To be deemed a Kentucky straight bourbon, it has to spend at least two years aging in that barrel — and many bourbon makers let it age much longer.
Wilson, who is also on the board of the Kentucky Distillers' Association, says 95% of the world's bourbon is made in Kentucky, but not all of it.
"It was made America's native spirit in 1964 and it can be produced in any of the 50 states, but to be a Kentucky straight bourbon you have to be made in Kentucky," she says.
Why was Kentucky the place that developed bourbon? Morris of Brown-Forman says it has to do with the the state's people, and its environment.
"As our ancestors came either down the Ohio River or over the Appalachian Mountains they brought two things with them: horses and stills, two things we're famous for," he says.
Morris says early Irish, Scottish and Welsh immigrants adapted their native whiskey-making techniques to Kentucky's climate.
"On the Eastern Seaboard, they're growing the grains they brought from Europe. Here they're growing the native corn. Also they had abundant oak trees, and they had limestone water and the unique four seasons that make Kentucky Kentucky," Morris says. "You put all these unique elements together, and true bourbon can only come from this region."
Kentucky's most famous tourist attraction is probably still the Kentucky Derby, which just happened earlier this month at Churchill Downs. These days, however, more people visit the state each year as bourbon tourists than Derby enthusiasts.
"We're seeing over a million people now coming to Kentucky for the sole purpose of visiting the Kentucky bourbon trail," Wilson says. "Bourbon is really underpinning tourism."
Once someone becomes a bourbon tourist, they're already interested in the drink. What many in the industry are focused on now is convincing new customers around the world to give bourbon a try.
"There's still a lot of people who are still afraid to try it. I think a lot of people are still under this old umbrella of thought that it's this big cowboy-juice, diesel-fuel product and it's not," says Jackie Zykan, master taster for Old Forester. "If you broke down bourbon and described it by its little palatable flavor compounds, people would be like, 'Well, I like vanilla, I like cinnamon, I like butterscotch, I like citrus, I like all of those things.' Well therefore, you technically would enjoy a glass of bourbon, because that's all there and present."
Those flavor notes are present in bourbon even if you drink it neat. But if you drink yours in a mint julep, old fashioned or another cocktail, Zykan and Wilson both say that's fine.
"Everybody's palate is different," Wilson says. "What I always encourage people to do is taste bourbon neat so you understand the spirit and understand what took years to develop in the barrel, and then create what you like."
Wilson, though, takes hers neat.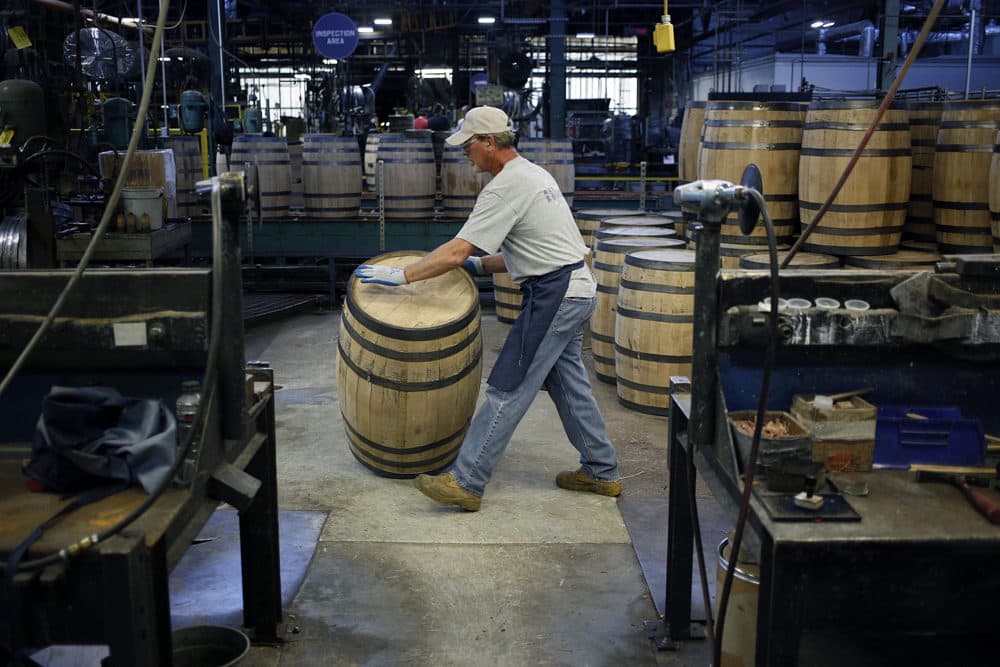 ---
Chris Bentley produced and edited this story for broadcast with Todd Mundt. Samantha Raphelson adapted it for the web. 
This segment aired on May 21, 2019.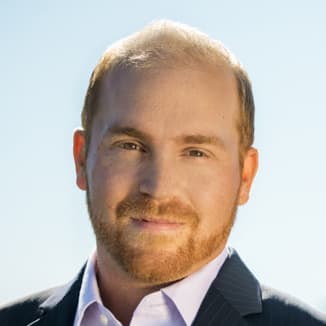 Jeremy Hobson Former Co-Host, Here & Now
Before coming to WBUR to co-host Here & Now, Jeremy Hobson hosted the Marketplace Morning Report, a daily business news program with an audience of more than six million.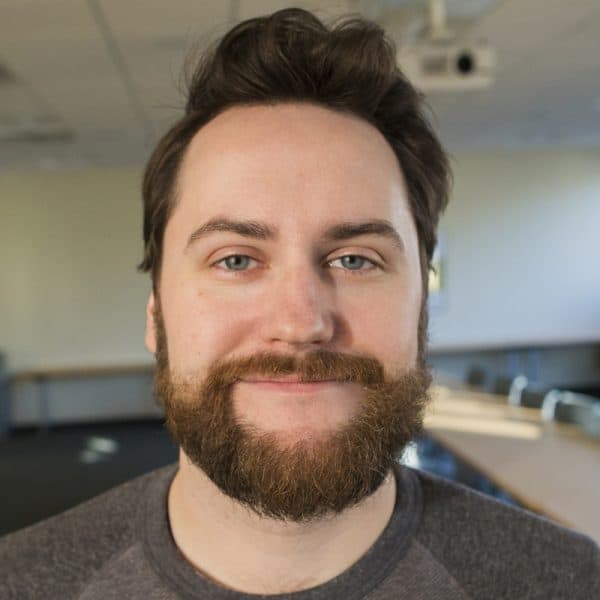 Chris Bentley Associate Producer, Here & Now
Chris Bentley is an associate producer for Here & Now, where he has produced daily news and features since 2015. Chris came to the show from Chicago.