Thanksgiving Side Dishes And Vegan Recipes That Will Outshine The Bird On Turkey Day
Play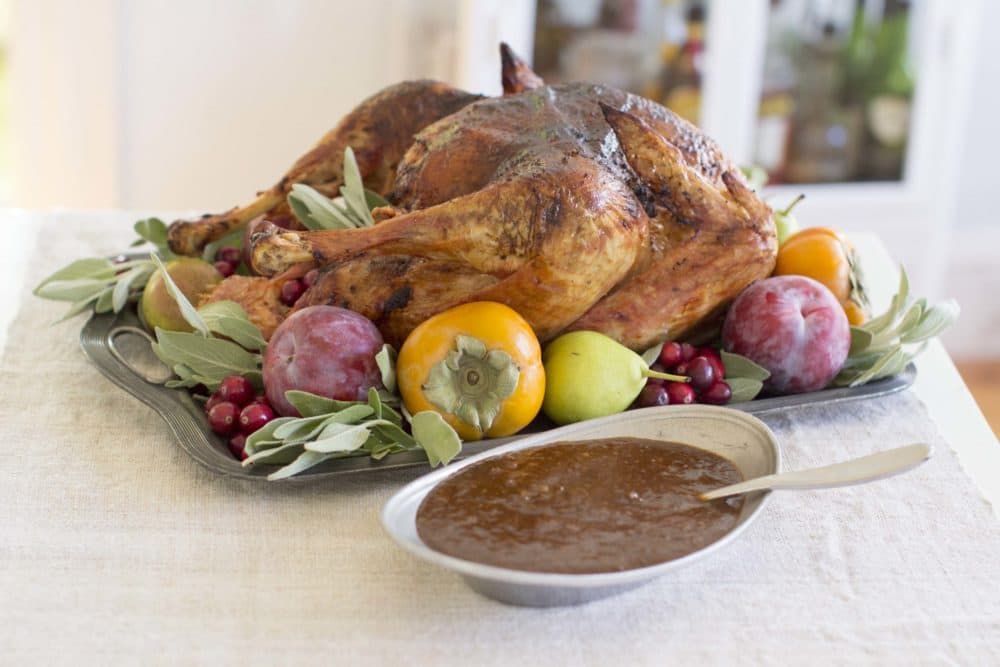 This article is more than 3 years old.
Thank you for all the great questions — and I'm sorry to hear about the anxiety that swirls around this holiday. But let me just say: You can do this. Yes, you! Even those of you who have to make special dishes for your vegan cousin, your diabetic father-in-law, your vegetarian sister and your gluten-free, dairy-free relatives.
The turkey is like an edible flower arrangement that needs to be there to signal the important message: This is Thanksgiving. But as much as I love turkey, it's not what I look forward to. It's the mashed potatoes, gravy, squash, spinach, salads, cranberry sauce and, most importantly, the desserts!
Vegetarian and Vegan Ideas
So many of you asked for vegetarian and vegan recipes. Turkey is delicious and it pretends to be the star of the meal but let's face it: It's really the side dishes that steal the show. So in terms of cooking for vegetarians and vegan family members, I have many ideas. Make the vegetables front and center with a huge platter of roasted veggies.
Sweet potatoes and Brussels sprouts signal the season. Here are several recipes that will work.
More side dishes
And you don't need to be vegan or vegetarian to love this new spinach recipe.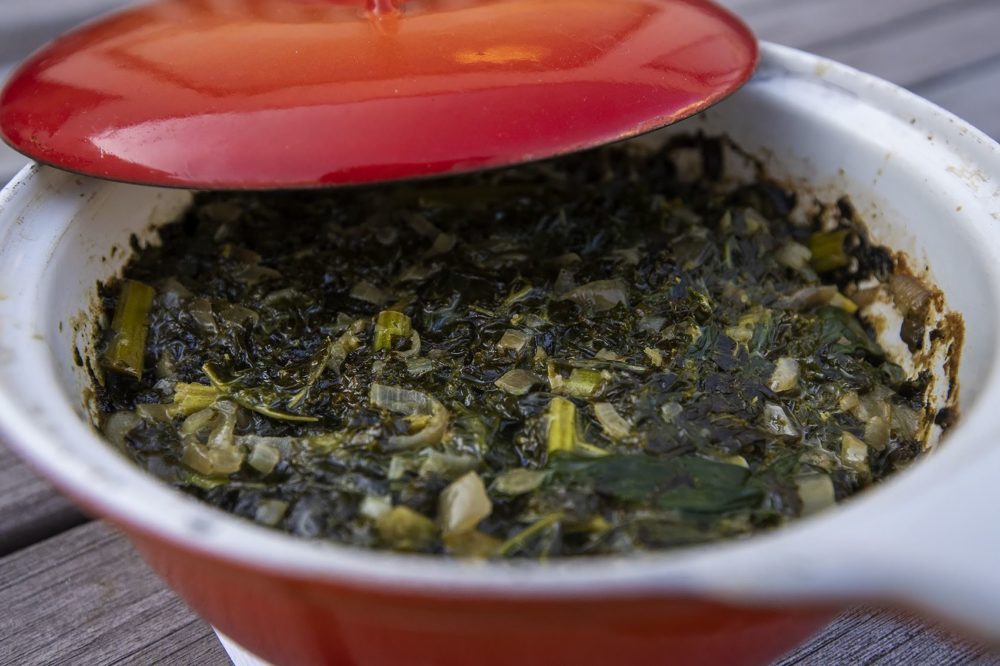 Vegan Creamed Spinach and Kale with Nutmeg
OK, folks. This side dish has it all: It's vegan. It's dairy-free. It's gluten-free. Creamed spinach is a traditional side dish on my Thanksgiving table year after year. But this year, it's a vegan variation that relies on coconut oil and coconut milk to give these greens a creamy sauce laced with fresh nutmeg. The greens can be cooked up to 24 hours ahead of time; place in small casserole and heat in 350-degree oven until hot or on stovetop until bubbling and hot.
Serves 4 to 6.
Ingredients
1 1/2 tablespoons virgin coconut oil
1 tablespoon olive oil
1 large shallot, thinly sliced
2 scallions, thinly sliced
Salt and freshly ground black pepper
About 1/4 teaspoon ground nutmeg
1/2 pound kale, coarsely chopped (including stem if fresh and tender)
1 pound baby spinach
1 cup whole coconut milk, preferably organic
Instructions
In a large skillet, heat the coconut oil until melted over low heat. Add the olive oil and then the shallot, scallions, salt, pepper and half the nutmeg. Cook, stirring, for 5 minutes.
Add the kale and cook, stirring, for 2 minutes. Stir in the spinach, add the remaining nutmeg and cook, stirring, for 4 minutes until just wilted.
Add the coconut milk and cook, stirring occasionally, for 5 minutes or until the coconut milk is thickened and the greens are tender. Taste for seasoning and add more salt, pepper and nutmeg as you like.
Turkey Tips
For those of you who are making turkey, here are some of my tips:
Generally, you want 1½ pounds per person (with leftovers!).
Plan on thawing a frozen bird for one day for every five pounds.
And roast the bird for 12 to 15 minutes per pound depending on how fresh it is.
Click here for more about the turkey, making gravy, and the fixings.
And we can't forget the cranberry sauce! Here's a family favorite: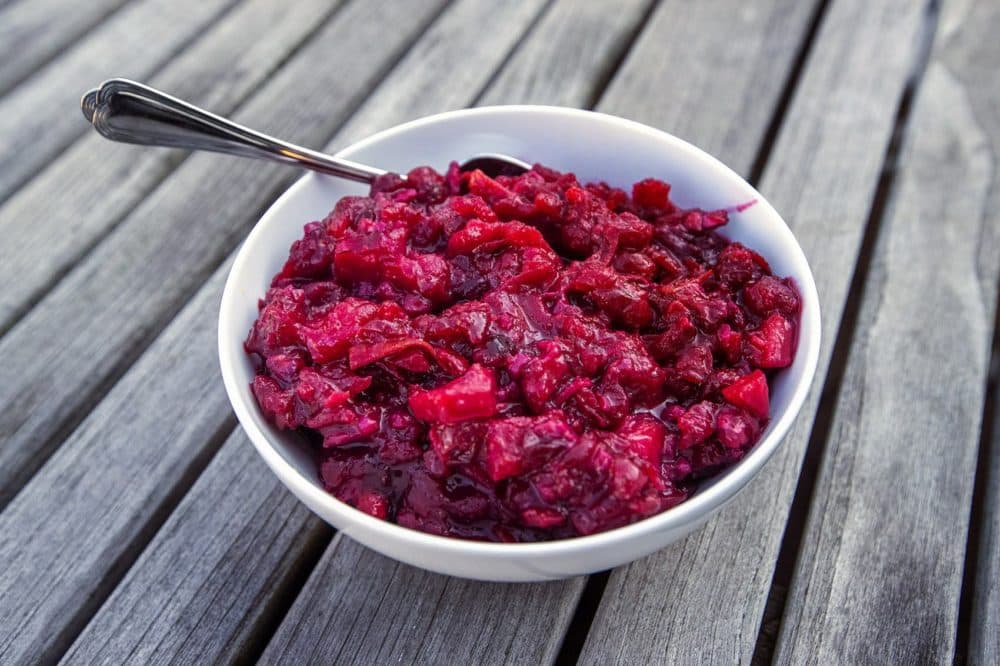 Kathy Gunst's Cranberry Sauce with Ginger, Orange, Pineapple and Nuts
It's not Thanksgiving without this sweet, tart sauce. You can make it a week ahead of time and keep it refrigerated. I love serving it with turkey but it's equally good on sandwiches (mix with mayonnaise for a cranberry-mayo spread), with a cheese platter or as a dessert sauce with cookies, pound cake or pie.
Makes about 6 to 7 cups.
Ingredients
1 cup pecans, walnuts or your favorite nut (or omit if you don't love nuts)
1 cup water
1 1/2 to 2 cups sugar (depending on how sweet you like)
1/4 cup maple syrup
1 pound fresh or frozen cranberries (no need to thaw)
1/4 cup julienned orange rind
1/3 cup fresh orange juice
1 1/2 tablespoons fresh ginger cut into julienne stripes
1 tablespoon candied ginger, coarsely chopped
2 cups fresh pineapple, chopped or coarsely chopped
Instructions
Preheat the oven to 350 degrees. Place the nuts on a baking sheet and toast for about 8 to 10 minutes, or until it looks toasted. Remove, cool and then coarsely chop.
In a large pot mix the water and sugar. Bring to a boil over high heat, then reduce the heat to low and simmer 10 minutes. Add the maple syrup and simmer 3 minutes. Add the cranberries, stir to coat them all, and simmer until the cranberries begin to pop, about 8 to 10 minutes.
Add the orange rind, orange juice and cook 5 minutes. Add the fresh and candied ginger and cook another 5 minutes, or until the sauce is thickened. If it seems too thin, you can remove the cranberries with a slotted spoon and place in a bowl. Simmer the juices over medium heat for another 5 minutes or so until thickened. Add the pineapple and nuts off the heat and let cool. Keep in a clear glass jar tightly sealed in the refrigerator.
This segment aired on November 25, 2019.