Hairstylists Can Save Your Hair — And Your Life
10:25
Play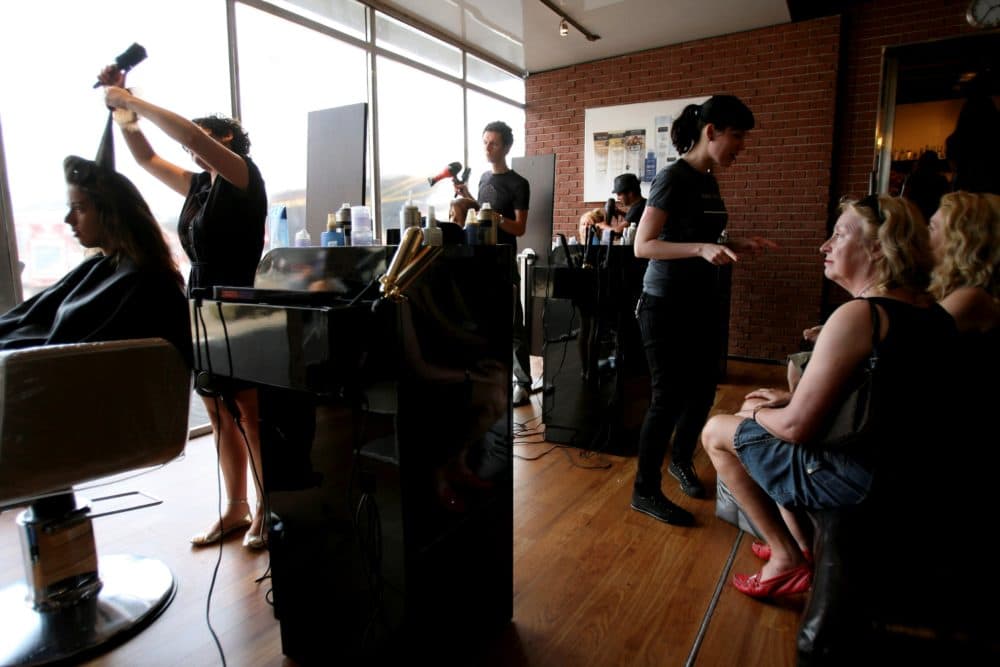 This article is more than 1 year old.
A hairstylist can save you from a bad hair day, but it may be surprising to know that a hairstylist can also save your life.
Many melanomas go undetected because they are located in places that often go unobserved like the scalp, ears or neck. Hairstylists, who see their clients and their scalps regularly, are often the first line of defense in early melanoma detection, which can make all the difference for someone's chance at survival.
The five-year survival rate for patients whose melanoma is detected early is approximately 98%, according to the Skin Cancer Foundation. For patients whose melanoma has metastasized to distant organs, the survival rate is only 23%.
Susie Musec, a former hairstylist and current teacher at the Paul Mitchell school in St.Louis, Missouri, has worked in cosmetology for 40 years. During that time, she's had personal experience spotting melanomas.
"Throughout my career, I have recommended many people that I have seen suspicious-looking things on their head and scalp and ears and neck to actually go see a dermatologist. And as a matter of fact, yes, several of them did have to have them removed," she says. "And a very dear friend of mine had a melanoma on her scalp. And if her hairdresser would not have detected it, she probably would not be here today."
Early detection is key in fighting skin cancer, says Dr. Ramona Behshad, a dermatologist and assistant professor in the Department of Dermatology at Saint Louis University School of Medicine. She started a dermatologist-led program called Stylists Against Skin Cancer that educates hairstylists on skin cancer after noticing a trend among her patients.
"We had a week where about four or five patients came in with very aggressive melanomas that were all found on the scalp, and they were all identified by their hairstylist. And all of these melanomas were caught relatively early," she says. "So I started to think about how I could leverage hairstylists in assisting the dermatologist. And what I realized was that a lot of them were actually very hungry for education."
For hairstylists who feel nervous about speaking up, Musec says that having a conversation about a troubling spot doesn't need to be difficult. Through a program called Eyes on Cancer, Musec works to train her students on melanoma detection.
"Usually what I would say is, 'I've noticed something that looks a little suspicious on your scalp. Have you ever noticed it before?' she says. "And then usually the conversation heads into, 'No, I didn't know that.' "
Dr. Behshad says that hairstylists are uniquely positioned to spot skin cancer because of how frequently they see their clients.
"Patients don't love coming to see their physicians, but they do look forward to seeing their hairstylists. Hairstylists see their clients on a monthly, bi-monthly basis. Dermatologists, you're lucky if you get to see [your patients] once or twice a year," she says. "And because of that frequent nature of the visits that you have with your hairstylist, they can actually monitor things. They can see that something wasn't there the last month or something wasn't there two months ago."
As for how Musec's friend with melanoma is doing? Musec says, "She's 100% great."
"She still, though, has to go very often to be checked since she has had a melanoma," she says. "But she's doing well, and she attributes it to early detection."
If you're a hairstylist looking for training or more information on spotting melanomas, you can visit Eyes on Cancer or Stylists Against Skin Cancer for more information.
---
Kalyani Saxena produced and edited this interview for broadcast with Mark Navin and Tinku Ray. Saxena adapted it for the web.
This segment aired on December 17, 2019.