Taco Bell Will Pay Some Managers $100K A Year
Play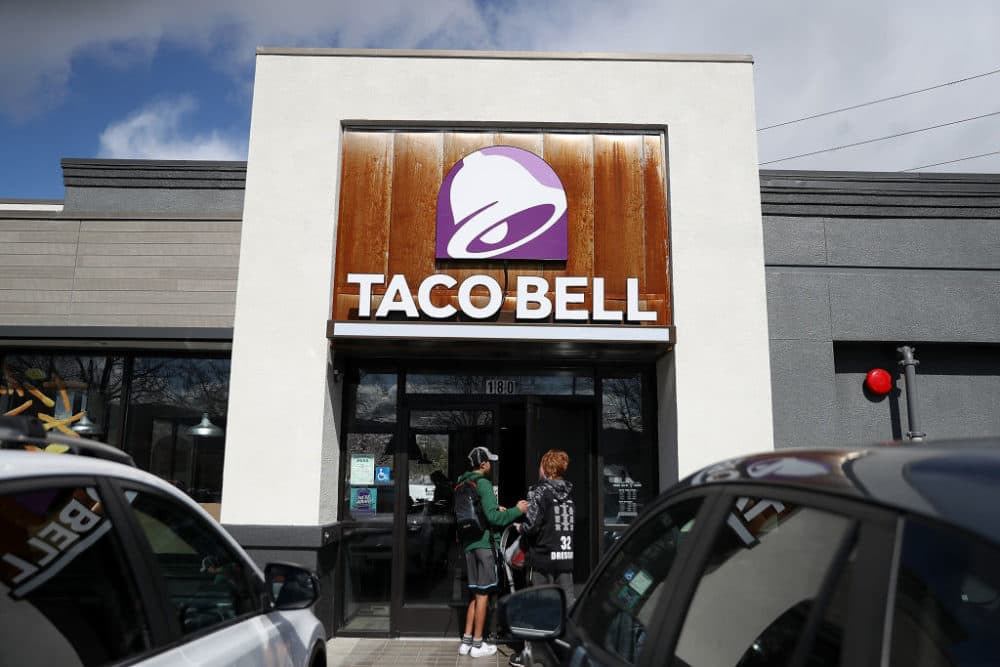 This article is more than 2 years old.
Taco Bell wants to attract and retain managers by offering a fully-loaded salary.
The fast food chain announced this month it will soon begin testing a $100,000 salary for general managers in some locations and offering paid sick leave.
This isn't rolling out at every Taco Bell, but at some corporate locations that make over $2 million per year, says Sam Oches, editorial director for Food News Media, which publishes QSR Magazine.
General managers at Taco Bell make between $50,000 to $80,000 per year, which Oches says is comparable to other popular fast food chains like McDonald's and KFC.
Taco Bell's new commitment to employees isn't typical of fast food restaurants, he says, but the chain is trying to rise above the competition and attract better talent.
"In today's environment, though, it's more competitive than ever," he says. "And so some of these restaurants are looking for ways that they can invest in their employees so that they can limit their turnover and keep their employees at their restaurants and not go to competitors."
Fast food restaurants give American workers a start to their careers by hiring entry-level employees like teenagers and students, he says.
With the labor market at a low 3.5% unemployment, that leaves the fast food industry with a small pool of potential employees and forces companies to compete with each other for the best workers, Oches says.
"It does make it a little bit more challenging for these restaurant companies because of the turnover," he says. "You see these employees leave and maybe either go work for a competitor or move on with their career to something else."

Taco Bell's general managers are tasked with managing staff, keeping up inventory, cleaning the restaurant and filling in as needed. The "high-pressure job" demands speed and accuracy, he says.
The chain had made a commitment to its managers, he says, while it dictates hourly wages for other employees depending on the market. In cities where the labor market is stiff, Taco Bell pays up to $10 to $12 per hour, he says.
Fast food chains are looking at ways to invest in their employees like educational initiatives, which Taco Bell offers, and paid sick time, he says.
"These are ways that they can go beyond just simply pay and say, 'We're committed to you and we want to create an attractive job opportunity for you,' " he says.
On top of making a commitment to managers, Taco Bell is hoping lower-level employees will see this initiative as an opportunity, he says. Employees will see that if they work for the chain for a long time and receive promotions, they can become a general manager and make six figures.
Making positions at every level more attractive could position Taco Bell as the "employer of choice" over its competitors, he says — which will force other chains to consider similar policies.
"If you're in a town with a McDonald's and a Burger King and a Subway and a Taco Bell, and Taco Bell's paying the most — there's gonna be more demand for that position," he says.
But could giving managers a raise impact Taco Bell's value menu and $1 tacos?
Not necessarily, Oches says, because the locations where managers will receive the raise have comfortable profit margins.
Taco Bell prides itself on its Cravings Value Menu and $1 items. But if paying managers a $100,000 salary helps with turnover so much it could result in positive long-term implications for the chain, he thinks anything is possible.
"Maybe all things will be on the table for what they do, maybe even price increases," he says, "but typically price increases, historically in fast food, that's a last resort."
---
 Julia Corcoran produced and edited this interview for broadcast with Kathleen McKenna. Allison Hagan adapted it for the web. 
This segment aired on January 28, 2020.