Chef Kathy Gunst's Guide To Cooking For Passover And Easter In The Time Of Coronavirus
Resume
Holiday traditions have always been important to me. With the feeling of isolation created by social distancing and the sadness over the lives lost to the coronavirus, keeping holiday traditions alive during this pandemic feels more crucial than ever.
As we enter this week of Passover and Easter Sunday, many families are searching for ways to celebrate. This holiday will be different from all others in part because we won't be able to gather in the usual way. For many of us, this will be the first time in a long time — maybe ever — that we will be seated at separate tables far from our friends and family.
Despite all that is happening, we can still make meaningful, joyful holiday celebrations and create a sense of connection with the people we love. The key this year is to keep things simple.
There is no need to make a huge roast and a full feast since there will not be a crowd. (Although the leftover possibilities are limitless for holiday ham and roast lamb, not to mention traditional potato dishes). Here are some recipes, as well as links to favorite older recipes that may inspire you. Because you may not be able to find all of your usual holiday feast ingredients, make one or two favorite dishes and let the others go this year.
For Passover, I generally cook an elaborate feast: matzah ball soup, charoset (apple and nut salad), roast leg of lamb, potatoes, asparagus, a fresh green and a flourless dessert like a pavlova (or meringue cake) adorned with a crown of vanilla-scented whipped cream and all the fresh berries I can find.
This year my husband and I will be the only two at our actual table but we will be joining our two daughters and their partners via video conference. Everyone has agreed to make matzah ball soup in their respective kitchens so we have one traditional holiday food to share. We will say a prayer and drink a glass of wine. Lighting a candle and saying a prayer together will be as important as the food. For our family, that will be enough this year — although I realize others may still choose to observe the entire Passover seder.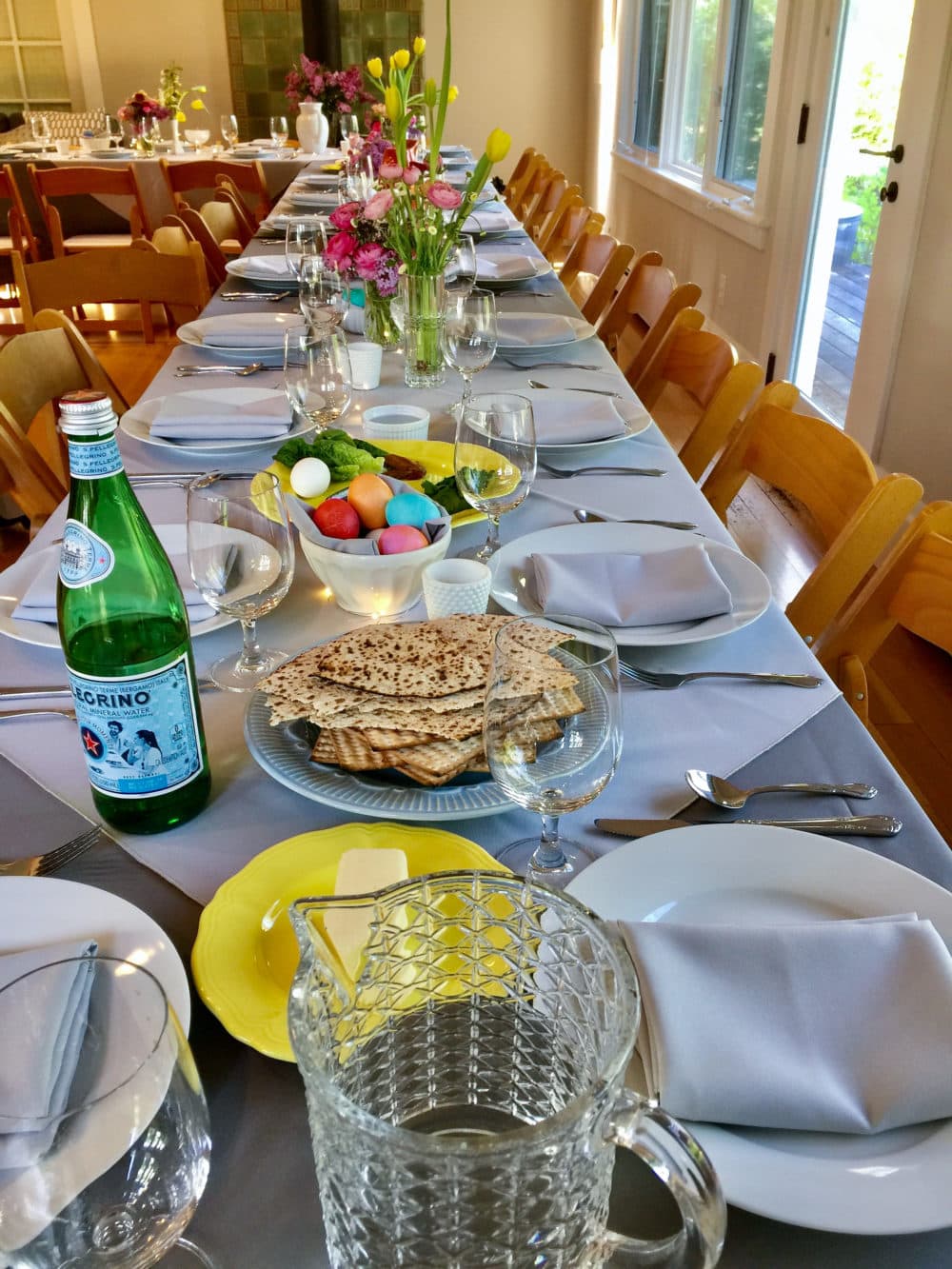 For Easter, families will attend virtual church services and cook smaller meals: devilled eggs, a small roast ham (again, think of the leftovers), asparagus, your favorite potato dish, a cake, a spring tart. Or maybe, in the spirit of keeping things simple and acknowledging the state of the world, you will celebrate with a glorious plate of steamed spring asparagus topped with lemon butter and warm rolls. And, of course, jelly beans.
You can still set the table with your holiday best. You can still wear something other than sweatpants. You can still celebrate the beauty of spring. You're just going to have to do it differently, like everything else these days. My hope is that when you pare down your holiday celebrations to their most essential parts you'll find even greater meaning in the traditions of this holiday.
Passover begins Wednesday, April 8 at sundown and ends April 16. Easter is on Sunday, April 12.
Roast Holiday Ham With Orange-Shallot Glaze
You can make this holiday roast using any size smoked ham. Smoked ham is cured in brine and then smoked over low heat. It is essentially pre-cooked.
In this simple recipe, heating the ham with fresh orange juice mixed with wine, cloves and a touch of cranberry juice (if you have it) creates a thick, gooey glaze.
Serves 4 to 8.
Ingredients
One 4 to 6 pound fully cooked smoked bone-in ham
1/3 cup whole cloves (or 1 tablespoon ground cloves)
About 2 cups orange juice, preferably fresh-squeezed or old- fashioned type with pulp
1 cup Madeira wine, sherry or red wine (if you don't want to use alcohol, add another cup of orange juice)
½ cup sugarless cranberry juice, optional
½ cup water, optional
6 medium-sized shallots, peeled and cut in half; or 4 leeks, cut into 1-inch pieces; or 2 red or white onions, peeled and cut into quarters
Instructions
Place the ham, fat or skin side up, in a large, flameproof roasting pan. Insert half the cloves into the top of the meat and sprinkle the remaining whole cloves around the roast; or sprinkle the top and sides of the meat with the ground cloves. Pour half the orange juice, Madeira or wine, and half the cranberry juice over the ham and marinate for at least 2 hours and up to 24 hours, turning the ham once or twice.
Preheat the oven to 325 degrees. Add the shallots to the roasting pan around the ham and bake about 12 minutes per pound, until the internal temperature reaches 140 degrees. Halfway through roasting, add the remaining orange juice, wine and cranberry juice over the meat. If the marinade gets too thick and gooey, add some of the water.
Remove and place the meat on a carving board, loosely covered with foil. Let sit for 15 minutes before carving. Spoon the pan juices and shallots on top of the carved meat.
Citrus And Fennel Salad With A Lemon-Mint Vinaigrette
This refreshing salad is ideal for Easter or Passover. You can add pitted green olives if you have them, or thin slices of radicchio and fresh mint leaves
Serves 4 to 6.
Ingredients
1 orange (any type but look for Cara Cara if you can find them), peeled and thinly sliced
1 tangerine, peeled and thinly sliced
1 blood orange; or another regular orange, peeled and thinly sliced
1 large bulb fresh fennel, very thinly sliced
Sprig fresh mint for garnish, optional
The Lemon-Mint Vinaigrette:
2 tablespoon fresh mint, coarsely chopped or 1 teaspoon dried mint
Salt and freshly ground black pepper
Juice of 1 Meyer or regular lemon, about 2 tablespoons
2 teaspoons white wine vinegar or regular lemon juice
5 tablespoons olive oil
Instructions
Arrange the oranges and tangerine slices alternating varieties on a serving plate, overlapping them slightly. Pile the fennel slices in the middle and scatter with the radicchio if using.
Make the vinaigrette: mix the mint, salt, pepper, lemon juice, vinegar and oil and taste for seasoning. Cover and refrigerate if making ahead.
Drizzle the dressing over the salad and garnish with the fresh mint.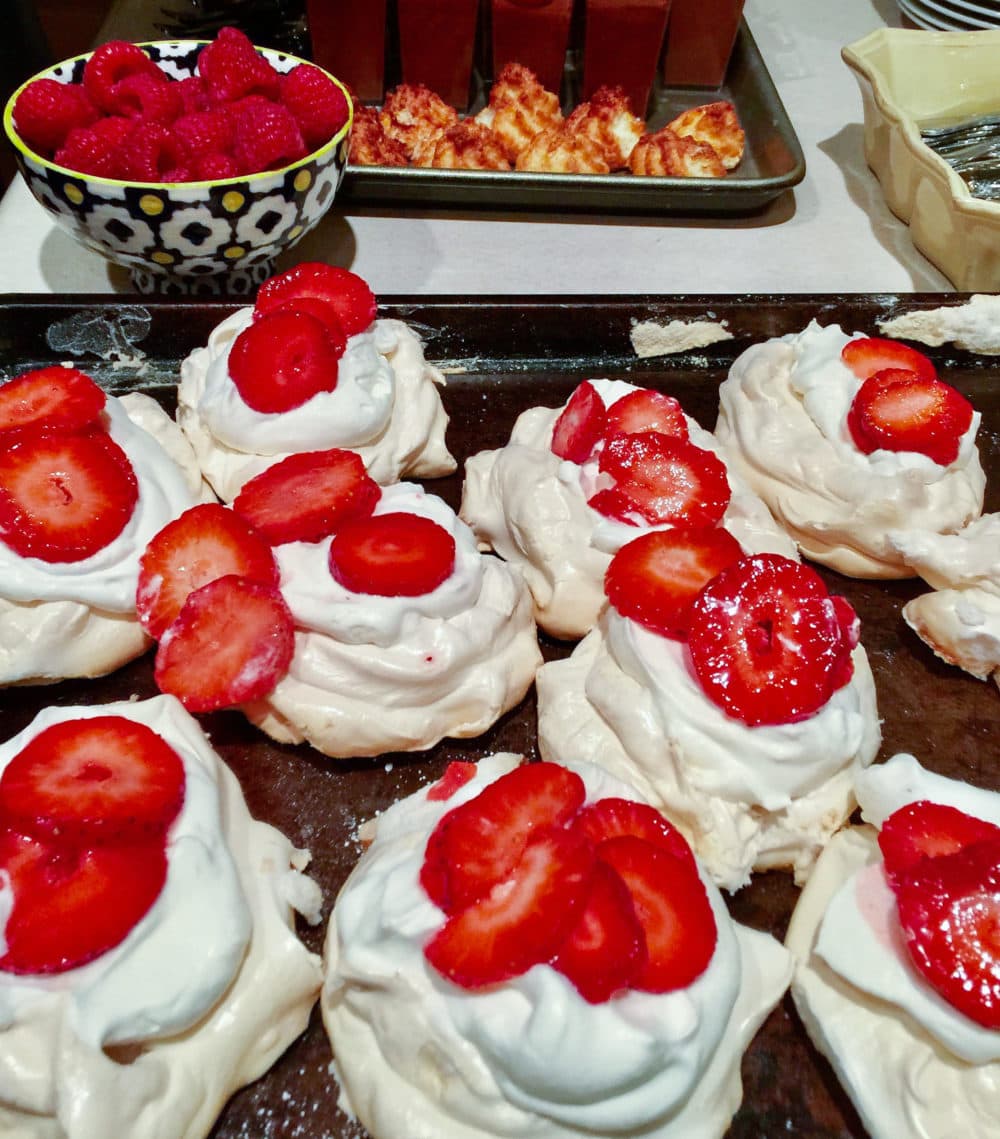 Pavlova (Meringue Cake) With Whipped Cream And Fruit
While this is one of those desserts that looks like it took hours to put together, these meringues actually take very little time to prepare. What makes this cake so extraordinary is the contrast between the crisp and crunchy outside and the chewy, soft interior of the meringue.
It's ideal for Passover (it uses no flour or yeast) or Easter. It's a real show-off dessert if you fill the center with vanilla-scented whipped cream and any fruit you can find. I love to fill it with spring strawberries or raspberries and blackberries but even bananas, apple slices or ripe pear slices would work.
Serves 8.
Ingredients
For the meringue layers:
Butter and confectioners' sugar for preparing the pans
8 large egg whites, at room temperature
1/2 teaspoon cream of tartar
2 cups superfine sugar*
2 teaspoons lemon juice
2 teaspoons vanilla extract
For the filling:
2 cups heavy (whipping) cream, chilled
1/3 cup sugar or confectioners' sugar
1 1/2 teaspoons vanilla extract
About 3 cups mixed fruit (strawberries raspberries, blackberries, blueberries; banana, apple and pear slices or any combination)
About 1 cup grated coconut, toasted on a baking sheet at 350 degrees for 10 minutes (optional)
*Superfine sugar is not confectioners' sugar. It is a specially sifted sugar, most often used for iced tea and baking, and is available in most grocery stores. For a quick substitution, add regular granulated sugar to a food processor and blend for a few minutes, until the sugar crystals break down to a fine consistency.
Instructions
Preheat the oven to 250 degrees. Line two baking sheets with parchment paper. Use a tiny bit of butter to attach the bottom of the paper to the baking sheets. Butter the paper lightly and dust with confectioner's sugar. Trace the outline of a 9-inch pie plate, creating a 9-inch circle on each sheet of the parchment. Set aside.
In the bowl of an electric mixer, use a whisk attachment to beat the egg whites on low speed until frothy. Increase the speed to medium-high and beat until soft peaks form. On medium speed, add the cream of tartar. Slowly add the superfine sugar and beat until soft peaks form, about 5 minutes. Add the lemon juice and vanilla and beat until incorporated.
Using a spoon or a rubber spatula carefully spread the meringue mixture over the marked circles. You don't need to be overly precise. The idea is this: You want one circle to act as the base of the cake. Use your rubber spatula to smooth the meringue out into the circle to create a flat, even base. The second circle should have a slight rim and a depressed center (which will later be filled with the whipped cream and fruit) and will act as the top, show-off layer of the cake. Use a rubber spatula to create an indent in the center, pushing the meringue mixture out away from the center and off to the sides. Bake both layers for 1 hour and 20 to 30 minutes, until the meringue feels crisp on the outside. Turn the oven off and leave your meringue in the oven for another hour. Let it cool on the baking sheet and very carefully remove with a large spatula. (The meringue can be made a day ahead of time and stored in a dry spot, a tin or keep it in the turned-off oven.)
Just before you are ready to serve the cake, whip the cream in a large bowl of an electric mixer. Add the sugar and vanilla and whip until just firm peaks form.
Place the flat layer of the meringue on a large serving plate. Add less than half of the whipped cream and, using a rubber spatula, spread the cream over the meringue, making sure not to place it too close to the edges. Scatter 1 1/2 cups of the fruit on top, pressing them into the cream slightly. Carefully place the top layer of the meringue over the cream and fruit with the depressed center up. Fill the center of the meringue with the remaining whipped cream and arrange the remaining fruit on top, scattering different types of fruit to create a colorful topping. Sprinkle the toasted coconut on top of the fruit, if using. (The cake should not be assembled with the cream and fruit more than 20 minutes before serving or it will soften. Refrigerate if not serving immediately.)
More Recipes
Chef Kathy Gunst On Passover Rituals And Recipes
Kathy Gunst's Guide To Potatoes
Any of these lamb recipes would be ideal for Passover or Easter:
Lamb Recipes For Spring That Prove It's Easier To Cook Than You Might Think
Another ham recipe:
Kathy Gunst's Holiday Favorites
Asparagus recipes:
4 Delicious Ways To Eat Asparagus This Spring
Devilled eggs:
Chef Kathy Gunst Is Excited About Eggs
---
Emiko Tamagawa produced this story and edited it for broadcast with Tinku Ray. 
This segment aired on April 6, 2020.