'We Should All Know How To Feed Ourselves': LA Gardener On Finding Freedom Through Growing Fresh Food
Resume
Growing up and raising his children in South Central Los Angeles, gardener Ron Finley knows what it's like to drive nearly an hour through traffic to buy a fresh apple or tomato.
The region is one of this country's many food deserts, areas where residents have little to no access to healthy, affordable food. Through the Ron Finley Project and his MasterClass, Finley aims to help people grow their own food and fall in love with the soil.
"We need to know where our food comes from. That's to me where the freedom part comes in," he says. "This is something no one can ever, ever, ever take from you. It's a life skill, and we all should know how to feed ourselves."
Prior to finding his love of gardening, Finley worked as a fashion designer and personal trainer. Now, he hopes to inspire others to pursue gardening.
"If it's not going to be your passion, if you're not going to change the standards, don't do it," he says. "I'm here to show people how to be creative. This is like an art form for me and that's how I treat it."
The coronavirus pandemic is showing people the importance of food and the difficulties of buying it in certain situations, he says. He thinks children should learn to grow to produce in school.
Children may watch bean sprouts germinate and grow in the windowsill at school, but he says it's easy for grown-ups to forget this half lesson. But he hopes to fill the gap of what schools don't teach students: how to turn biology lessons into a meal.
"I want everybody to have the full lesson," he says. "I want everybody to have the opportunity to get their hands on the soil."
Finley calls places like South Central LA "food prisons." He believes in the saying "beauty in, beauty out": Putting healthy foods into neighborhoods will spark beauty, but letting people go hungry and suffer from curable diseases will not.
"There's not a food shortage. There's a distribution problem that's by design," he says.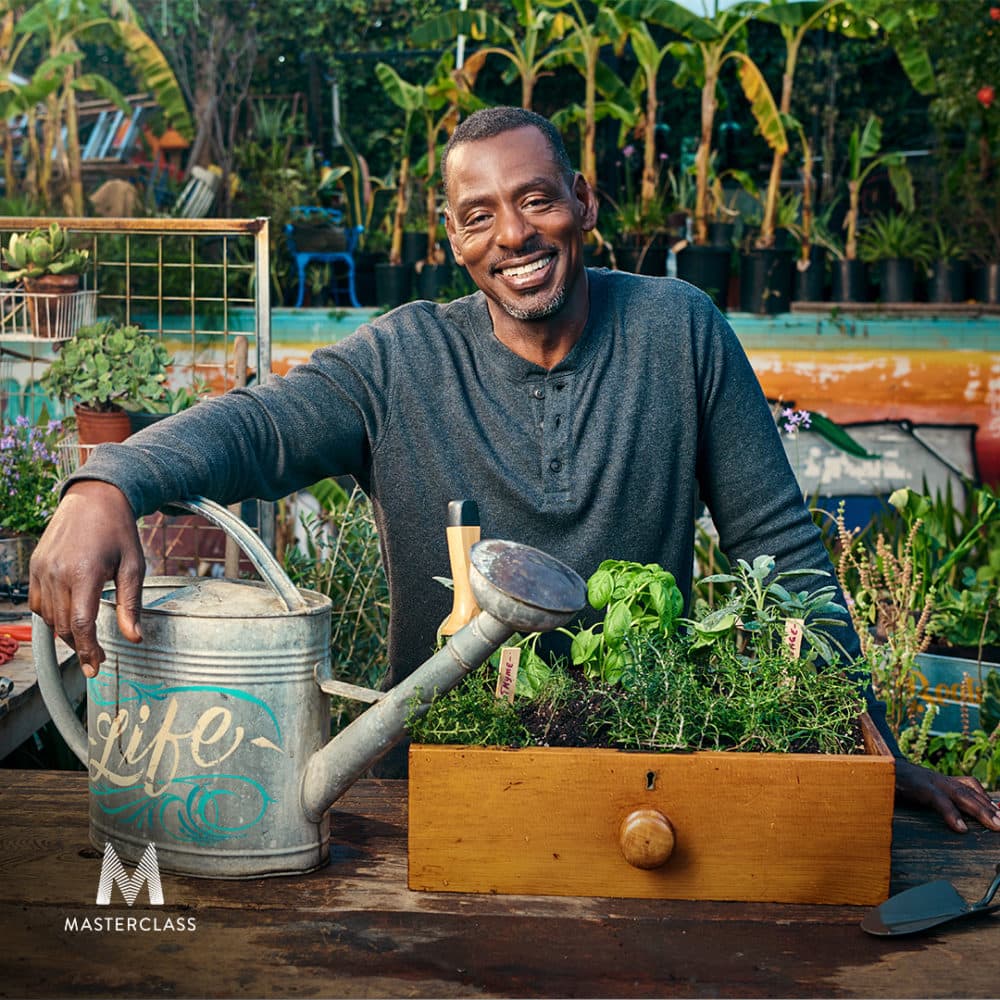 Don't let the idea of starting a garden intimidate you, he says. Just like soil, humans are made of carbon, and turn to soil when we die, he says.
Think of the cushy, spongy soil in the forest, he suggests. That's how the soil in your garden should feel — without any tilling or additives.
"You want your garden to have that kind of lonely, luxurious, sexy soil," he says. "There are no mistakes. There are only lessons."
When people think of gardens, they often think of large plots of land. Finley says a deep wooden shoebox or a wine crate lined with cardboard or weed cloth can grow assorted vegetables such as lettuce or squash.
Squash travels, he says, so vines may pop up all over your lawn from one small box. It's okay to start small — even with just a tin can.
When he learned how to make compost, Finley says it changed his life. Though his first batch went rotten, properly combining green and dead leaves to make compost taught him that "nothing ever dies."
Just because something worked for one person doesn't mean it will for everyone, he says, so be creative and explore new possibilities.
"Once you get in the garden, you realize that almost everything is possible," he says.
---
Cristina Kim produced this story and edited it for broadcast with Tinku Ray. Allison Hagan adapted it for the web.
This segment aired on May 18, 2020.