Make Multiple Meals With These Chicken, Potatoes, Salmon Recipes
Resume
My friend Martina texted me a few weeks ago: "I'm SO sick of cooking. What can I make that will last three days?"
I thought about this for a while. I thought about all the folks who are not used to cooking and doing dishes nightly and planning a week's worth of meals. Many of us are still home cooking every single day even as some states open up, and restaurants and take-out become more of a norm once again.
I wrote Martina back with a few ideas and thought others might benefit as well. This segment focuses on a master recipe and then gives you several variations for ways to use the leftovers so that they don't feel like "leftovers," but rather a whole new take on a familiar theme.
Let's start with what's always popular: chicken.
Roasting a whole chicken is one of the great, classic recipes. But truth be told, roasting two chickens takes no more work than one. With this idea in mind — cook once, enjoy many times — why not roast two chickens? (Unless, of course, you are only cooking for one or two, in which case you will have plenty of leftovers.)
Master Recipe for Roast Chicken(s): Roast Chicken With Spring Herbs, Garlic And Lemon
If you're serving more than two people you may want to think about roasting two chickens at the same time. It takes no more work and the leftovers and possibilities for other quick meals multiply.
For dinner the night you roast the chicken, you can surround the bird with small whole potatoes, or large white or sweet potatoes, cut into 2-inch pieces, as well as any vegetables you happen to have: carrots, leeks, zucchini, broccoli or small turnips cut into 2-inch pieces. If you're roasting two chickens simply double the recipe and place the birds, side by side, in a large roasting pan.
Serves 4 to 6.
Ingredients
One 3 to 4 pound roasting chicken
1 tablespoon olive oil
2 tablespoons butter, at room temperature
1 clove garlic, finely chopped
3 cloves garlic, peeled and left whole
About 2 tablespoon fresh herbs (think parsley, chives, tarragon, basil, thyme, rosemary or a combination), or 1 to 2 teaspoons dried herbs
1 teaspoon grated lemon zest, plus the whole lemon you used for zest
Salt and freshly ground black pepper
About 1/2 to 3/4 cup dry white or red wine, optional
Instructions
Preheat the oven to 425 degrees.
Clean the bird inside and out and let dry thoroughly. Rub the bottom of a large roasting pan with the olive oil.
In a small skillet melt the butter over low heat. When it just begins to sizzle add the chopped garlic, the herbs and lemon zest. Season with salt and pepper. Remove from the heat and let cool thoroughly.
Season the bird with salt and pepper inside and out. Place the whole zested lemon in the cavity of the chicken.
Using your fingers, and starting at the neck, find the little flap between the skin and the breast meat and very gently add about a teaspoon of the seasoned butter under the skin, pushing it closer to the center of the bird. Repeat on the other side of the breast. Rub the entire bird with the remaining seasoned butter. Pour the whole garlic cloves and the wine over the chicken.
Roast the chicken on the middle shelf for 15 minutes. Add the vegetables and potatoes, if using, and another 1/4 cup wine or water if the bottom of the roasting pan appears dry. Reduce the oven temperature to 350 degrees and roast for another 40 to 50 minutes or more, until the chicken is a rich golden brown and the potatoes and vegetables are tender when tested with a small, sharp knife. To test for doneness: The juices should run yellow and not pink when pierced just above the wing with a small, sharp knife. The drumstick should wiggle loosely, and an instant-read thermometer inserted in the thigh should read 165 degrees.
Remove from oven and let sit for 5 to 10 minutes before carving. Serve any pan juices with the potatoes and vegetables.
Chicken Redo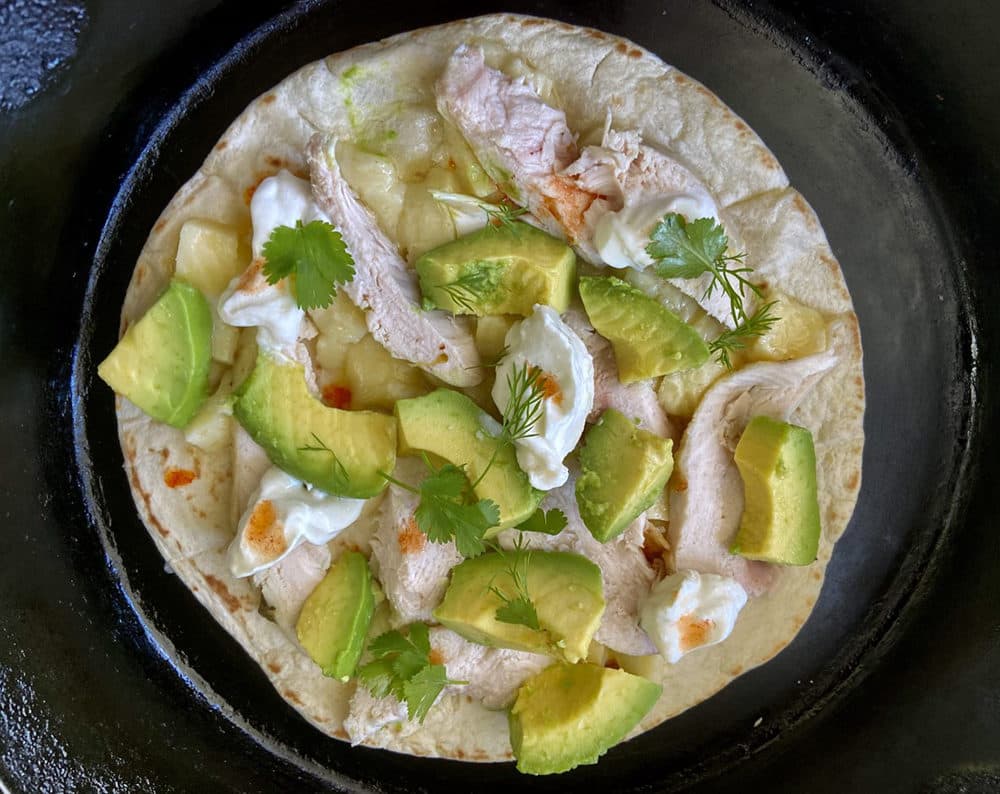 OK, now what? You have half a chicken leftover from Sunday night dinner (or you got smart and roasted two birds at a time). Here's how to make other meals without going through a whole lot of work.
Chicken and Avocado Tacos: Cut leftover chicken into cubes or shred. Place a flour or corn tortilla in a skillet over medium heat for a minute or two. Gently flip the tortilla over and cook 1 minute. Remove from heat and top with the chicken, thin slices of ripe avocado, a dollop of sour cream, hot pepper sauce, or salsa. If you have them add any of the following: thinly sliced radishes, chopped cucumber, scallions, a spoonful of cooked beans, shredded lettuce, cilantro sprigs and more.
Quick Chicken Salad: Mix 2 cups cubed or shredded chicken with 1/3 cup chopped walnuts, 1/3 cup raisins or golden raisins (or sun-dried cranberries), 2 tablespoons lemon juice and 1/3 cup mayonnaise. You could also stir in a tablespoon of mango (or other flavored) chutney. Season with salt and pepper and make a sandwich or place on a bed of salad greens with buttered toast.
Chicken Quesadillas: Heat a corn or flour tortilla in a large heavy skillet. Sprinkle 1/4 cup queso or feta or shredded sharp cheddar (your favorite hard cheese) and then sprinkle on 1/4 cup shredded or thinly sliced cooked chicken. Cook 2 minutes. Carefully top with another tortilla and carefully flip the quesadilla over. When the cheese is bubbling and is melted, remove the quesadilla and cut into quarters. Top with sour cream, thinly sliced radishes, pickles or microgreens or chopped fresh cilantro and scallions.
More Ideas For Chicken:
Chicken Sandwiches with Avocado Mayonnaise (For the mayonnaise, blend a ripe avocado with 1/2 cup mayonnaise, salt and pepper and a dash of hot sauce)
Serve thinly sliced roast chicken with Greek yogurt, greens, pumpkin seeds, cucumber and tomato slices with toasted pita bread
Finely chop the chicken to make a chicken pizza or flatbread with grated cheese, chopped tomatoes and basil
Baked Potatoes (White And Sweet)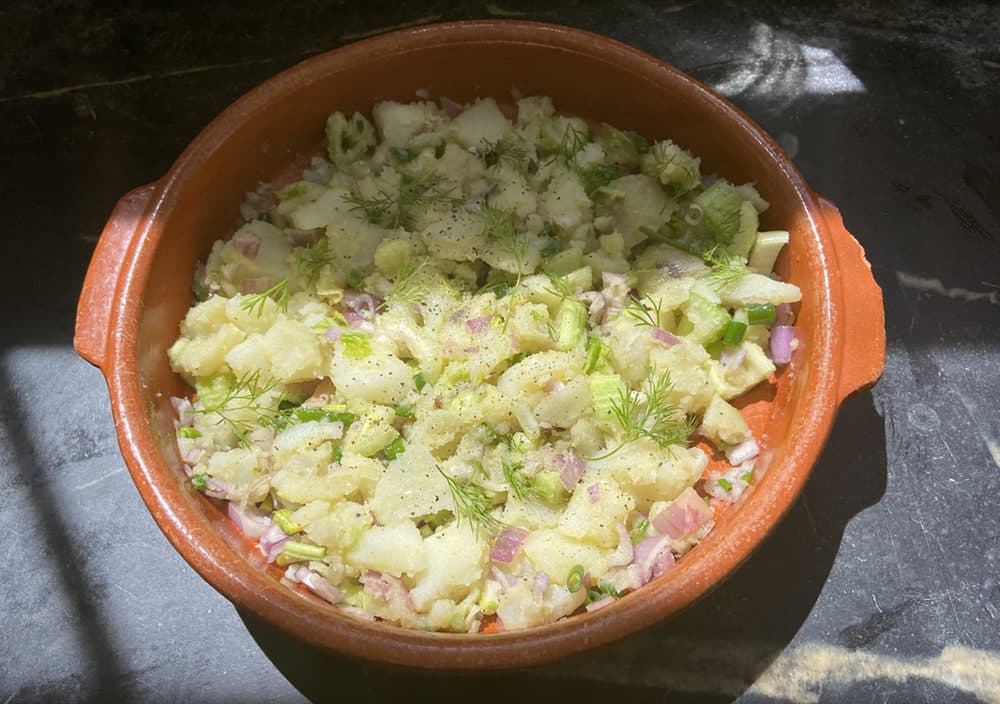 Next time you are baking (or steaming) a potato, add a few more into the oven. Leftover baked potatoes have endless possibilities.
You probably don't need a recipe for a baked potato, but then again, maybe you do: Prick baking potatoes with a fork in several places. Preheat oven to 375 degrees and place directly on the middle oven rack. Bake until tender when gently pressed with your finger or tested with a small sharp knife. Remove from oven. If making several potatoes to have for leftovers, remove the peel while the potato is still warm. It's way easier to remove when the potato is still hot.
Serve hot baked potatoes with any or all of the following: butter, sour cream, crème fraiche, chopped chives, chopped fresh herbs, chopped scallions, grated cheese, etc.
Baked Potato Redo
Spring Potato Salad: Chop 2 to 4 peeled baked potatoes and gently mix with 1/4 cup chopped shallots or onions finely chopped, 3 tablespoons chopped scallions and or chives, 2 celery ribs chopped, salt, pepper, 2 tablespoons fresh chopped dill, or 1 teaspoon dried, 1/3 cup olive oil, 3 tablespoons wine vinegar. Toss and taste for seasoning adding more salt, pepper, oil or vinegar as needed. Cover and refrigerate and serve within 6 hours.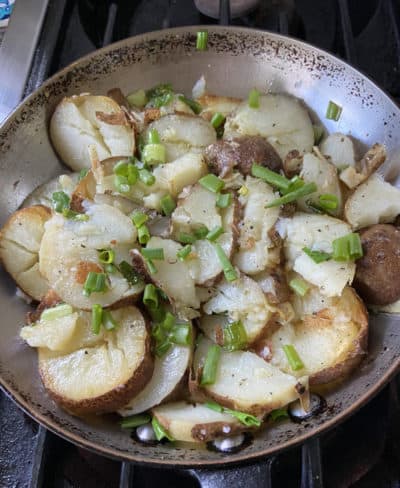 Chicken and Potato Hash with Poached Egg: Sauté 1 chopped medium-sized onion in 1 1/2 tablespoons vegetable oil for 6 minutes. Add 1 cup cubed or shredded cooked chicken, about 1 tablespoon chopped thyme and rosemary, or 1 teaspoon dried, 1 cup cubed or thinly sliced cooked potatoes and cook, stirring for 10 minutes. Gently flip the hash over, pressing down so its crisps up on all sides. Season with salt and pepper. Serve topped with a poached egg and a dash of hot pepper sauce.
Baked Potato "Pancake": Peel 2 baked potatoes and cut into 1/2-inch thin pieces. In a medium skillet heat 1 tablespoon olive oil with 1 tablespoon butter or walnut oil over medium-high heat. Add 1/2 cup scallions, both white and green sections, thinly sliced and cook 3 minutes. Add potato slices, press down with a spatula into a pancake shape. Cook 3 minutes. Season with salt and pepper. Flip. Brown and then flip again, pressing down with a spatula to flatten the "pancake." Don't worry if the potatoes fall apart a bit or crumble. Serve with sour cream or yogurt on the side.
Salmon: Grilled Or Roasted
Grilled (Or Roasted) Salmon With Spring Herbs, Lemon And Orange
Serves 2 with leftovers.
Ingredients
1 1/2 pounds salmon filet, preferably wild
1 1/2 tablespoons olive oil
Salt and freshly ground pepper
1 1/2 tablespoons minced scallions
1 1/2 tablespoons minced fresh dill or thyme, or 1 teaspoon dried
1/4 cup orange juice, preferably fresh squeezed
1 tablespoon lemon juice
Orange and lemon wedges for serving
Instructions
Place salmon in small pan and cover with the oil, a touch of salt, pepper, scallions and dill and let sit 15 minutes.
Preheat charcoal or gas grill to high with a grill rack or preheat oven to 400 degrees.
Add lemon and orange juice to salmon just before cooking. Grill the salmon for about 12 to 14 minutes, depending on the thickness of the filet, or until cooked through, basting with the marinade.
Alternatively, roast on middle shelf in a roasting pan for 12 to 15 minutes, depending on the thickness of the filet. Spoon marinade on top of salmon once or twice during roasting.
Salmon Redo
Salmon Bowl: Take about 1 cup cooked, leftover brown or white rice and divide between two bowls. Top with leftover room temperature grilled or roasted salmon, grated carrots, grated raw beets, thinly slice radishes, sprouts or microgreens and top with olive oil, lemon juice, salt and pepper.
Salmon Salad: Mix cooked salmon with celery, mayonnaise, capers, salt and pepper and use on sandwiches.
Salmon Sandwich with Orange and Scallion Mayonnaise: Place cooked salmon on toast spread with a touch of orange mayonnaise made by mixing 1/3 cup mayonnaise mixed with 1 teaspoon orange zest, 1 tablespoon orange juice and 2 tablespoons finely chopped scallions or chives, salt and pepper.
More Ideas
Brisket and BBQ Sauce: Use leftover brisket to make BBQ sandwiches on hard rolls with shredded cabbage, or make brisket tacos and quesadillas
Eggs: Hard boil a dozen eggs. In case you need a hard-boiled egg tutorial: The trick to making perfect hard-boiled eggs is all in the timing. A well done hard-boiled egg results in a firm, clear white with a yolk that's bright yellow all the way to the edges. Place the eggs in a single layer in a large saucepan. Add cold water to cover the eggs by about an inch, and bring the water to a boil over high heat. When the water boils, cover the pan tightly, and move the pan off the heat. Let the eggs sit for 14 minutes. Drain the water you cooked the eggs in out of the saucepan, keeping the eggs in the pan. Shake the pan back and forth and up and down a few times, so that the egg shells crack just a little. Then fill the pan with cold water; the water will seep into the cracks in the shells and separate the eggs from the shells, making them easier to peel once they've cooled.
Make an egg salad with dill and radishes on open-faced sandwich.
Serve hard-boiled egg wedges with spring radishes buttered toast and sea salt.
Add to ramen and soups.
Garnish a green salad with hard-boiled egg slices for some added protein.
This segment aired on May 26, 2020.