New Report Tracks Extremist Groups Tied To Violence At Protests
Play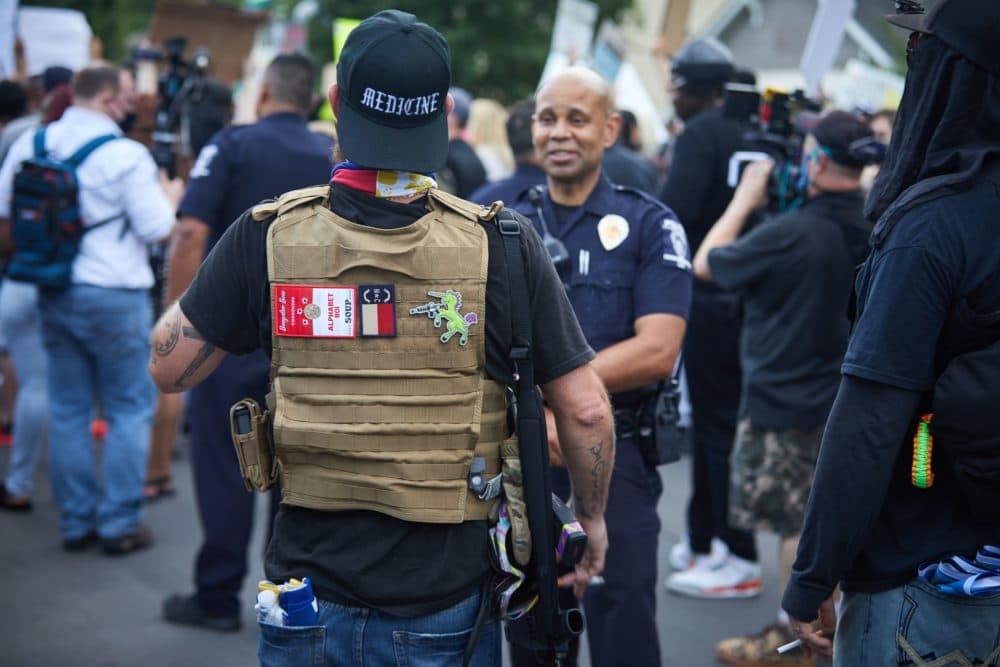 This article is more than 2 years old.
Three white men are facing terrorism-related charges in Nevada after allegedly planning to incite violence at protests over the death of George Floyd.
Federal prosecutors describe the men as being connected to the "boogaloo" movement, which is associated with far-right extremists who support an uprising against the government.
This is just one example of how extremist groups are using recent protests — both those over police brutality and coronavirus lockdowns — as an opportunity to incite violence, according to a new report by the Network Contagion Research Institute.
The report found that these extremist groups have been responsible for shooting at Black Lives Matter protesters, damaging police vehicles and committing arson on court buildings during demonstrations across the country.
"We've seen enthusiasts from the boogaloo movement in particular, who've been donning Hawaiian shirts at over 40 protests in the past week, and they've even adopted George Floyd as a symbolic martyr," says Alex Goldenberg, who co-authored the report.
Extremist groups such as the boogaloo movement, Oath Keepers and the Three Percenters have coalesced on social media to spread "malicious fear," he says. According to the Tech Transparency Project, there are about 125 Facebook groups connected to the boogaloo movement, many with tens of thousands of followers.
These groups are mobilizing online and then going out into these protests, Goldenberg says. Earlier this year, the boogaloo movement supported an uprising against the government "in response to a perceived threat of widespread gun confiscation," he says. But since the beginning of the coronavirus pandemic, that justification has shifted and grown more intense.
"The animus has quickly shifted from theme to theme, and this really exemplifies the flexibility of this particular ideology," he says. "They're seeking to co-opt these recent protest movements to further their own objective and the objective is to promote sedition and civil war."
Facebook and Reddit have moved to limit the spread of boogaloo-related groups on their platforms, but Goldenberg says more needs to be done.
"I believe that social media companies need to be more proactive in identifying these groups once they cross the line and begin inciting violence and organizing on highly politically volatile events to hijack the media narrative," he says.
---
Ashley Locke produced and edited this interview for broadcast with Tinku Ray. Samantha Raphelson adapted it for the web. 
This segment aired on June 5, 2020.