'A Species That We Cannot Afford To Lose': Hundreds Of Elephants In Botswana Found Mysteriously Dead
Play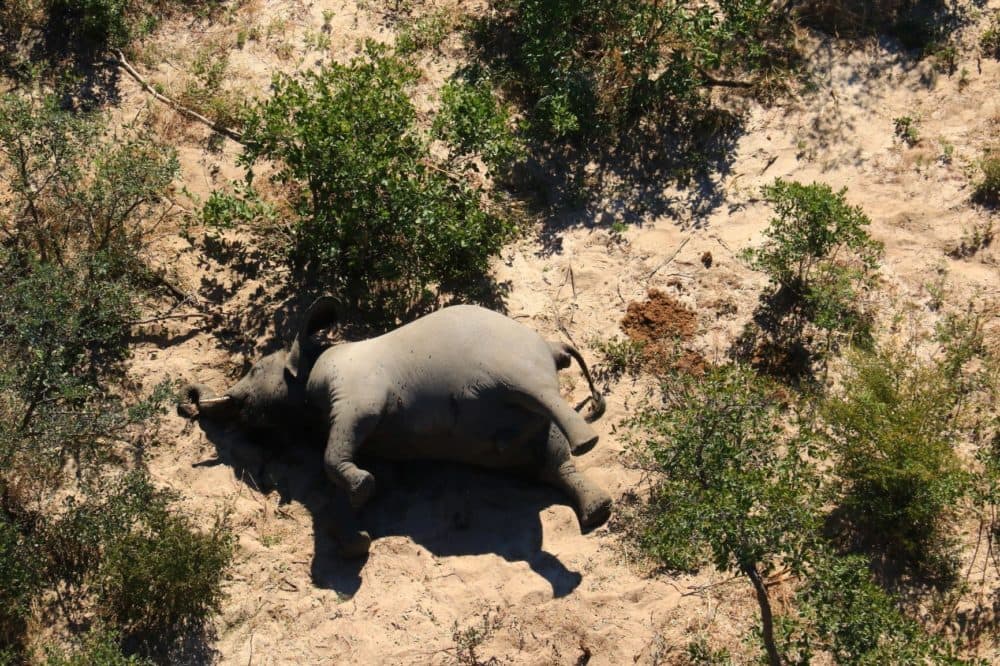 This article is more than 2 years old.
More than 350 elephants have mysteriously died in Botswana over the past few months — and conservationists don't know why.
The elephants have been found dead since the beginning of May, sparking concern for the future of elephant populations across Africa.
In early May, a group of conservationists took a flight to assess the problem and spotted 169 carcasses, says Dr. Niall McCann, director of conservation at National Park Rescue and National Geographic explorer. Despite their concern, conservationists discovered a month later that the government of Botswana hadn't sent any samples for testing to figure out what's killing the elephants, he says.
"No one knew what was going on," he says. "When the team went back and did another survey, they counted almost 400 elephants, with many others wandering around in a confused state, probably not far from death."
These mysterious deaths are only impacting the elephant population, which perplexes McCann.
If the elephants are consuming toxins such as blue-green algae, other nearby animals would die as well. If a poison like cyanide was killing the elephants, scavengers that consume their corpses such as vultures, jackals and hyenas would also be found dead.
The most likely explanations for the deaths are poaching, a naturally occurring toxin or a disease, he says. People kill elephants in Southeast Africa for a few reasons.
Some poison elephants to sell their ivory tusks, which are worth about $700 per kilogram on the black market in the region, he says. Plus, landowners and farmers don't like it when elephants come through their property.
"They trash your crops. They break down your houses. They can be very aggressive to people," he says. "The reality of living next to elephants is nowhere near as idyllic as we might think it is."
Some conservation groups have said the government is not doing enough to figure out what's going on. This is in-part because Botswana, like the rest of the world, is dealing with COVID-19.
By prioritizing conservation issues during the pandemic, people in rural communities might criticize the government of Botswana for putting the lives of elephants above humans, he says. This accusation was often used against the country's previous administration, he says.
McCann warns that this could result in an additional public health crisis. Many of today's diseases — COVID-19, Ebola, HIV, SARS, MERS — originated in wildlife.
If a poison or toxin is killing the elephants, it could later impact human populations.
"The Okavango Delta is a sponge for water. Much of that water ends up being consumed by people further down the line," he says. "And if that's contaminated, the potential for human risk there is also very high."
Botswana is home to about a third of the elephant population across Africa, which McCann says makes it "the most important country in the whole continent for the survival of one of the most iconic species on Earth." Their massive impact on the environment and cultural importance to humanity makes elephants "a species that we cannot afford to lose," he says.
The recent deaths in the country represent one-thousandth of the global elephant population, he says. About 3% of the 15,000 total elephants in this part of northern Botswana have died.
"At the moment, there's nothing to say that they won't all succumb to whatever this is," he says.
McCann says issues such as poaching, climate change and drought are all intertwined with the economy. He is calling for a "one-health approach to conservation" that considers how human health and the environment are linked.
In the case of COVID-19, poor conservation led to a disease jumping from animals to humans and shutting down the entire world, he says.
"If we had been able to defend those wild animals in their wild habitats, that wouldn't have happened in the first place," he says. "We have to understand that human health, wealth and well-being is absolutely underpinned by environmental integrity."
---
Cristina Kim produced this story and edited it for broadcast with Todd Mundt. Allison Hagan adapted it for the web.
This segment aired on July 6, 2020.