Breonna Taylor Replaces Oprah On O Magazine Cover
Resume
Calls for charges against the officers involved in the police shooting of Breonna Taylor have grown with support from several prominent figures — including Oprah Winfrey.
This week, Winfrey paid for 26 billboards across Kentucky, one for each year of Taylor's life. And an illustration of Breonna Taylor by Alexis Franklin graced the cover of O, The Oprah Magazine's September issue, marking the first time in the magazine's 20-year history that it didn't feature Winfrey on the cover.
The attorney general of Kentucky met with Taylor's family to express condolences this week, five months after Taylor was shot and killed by Louisville police officers in her apartment during a flawed forced entry raid. Prosecutors have not charged any of the officers involved.
Oprah said that if she could, she would march in the streets with Black Lives Matter protesters and that this action is her form of protest. The COVID-19 pandemic coupled with the killings of Taylor and George Floyd pushed the magazine staff to take action, says Arianna Davis, digital director at Oprah Magazine.
"This moment just felt so urgent," she says. "We can't let these names continue to just be hashtags on social media or be news cycles that just die down."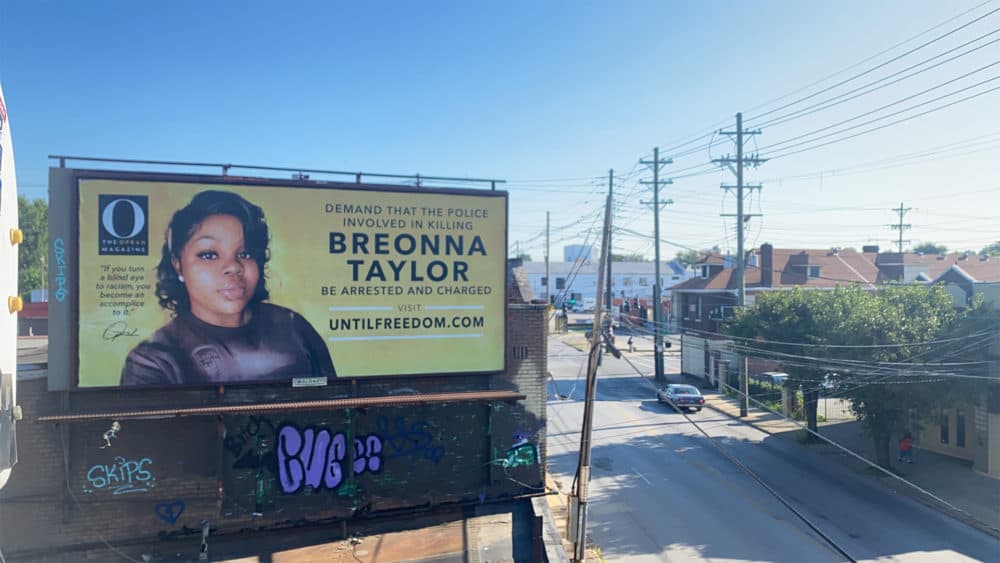 The staff discussed how to continue this conversation using the magazine's platform. The team's visual research editor suggested putting Taylor on the cover — an idea that the editor-in-chief and Winfrey loved, Davis says.
The September issue also includes content such as a letter written by Winfrey about her conversations with Taylor's mother, Tamika Palmer, and a package on white women confronting white privilege for the first time. This moment of racial reckoning felt like the right time for the magazine to start facilitating these conversations, she says.
While the magazine hasn't received feedback from any Kentucky officials, locals and people on social media have expressed their appreciation for the additional pressure, she says.
The day after the billboards went up, the state attorney general tweeted about Taylor and the investigation for the first time in weeks, she says. Then, a week later, the attorney general met with Taylor's family. Davis says she doesn't think this is a coincidence.
"I can't say we're directly responsible for that, of course," she says, "but I do hope that we were able to put a little more pressure onto a situation that should have gotten his attention a long time ago."
Oprah Magazine will stop printing monthly after this year. The decision to do a drastically different cover wasn't related to the end of the magazine's print run, Davis says, but rather that Winfrey and the staff wanted to make a strong statement.
Print will look different for the magazine in 2021, perhaps through special issues that feature more topical stories, she says. Oprahmag.com launched in 2018 and the team has focused on building its digital presence through the website and on social media.
"I think that there is definitely more room for us to continue to grow in this direction, both in digital and also in print, whatever that may mean," she says.
A call for justice lies at the heart of this move, but it's also a strategy to reach and connect with audiences who didn't grow up with Oprah, Davis says.
When she left Refinery29 to join the Oprah Magazine team as site director in 2018, she says some of her colleagues said they didn't know much about Winfrey. This shocked Davis, who grew up watching "The Oprah Winfrey Show."
Though the new generation isn't as familiar with Winfrey, young people relate to her sensibility, and values of self-care and "living your best life," Davis says. This gives the magazine a chance to connect with young readers through social media.
"We were able to really, I think, get that Breonna Taylor cover out there, make sure people knew what we were doing. But that also led to us putting up billboards in her hometown of Louisville, Kentucky," she says. "And so I think that digital has only just allowed us to expand the Oprah brand in many ways."
---
Cristina Kim produced this story and edited it for broadcast with Tinku Ray. Allison Hagan adapted it for the web.
This segment aired on August 14, 2020.