Virtual Marathons Replace The Real Thing
Play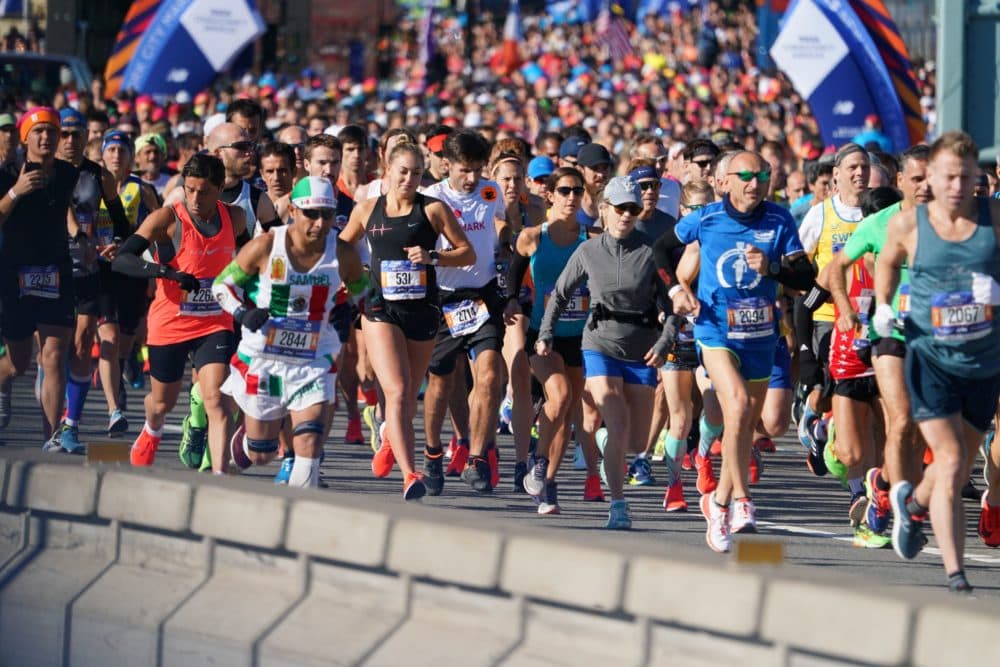 This article is more than 2 years old.
The pandemic forced officials to cancel marathons and road races around the world this year. The dominoes started to fall last winter in Asia where the coronavirus originated.
In February, Tokyo canceled its marathon, a race that typically features more than 30,000  runners. Then in the spring, something unprecedented happened: The Boston Marathon was canceled for the first time in its more than 120-year history.
"The Boston Athletic Association with our input and support has determined that the traditional one-day running of the Boston Marathon is not feasible this year for public health reasons," Boston Mayor Marty Walsh said on May 28.
London, Berlin, Chicago and New York followed suit. These cancelled marathons bring tens of thousands of runners and spectators to the cities, pumping millions into the local economies.
In Japan, where road racing generates some of the country's highest TV ratings, just about all of the marathons that were scheduled for the remainder of the year are not happening either.
"Out of Japan's 29 major marathons, marathons with 5,000 or more finishers or strong elite fields, out of those 29 marathons at that scale, 26 have canceled," said Brett Larner, who writes the blog Japanese Running News. "It's essentially wiped out the fall road racing season."
So what are these big races doing if they can't hold their in person events? You guessed it: There's an app for that.
"And that's meant to bring more of the sound and feel of things to them," said Tom Grilk, CEO of the Boston Athletic Association. "So as they run along they can hear the sound of start. They can hear the Boston Symphony Orchestra playing the National Anthem. They can hear the sound of Boylston Street at the finish, the sound of the crowds there."
There were 30,000 runners registered for the 2020 Boston Marathon in April. More than 17,000 have registered for the first-ever virtual Boston Marathon, which begins this weekend. They are in all 50 states and 100 countries, and that's where they'll run — not in Boston.
The runners will cover a 26.2 mile course of their own choosing anytime in the next week. Runners will upload their results when they finish. There will be leader boards with the fastest times and finishers' medals will arrive in the mail.
"I am always running to honor my patients, and I am truly inspired by my patients," said Dr. Amy Comander, who runs to raise money for breast cancer programs and has run the Boston Marathon six times. "And even though I'm not going to be running through Copley Square with the same degree of crowds and enthusiasm as I usually experience, I will still have that runner's high and I know I will be very proud of myself."
Forty-five thousand people have signed up for London's virtual marathon next month. Chicago and New York are also offering virtual races.
But not everyone is satisfied with the virtual option.
"I feel like a virtual option really doesn't cut it to give an equitable experience for the sacrifice and training that a lot of folks did and really felt like there were other options," said William Hague, who was registered to run Boston and New York this year.
New York allowed its runners to defer their entries to another year. Boston did not.
"The question of deferral is one that has come up a lot, and we know how hard people work to qualify to get into the race," said Grilk of the Boston Athletic Association. "But deferring in this situation simply didn't work because the future is so uncertain. This wretched COVID-19 disease makes everything uncertain, so when will we or anyone else be able to conduct a mass participation race again? Nobody knows."
That uncertainty hangs over the future of the world's biggest marathons. The Boston Athletic Association said this week it's postponing registration for the April 2021 race, which would normally be happening now. The 2021 London Marathon has already been moved from April to October of next year. And in Japan, marathons that are scheduled for the first three months of 2021 have already been called off — which could spell danger for the rescheduled Olympics in Tokyo next summer.
---
Alex Ashlock produced and edited this story for broadcast with Todd Mundt and Chris Ballman.
This segment aired on September 4, 2020.