Father's Death To COVID-19 Will 'Haunt Me For The Rest Of My Life,' Daughter Says
Resume
Shafqat Khan is among the more than 200,000 people who have died from the coronavirus in the U.S.
The 76-year-old was a Pakistani immigrant who lived in Jersey City, New Jersey — and "an extraordinary man," says his daughter Sabila Khan. She co-founded a Facebook group for grieving family and friends of COVID-19 victims.
After moving his family to Jersey City in 1982, Shafqat Khan spent years advocating for the rights of immigrant communities, particularly Pakistani Americans. He founded a nonprofit in 2000 called Pakistanis for America, which intended to increase voter registration in the community.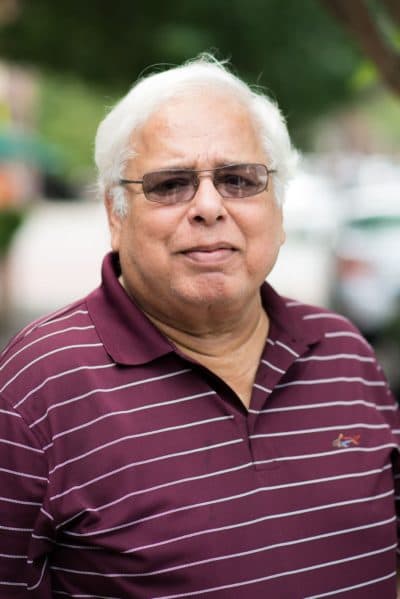 After 9/11, he started organizing panels that brought communities in Jersey City together to talk through their differences. He played an "instrumental" role in helping the city heal, Sabila Khan says.
Much of her father's service within the Pakistani immigrant community stemmed from his family being undocumented for over a decade, she says.
"I think that experience of living close to the edge without health insurance, toiling away six days a week as a general manager in a convenience store in Brooklyn, working 12 hours a day," she says, "I think that really inspired my father to help those who might not have had the access to cut through the red tape of bureaucracy."
Before the pandemic, Shafqat Khan was in a rehab facility receiving physical therapy for Parkinson's Disease, which he had for 10 years.
The facility closed its doors on March 11, Sabila Khan says, and the family indirectly found out that patients there had tested positive for COVID-19 — her father among them. He was rushed to the emergency room on April 6 due to congestion.
Sabila Khan says her father's hospitalization was "a special kind of torture" considering that he hated hospitals.
Even though the ER was just three blocks away, his family couldn't visit him. Shafqat Khan's phone was also lost, Sabila Khan says. His family couldn't call him and even if they could, he couldn't speak to them.
When she found out her father was going into the hospital, Sabila Khan says she knew that he was going to die. During the seven days he spent in the hospital, his numbers remained stable "until they weren't," she says.
The family received a call that his heart stopped on the morning of April 14.
"He wasn't on a ventilator, he was on a nasal cannula. So he was alert and awake, I would imagine for most of it," she says. "So the fact that he was alone and aware and probably knew that he would never see us again, it's just something that will haunt me for the rest of my life."
The family watched his burial on a livestream. Muslims believe that the dead need to be buried as quickly as possible, but Sabila Khan says the family was initially told they would need to wait two weeks — an additional trauma.
The community pulled together to "move mountains" and Shafqat Khan was buried the next day. For Sabila Khan, this was the "only small mercy" in her father's passing.
With the country in the midst of a contentious election year on top of the pandemic, Sabila Khan says it's harder to heal during this time. After 9/11, the only other national catastrophe she's experienced, the country came together to honor those who died and help carry traumatized families through their grief.
But people suffering losses from COVID-19 face hate, division and the politicization of the virus, she says. The news, COVID-19 deniers, family and friends, and social media all trigger the bereaved and make grief difficult, she says.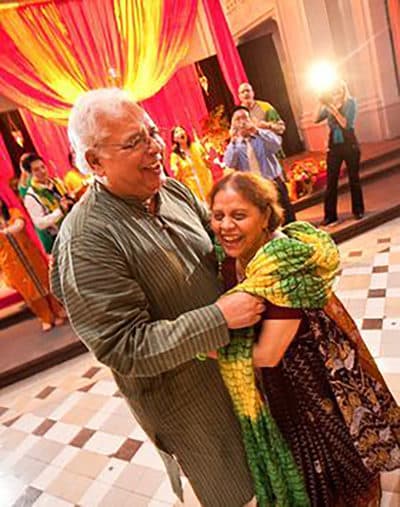 "I have come to terms with the fact that I'm not going to be OK for a very, very long time. Grief, I'm sure, under any circumstances is difficult," she says. "But I have to believe that grief under these circumstances, it's trauma. We are a very traumatized community."
With the total worldwide deaths from COVID-19 surpassing 1 million, Sabila Khan warns people not to take the pandemic lightly. She wants to see people and politicians taking science seriously.
"I couldn't be with my father in his final days," she says. "It's OK if you don't attend a wedding. It's OK if you don't attend a birthday. I find it very offensive when people are going about their lives as if there isn't a pandemic."
Shafqat Khan was "full of wisdom," his daughter says. Now, she often recalls one conversation where she asked him why he was obsessed with the American political process during the 1980s.
Some of Sabila Khan's earliest memories are of watching the news, primaries and debates with her father. But this surprised her as an adult since he couldn't vote until the 2000 election because he was undocumented.
In response to her question, Shafqat Khan said the political process of a nation impacts all the people who live within it, documented or not.
"I really, really hope that people do take this opportunity to vote," she says. "And if not for themselves then for the families that can't vote — the many undocumented families and the over 200,000 people who can't vote today because they've lost their lives to this virus."
---
Ciku Theuri produced and edited this interview for broadcast with Tinku Ray. Allison Hagan adapted it for the web.
This segment aired on September 29, 2020.