Use Your Noodle: Comforting Noodle Soup Recipes For Fall
Resume
All over the world, people turn to steaming hot bowls of noodle soup to find warmth, comfort and nourishment. If ever there were a time when we need comfort — a pandemic, raging fires out West, an unsettling, contentious election — it is now.
As the weather shifts from the extreme heat of summer to the cooler days of autumn, our cooking and cravings shift with the weather. Noodle soups are a great solution.
Think of Thai red curry noodle soup, Japanese ramen, Vietnamese pho, Jewish chicken noodle soup, Italian tortellini in brodo, Greek avgolemono with orzo, Chinese won ton noodle soup, Taiwanese beef noodle soup, Italian minestrone with pasta. The list goes on.
Like all soups, the better your stock, the better the soup. You can make your own chicken or vegetable stock (see recipes below) or rely on your favorite brand. None of these soups are time-consuming and almost all of them can be made ahead of time and reheated while the noodles cook at the last minute. Toss a salad and you've got a warming, comforting bowl of noodle soup for dinner.
Red Curry Chicken Noodle Soup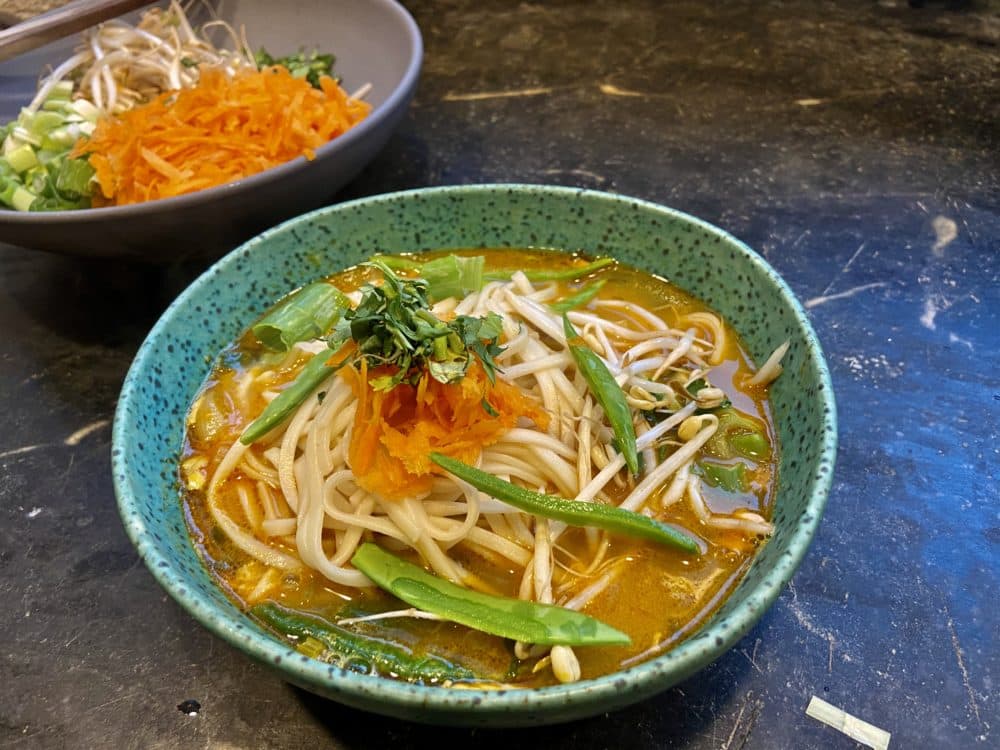 This soup borrows flavors from several classic Thai soups. Red curry paste, ginger, cilantro and coconut milk form the flavor base of this broth. It's served with udon noodles, fresh spinach and snow peas. The soup is topped with a variety of colorful garnishes — grated carrots, bean sprouts, cilantro and scallions.
This main course soup serves two generously (or four smaller bowls) and can easily be doubled or tripled. The soup can be made with chicken or vegetable stock, which would make it a vegetarian dish. If you're making your own chicken stock, be sure to keep the cooked chicken to add to the soup.
Although there are quite a few ingredients in this soup, it is not difficult or time-consuming to make. This recipe is an adaptation of one in my book, "Soup Swap."
Serves 2 very generous portions or 4 small bowls.
Ingredients
2 tablespoons vegetable oil
2 cloves garlic, chopped
1 large or 2 medium onions, chopped
Salt and black pepper
4 scallions, very thinly sliced
One 2-inch piece fresh ginger, grated on the finest setting
1 teaspoon curry powder
1/2 teaspoon turmeric
1 1/2 tablespoons red curry paste (I use Thai Kitchen Red Curry Paste, available in most grocery stores)
1/4 packed cup chopped fresh cilantro with stems
4 cups chicken or vegetable stock, recipes below or your favorite brand of boxed stock
1 cup unsweetened coconut milk*
1 tablespoon fish sauce
1 tablespoon soy sauce or tamari
1 cup cooked shredded chicken, optional
4 ounces udon noodles
3 ounces snow peas, cut into thin strips
5 ounces spinach, chopped or baby spinach left whole
*You can use any leftover coconut milk in smoothies, curries, sauces, etc.
Garnishes:
1 medium carrot, grated
1/2 cup bean sprouts
1/4 cup chopped cilantro
1 scallion, finely chopped
Hot pepper sauce or Chinese chile paste
Instructions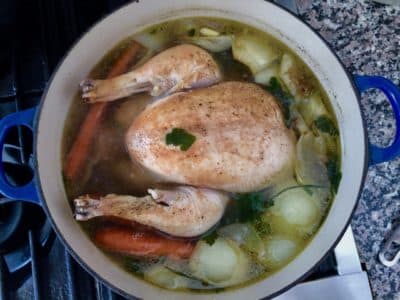 In a large soup pot heat the oil over low heat. Add the garlic and onion and cook, stirring, for 5 minutes. Add salt, pepper, scallions and ginger and cook another 2 minutes. Stir in the curry powder, turmeric and red curry paste and cook, stirring, for 2 minutes. Let the spices really cook into the onions. Stir in the cilantro. Raise the heat to high, add the stock and bring to a boil. Reduce the heat to low, stir in the coconut milk, fish sauce and soy sauce, and cook, partially covered, for 5 minutes. Taste for seasoning, adding more fish sauce, or soy sauce or curry paste if needed. Stir in the cooked chicken if using. The soup can be covered and refrigerated for a day ahead of time up to this point.
Reheat the soup if you made it ahead of time over medium-low heat.
Bring a large pot of salted water to a boil over high heat. Add the noodles and cook 10 minutes or until almost tender; drain.
Add the snow peas and the spinach to the hot soup and remove from the heat. You just want the heat of the soup to wilt the spinach and warm the peas, not cook them.
To serve: divide the noodles into 2 large or 4 small bowls and top with the soup. Serve the garnishes on the side and let everyone add their own.
Tortellini In Brodo With Spinach And Parmesan Cheese
This is a hybrid of two of my favorite Italian soups: tortellini in brodo (Italian for broth or stock) and stracciatella. This soup combines store-bought or homemade chicken or vegetable broth with tortellini (I used store-bought pasta but if you're feeling ambitious, feel free to make your own), fresh spinach and grated Parmesan cheese. It takes about 15 minutes to put together and makes a great lunch, first course or light dinner.
Serves 4
Ingredients
4 cups chicken or vegetable broth, homemade (recipe below) or your favorite boxed brand
1/4 cup chopped fresh parsley
Salt and freshly ground black pepper
2 cups tortellini, about 9 ounces (if frozen you don't need to thaw)
1 packed cup baby spinach or regular spinach, coarsely chopped
1/3 packed cup grated Parmesan cheese
Instructions
Bring a medium pot of salted water to boil.
In a separate pot, heat the stock with half the parsley and salt and pepper to taste.
Add the tortellini to the boiling water and cook, stirring, for 6 minutes. Cook for 8 minutes if frozen. Drain with a slotted spoon and add to the hot stock. Stir in the spinach and cook 2 minutes, or until the spinach is just wilted. Serve hot sprinkled generously with the grated cheese and remaining parsley.
Chicken Soup with Noodles and Vegetables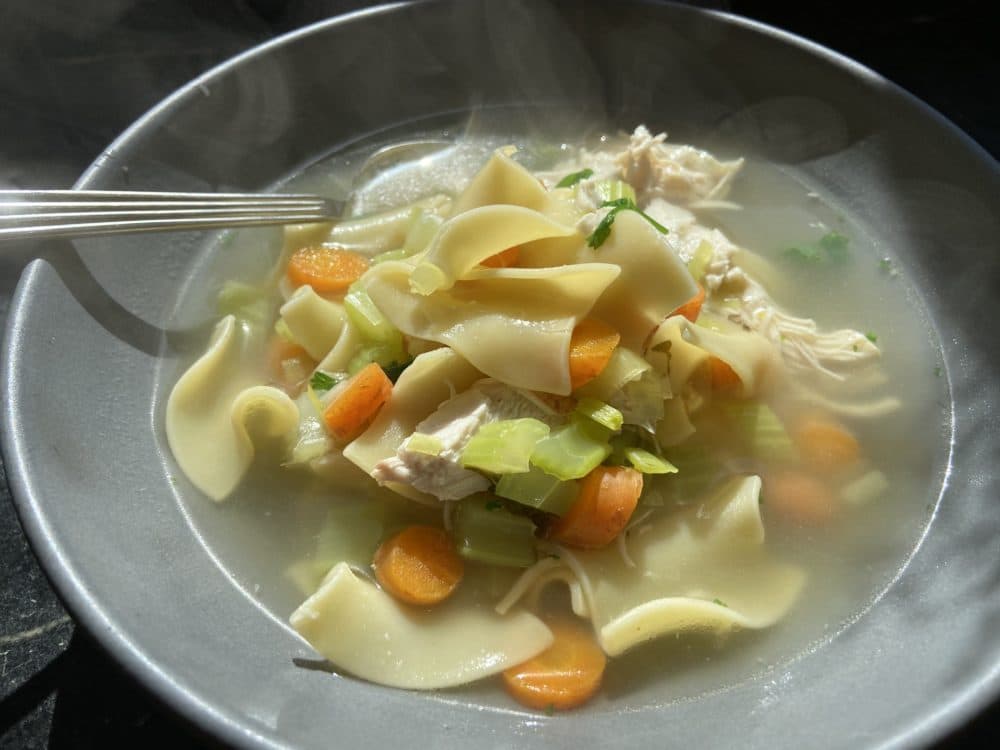 "Jewish penicillin" was what we always called this rich chicken soup with egg noodles and vegetables growing up in New York. It's what we turned to whenever we had a cold or the flu or just needed something to lift our spirits.
This soup can be made with boxed stock and pre-roasted chicken and it will be delicious, but if you make your own stock and use the chicken meat you used to make the stock with you will have an exceptional soup.
Serves 4
Ingredients
4 cups chicken stock, homemade or store-bought
1 leek or 1 medium onion, chopped
2 stalks celery, finely chopped
2 medium carrots, finely chopped
1 tablespoon finely chopped fresh thyme or 1 teaspoon dried
1/4 cup fresh chopped parsley
Salt and freshly ground black pepper
1 cup cooked chicken, shredded or chopped
2 cups uncooked egg noodles
Instructions
In a medium pot bring the chicken stock to a simmer over moderately high heat.
Bring a separate pot of salted water to a boil over high heat.
Add the noodles to the salted water and cook, stirring, for 8 minutes.
Add the leeks, celery, carrots, thyme, and half the parsley to the simmering stock and cook, partially covered for 8 minutes.
Drain the noodles; they should be just starting to get tender. Add the noodles to the stock and vegetables and taste for seasoning. Add the chicken with the noodles just to warm it through. Serve hot sprinkled with the remaining parsley.
Noodles Like To Drink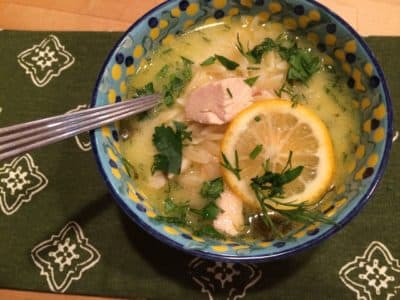 You'll notice that in almost all cases noodles are cooked separately from the soup. The reason is simple: When pasta cooks it soaks up the liquid it's being cooked in. If you cook the pasta in your soup you will end up with a thick, stew-like mess. All the gorgeous stock will have been "drunk" by your pasta.
Unless otherwise indicated, always cook pasta in a separate pot of boiling salted water. And always slightly undercook the pasta by about 2 to 3 minutes since it will continue to cook when it's added to the hot soup. The times given in these recipes account for the extra time the noodles will cook in the soup.
Vegetable Stock
In a large stockpot, mix 3 to 4 pounds leftover vegetable scraps thoroughly washed (onion and leek peelings, ends and peelings from carrots, celery, parsnips, herbs, mushrooms, etc.), 2 carrots, chopped, 2 stalks celery, chopped, 6 peppercorns, 1 bay leaf and 1/2 cup chopped fresh parsley and a generous dash salt. Add just enough cold water to barely cover the vegetables.
Bring to a boil over high heat, reduce the heat and simmer, partially covered, for 1 hour or until the stock is flavorful. Taste for seasoning, adding more salt and pepper as needed. Strain the stock and cool. The stock will keep stored in an airtight container in the refrigerator for about 5 days and in the freezer for up to 4 months. Makes about 8 to 10 cups stock.
More Recipes
This segment aired on October 1, 2020.