Toilet Paper To Corvettes: How The Pandemic Is Affecting Supply Chains
Play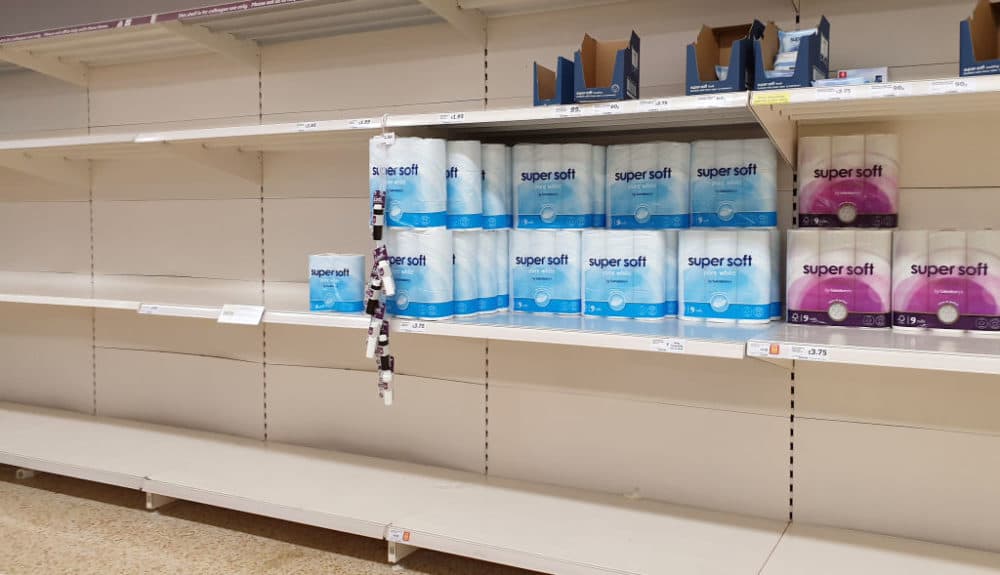 This article is more than 2 years old.
Consumers are once again clearing store shelves to stock up on toilet paper amid record-breaking surges of coronavirus nationwide.
People's tendency to stockpile commodities like toilet paper when anticipating a crisis is called pantry loading, says Harvard Business School professor Willy Shih. Normally, demand for toilet paper remains stable all year round.
"Manufacturing capacity tends to be pretty flat," he says. "So when people go out and hoard [toilet paper], then it drives these up-and-down spikes of supply and demand."
Despite spotty shelves in some parts of the country, retailers say the situation is now under control. Stores such as Target and Walmart are carrying more inventory compared to last year, Shih says, which is also thanks to the upcoming holiday shopping period.
But with retailers unsure of what's to come this winter, Shih predicts some continued spot shortages. Walmart is facing a shortage of aluminum cans, for example. Despite these lapses, Shih believes grocery store shelves will look better this winter compared to the beginning of the pandemic.
Some manufacturers are dipping into restaurant supply chains to adapt. Another strategy is reduced selection, where manufacturers focus on making fewer varieties of a product, he says.
Earlier this month, General Motors was forced to slow production at an SUV plant in Texas and a Corvette plant in Kentucky because the company couldn't get necessary parts from overseas. But compared to food production, big manufacturers in the U.S. are doing much better during the pandemic, Shih says.
With the pandemic under control, China has been a reliable source for parts, he says. However, record cargo traffic in the trans-Pacific Ocean corridors and truck chassis shortages are complicating transportation.
"Some of the major exporters in this country have been impacted as well," he says, "because there's such a shortage of containers in China that the ocean carriers are saying, 'I would rather bring empties back because I can turn them around faster rather than wait for exports of soybeans or grains from the Midwest of the U.S., which will take an additional couple of weeks.' "
Appliances like refrigerators and washing machines, so-called white goods, have been on backorder for months because the supply chain system is out of balance, Shih says. If demand doubles, manufacturers need to make sure every supplier along the chain can increase capacity, he says.
During the pandemic, Shih says he's surprised by how much manufacturers take the "reliable, dependable logistics" of the global supply chain for granted.
Manufacturers depend on reliable container ship and air cargo schedules to transport products around the world. Shutting down international travel removed more than half of worldwide air cargo capacity, he says, because much of it travels inside passenger planes.
The pandemic is causing spikes in air cargo and container shipping rates, he says. And booking a shipment slot is even more difficult for manufacturers — something supply chain managers can no longer take for granted.
Shih advises companies to pay closer attention to the multiple tiers of their supply chains.
"The dirty little secret among supply chain professionals is many companies don't know who their second or third or fourth-tier suppliers are," he says, "because it is so complicated and there are so many of them."
Some view on-shoring the supply chain as a solution to the problems manufacturers face during the pandemic. Shih predicts some on-shoring will occur but doubts it will be widespread because consumers won't want to pay more for products, especially during a period of economic uncertainty.
And major importers like Walmart, Target and Home Depot are seeing China get the pandemic under control and ramp up manufacturing again, he says. This leaves companies with the question of whether to invest in making products closer to home or stick with what's reliable — and cheaper.
"In the end, it becomes: Are we willing to pay more?" he says. "That's where I'm skeptical."
---
Cassady Rosenblum produced and edited this interview for broadcast with Tinku Ray. Allison Hagan adapted it for the web.
This segment aired on November 24, 2020.