How Bad Is The Pandemic? 'The Gates Of Hades Have Opened,' Says Expert Laurie Garrett
Play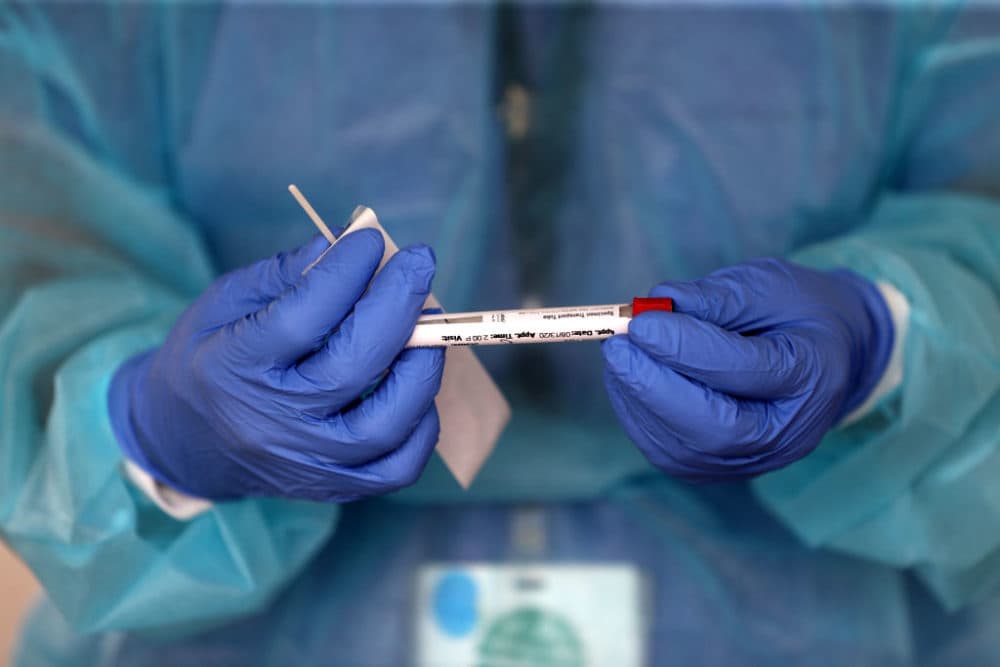 This article is more than 2 years old.
It's the snapshot that no one wanted to see, but many expected: Mississippi, Oklahoma and Tennessee hospitals are nearing capacity.
And in El Paso, Texas, mobile morgues are being set up outside treatment centers, with more than 150 bodies being held there as of Tuesday afternoon. A shelter-in-place order in El Paso has been extended until next month.
As cases soar, epidemiologist Dr. Michael Osterholm is calling the situation "a COVID hell." This, as President Trump all but ignores the crisis, and the head of the coronavirus task force, Vice President Mike Pence, is reportedly focused on helping the president contest the election.
Laurie Garrett has been sounding the alarm since the first days of the pandemic. The Pulitzer Prize-winning science author and former fellow for global health at the Council on Foreign Relations says the U.S. is in a period of "exponential growth" of the coronavirus.
All 50 states are facing increases of positive coronavirus cases at the same time, she says. In at least 43 states, she says these increases are at or approaching overwhelming states' immediate hospitalization capacities.
The current surge is different from past spikes, she says, because at the start of the pandemic in March, states such as New York were able to recruit out-of-state health care workers for additional help. But now every state needs extra resources — including masks, ventilators, drugs, nurses, doctors and personal protective equipment. In addition, states are seeing increased demand for morgue capacity, funeral parlor operators and coroners, she says.
Trump let states handle the pandemic their own way, Garrett says, and now, that scenario is coming to fruition in the worst way.
"The sort of cooperative mechanisms that many governors set up that helped them get through the last two surges won't make any difference because nobody can share," she says.
The lack of resources and the differing individual mandates of each state have set the U.S. on a path "heading into a winter of true hell."
Putting aside the politicization of masks, Garrett says two key factors played a role in exacerbating the pandemic. While the coronavirus is extremely contagious and can cause lasting health impacts, a majority of infected people don't show outward symptoms, she says.
"We are seeing a strange situation where up to 60% of all transmission of this virus is coming from people with no outward symptoms of any kind," she says.
The virus' invisibility means people are able to minimize its impact because they aren't seeing the negative aspects clear in front of them, she says.
The lack of federal leadership has also created problems. Garrett says the countries that have seen success in fighting off COVID-19 — South Korea, Iceland and Japan, for example — all implemented top-down national policies that were evenly executed across the entire nation.
There used to be a clear difference between the U.S. and Canada — parts of Canada just miles from the border saw drastically lower numbers than their American neighbors.
That's no longer the case because "all of North America is getting spillover from us," she says. North America won't be able to control the coronavirus until the U.S. gets handle on the homefront, she warns.
She points to the 10-day Sturgis Motorcycle Rally in South Dakota, where 450,000 maskless bikers from in and out of state convened in a small town. In the months afterward, the Dakotas experienced the highest per capita rates of positive cases and deaths, she says. Motorcycle enthusiasts gathered and then biked back to their hometowns in neighboring upper Midwest states, bringing the virus with them.
Garrett's greatest short-term fear is that the lack of government attention will help the virus soar to unfathomable numbers.
By Christmas, she says, "we could well have 400,000 cumulatively dead Americans, be seeing death rates at about 2,000 or more daily, and have such an out of control situation that when Joe Biden steps in, he'll inherit the sort of disease equivalent of what Barack Obama inherited from George Bush in the financial sector."
Pfizer and BioNTech announced that their COVID-19 vaccine was more than 90% effective amongst more than 43,000 patients. While that's good news, she says there are many caveats, including refrigeration and distribution of the vaccine.
As scientists continue to work on rolling out a vaccine, Garrett says there are concrete actions that can be taken to minimize risk and spread in the upcoming months.
First, although it may be difficult, call off travel plans for Thanksgiving and Christmas if you planned on setting out to see loved ones, she says. She warns Thanksgiving could be a super spreading event when it doesn't need to be, and there are ways to get creative while adhering to basic coronavirus protocols.
Her second piece of advice is to rethink indoor dining at restaurants, she says, especially as the weather becomes colder in most of the U.S., thus making outdoor dining and events infeasible.
New reporting shows restaurants, including indoor, outdoor and patio seating, are a large spreader of the coronavirus. Garrett says private parties are also a major source of spread. People tend to assume their friends and family are healthy and safe, but if you haven't been quarantining with them, then the risk of spread is still present.
"The moment you start hugging someone you haven't seen for weeks — yes, it's good for your soul and for your heart, and we all long for it — but that is the moment when you are sharing a risk and a threat that wasn't there before you had that hug," she says.
---
Karyn Miller-Medzon produced and edited this interview for broadcast with Tinku Ray. Serena McMahon adapted it for the web.
This segment aired on November 12, 2020.