'An Attack On Our City': Phoenix Mayor Responds To Racists Zoom Bombing Civil Rights Icon Memorial
Play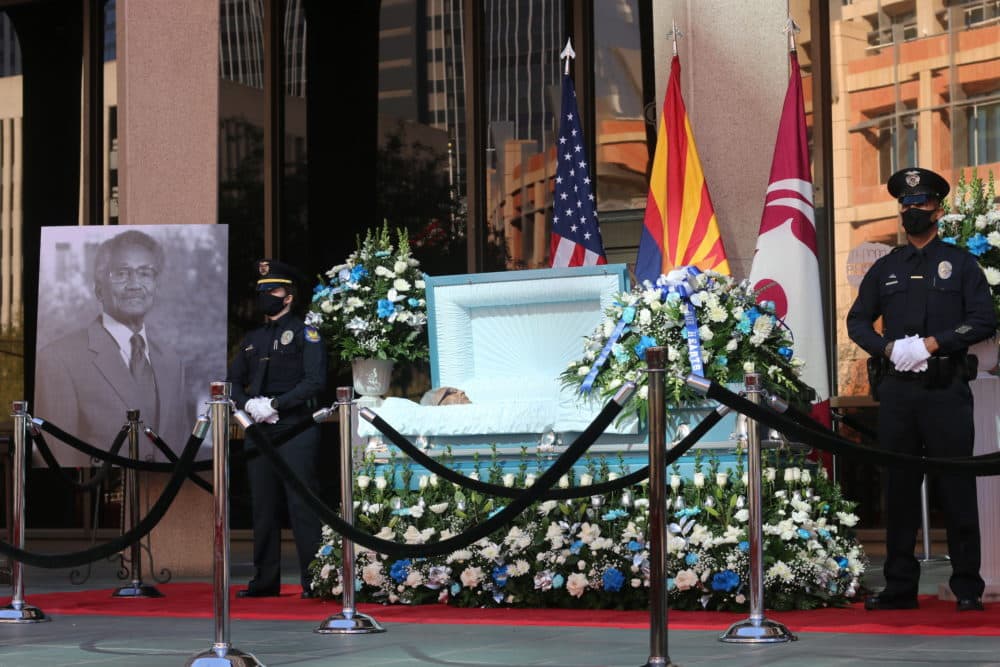 This article is more than 1 year old.
The FBI is investigating a racist verbal attack that erupted Tuesday during an online funeral service for a civil rights icon in Phoenix.
Calvin C. Goode fought for low-income Black residents during his 22 years on the Phoenix City Council. The former vice mayor of Phoenix died in December at the age of 93. Goode was the second Black American elected to the city council and its longest-serving member.
Phoenix Mayor Kate Gallego was speaking at the memorial ceremony when the intrusion began. The church hosting the event decided to end the live broadcast, she says.
"In the middle of my remarks, we received what you often now call a Zoom bomb," she says. "Individuals making terrible racist remarks and really offensive comments interrupted the service."
Gallego says she heard at least one male and one female voice, but other people also reported hearing children or high-pitched voices. The racist language included the N-word, she says.
"If the goal of these racists was to advance racism, we are committed to making sure they fail."

Phoenix Mayor Kate Gallego
To understand the impact of the interruption, Gallego says people need to know the important role Goode served in the city: One of the two buildings in Phoenix named for elected officials bears his name, as does the city's highest civil rights honor. Many of the affordable housing complexes and bridges that comprise modern Phoenix wouldn't exist without him, she says.
"He changed the face of Phoenix," she says, "and we felt like we didn't get the chance to appropriately mourn him because of these racist attacks."
The city plans to upload the full service online without the racist remarks, she says, and continue to further Goode's legacy.
A quiet man, Goode often said, "There's more work to be done," Gallego says. The interruption sent the same message to the city's business, faith and sports leaders, she says.
"If the goal of these racists was to advance racism, we are committed to making sure they fail," she says.
Pro-Trump extremists stormed into the U.S. Capitol last week, some carrying Confederate flags and wearing anti-Semitic sweatshirts. The U.S. has always faced challenges with racism and anti-Semitism, Gallego says, but she's concerned about how comfortable people feel expressing these beliefs publicly.
This "reprehensible behavior" needs to be condemned and stopped, she says.
"This attack felt like an attack on the city of Phoenix just as the Capitol attack felt like an attack on our entire country," she says. "This does not represent who we are as a city or as a country."
---
Alexander Tuerk produced and edited this interview for broadcast with Tinku Ray. Allison Hagan adapted it for the web.
This segment aired on January 13, 2021.