Freshen up your summer menu with 3 salad recipes
Resume
Salad for a summer dinner is not a cop-out. Salad for a summer dinner doesn't have to translate to boring. In fact, with the extreme heat that has crippled much of the country and the incessant rain in the East, a salad for dinner is a fine idea. It's refreshing, healthy and a great opportunity to use much of the gorgeous seasonal produce that is in the garden, farmer's markets and shops this time of year.
Salad for dinner can translate to grilled salmon on a bed of steamed summer green beans with baby potatoes and a sharp dill-mustard sauce. Or chicken salad with an avocado-lime mayonnaise on a bed of peppery arugula surrounded by buttery slices of avocado and sharp, crunchy radishes. Or it can be a totally vegetarian salad made of roasted beets, roasted cherry tomatoes, raw fennel and creamy feta cheese.
Get creative. Mix various greens (buttery lettuce with sharp, peppery arugula) with a protein (fish, chicken, beef, tofu), vegetables (raw, grilled or sauteed), sprinkle on some cheese, nuts or seeds, avocado slices, fresh herbs (think thinly sliced basil, lemon verbena or mint leaves) and other toppings, and you've got a salad full of colors and textures that is the very essence of summer.
Here are three new favorite salad recipes as well as some old favorites.
Add-ins: What else can go in my salad?
Here are a few ideas:
Grated carrots
Raw or roasted chickpeas
Beans
Grated cheese
Croutons or croutes made from leftover bread
Sunflower or pumpkin seeds
Chopped pickles
Shredded kale or tender Swiss chard leaves
Quinoa, pasta, ramen noodles, couscous
Sesame seeds
Hard-boiled eggs, quartered
Bacon or prosciutto or ham, cut into bits
Peach slices, berries, mango slices, watermelon cubes
Corn off the cob
Raw or roasted peppers
Grated raw zucchini
Cherry tomatoes, raw or slow roasted
Chicken salad with avocado-lime mayonnaise with arugula, avocado and radishes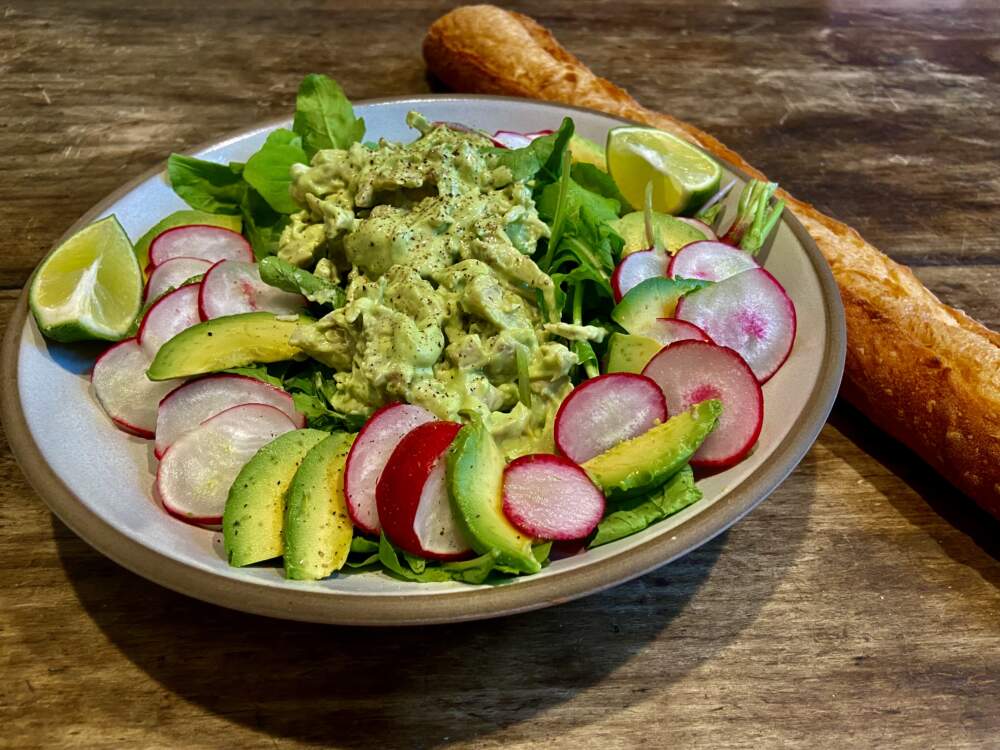 For as long as I can remember, I have had a fondness for chicken salad. Well, more than a fondness. A love. When I was a young girl, my New York City grandmother would take me to a women's tea house for chicken salad sandwiches. I remember a crustless tea sandwich of chicken salad mixed with the requisite mayonnaise and celery with watercress. So sophisticated to my young taste buds.
I adore how highly adaptable chicken salad can be, the way it pairs with spices, fruit, vegetables, or not much at all. Here I've made a refreshing summer salad: slices or chunks of cooked chicken are tossed with an avocado-lime mayonnaise and served on top of peppery arugula leaves with buttery avocado slices and spicy radishes. You can use pre-made rotisserie chicken or steam, broil, saute, or grill the chicken yourself. For the salad, you'll need about 3 cups of cooked, chopped chicken.
You can also add hard-boiled eggs cut into quarters, chickpeas, nuts, olives and/or cherry tomatoes. Serve with crusty bread or lightly toasted bread slices or warm biscuits.
Serves 2 as a main course and 4 as a side dish.
Ingredients 
The salad:
1 pound boneless chicken thighs or breasts*
4 cups chicken stock or water
2 cups arugula or peppery greens
1 just-ripe avocado, thinly sliced
5 radishes, thinly sliced
About 2 tablespoons olive oil
1 tablespoon lime juice or white wine vinegar
Salt and freshly ground black pepper
1 lime, cut into wedges
The avocado-lime mayonnaise
½ cup mayonnaise
1 ripe small avocado, or ½ large, cut into small pieces
1 tablespoon chopped fresh tarragon, optional
1 1/2 teaspoons lime zest
Juice from 1 large lime (use the lime you zested)
Salt and freshly ground black pepper
*I prefer thighs as they stay moist and make a better chicken salad.
Instructions:
If not using pre-made rotisserie chicken: Cook the chicken: bring about 4 cups water or chicken stock to a gentle simmer in a large skillet over moderate heat. Slip the chicken in and cook about 7 minutes per side, until cooked through, or until it registers 160°F on a meat thermometer inserted in the thickest portion of the meat. Remove from heat and allow mixture to cool to room temperature for about 45 minutes. The chicken can also be grilled, broiled or sauteed, about 6 minutes per side. Cool the chicken and cut into thin slices or chunks. The chicken can be covered and refrigerated for 24 hours.
Make the mayonnaise: in a food processor blend the mayonnaise with the avocado, tarragon (if using), lime zest, lime juice, salt and pepper. Taste for seasoning. The mayonnaise can be covered and refrigerated for 24 hours.
Assemble the salad: gently mix the chicken with half the mayonnaise. Add an additional tablespoon or two if you like a moister salad. The remaining mayonnaise can be served on the side to be smeared on crusty bread or toast or for sandwiches.
Arrange the arugula on a serving plate. Spoon the chicken salad in the center of the plate and surround with the avocado, radish slices, and lime wedges. Drizzle with olive oil and lime juice and serve cold or at room temperature.
Grilled salmon with green beans, tomatoes and potatoes with mustard-dill vinaigrette
This is a very loose play on a Nicoise Salad. Instead of traditional tuna, I grill (or pan-saute) salmon and serve it with steamed green beans, new potatoes and early summer tomatoes with a mustard-dill vinaigrette. This is very much a main course salad ideal for a summer lunch or dinner.
Serves 2 as a main course and 4 as a side dish.
Ingredients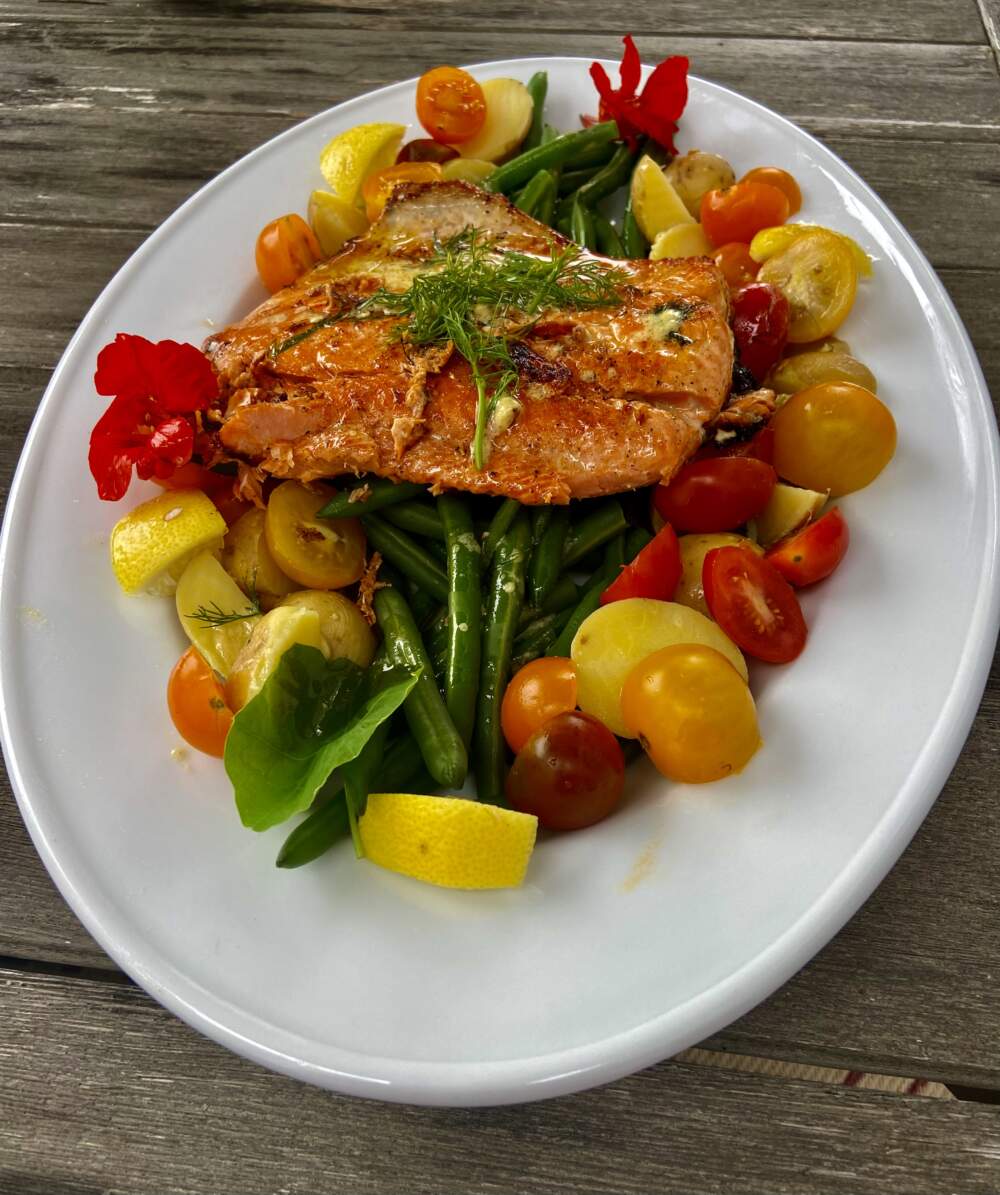 The salad:
1 pound new potatoes
1 pound green beans, trimmed
1 pound salmon, preferably wild
Salt and freshly ground black pepper
1 tablespoon fresh chopped dill or fennel fronds
1 tablespoon olive oil
Juice from ½ lemon, about 1 ½ tablespoons
Juice from ½ orange, about 2 tablespoons
5 ounces cherry tomatoes, about 1 cup, cut in half or quarters, depending on the size
Edible flowers like nasturtium, calendula, and/or dill heads, optional
The mustard-dill vinaigrette
1 ½ teaspoon sharp Dijon-style mustard
Salt and freshly ground black pepper
1 ½ tablespoons finely chopped fresh dill
1 tablespoon white wine vinegar
3 tablespoons olive oil
Instructions
Cook the potatoes: Bring a medium-sized pot of water to boil. Add the potatoes (no need to peel) and cook for about 12 to 15 minutes, depending on the size, or until just tender when a small, sharp knife is inserted in the middle. Drain and let cool. The potatoes can be made a day ahead of time; cover and refrigerate.
Steam the beans: in a medium-sized pot, bring 1-inch water to boil. Add the beans, cover, and steam for about 5 minutes, or until they're just beginning to get tender, but are not fully tender. Drain and place under cold running water; drain again. The beans can be made a day ahead of time; cover and refrigerate.
Make the vinaigrette: in a small bowl, mix the mustard, salt and pepper. Add the dill, vinegar, and finally the oil, whisking with a fork. Taste for seasoning. The vinaigrette can be made several days ahead of time; cover and refrigerate. (If keeping the vinaigrette for more than a day, seal in a glass jar.)
Make the salmon and assemble the salad: preheat a gas or charcoal grill with a grill rack or tray until hot, about 400 degrees. Place the salmon on the grill rack, skin side down, sprinkle on the olive oil, dill, salt, and pepper. Pour half the lemon and orange juice over the fish. Cover and grill for about 4 minutes. Gently flip the fish and pour on the remaining lemon and orange juice. Cover and grill for another 4 to 6 minutes, depending on the thickness, or until a flat butter knife inserted into the thickest part of the salmon comes out and feels quite warm. You can also use an instant thermometer; the temperature in the thickest part of the salmon should be around 140 degrees. Alternately, you can heat the olive oil over high heat in a hot skillet. Add the salmon dill, salt and pepper and cook for about 4 to 6 minutes per side, adding the lemon and orange juice after it's cooked for 4 minutes.
To assemble the salad: place the beans on the bottom of a large platter. Place the salmon on top and surround with the potatoes and tomatoes. Spoon half the vinaigrette on top just before serving and serve the remainder on the side. Top with flowers, if using.
Summer vegetable salad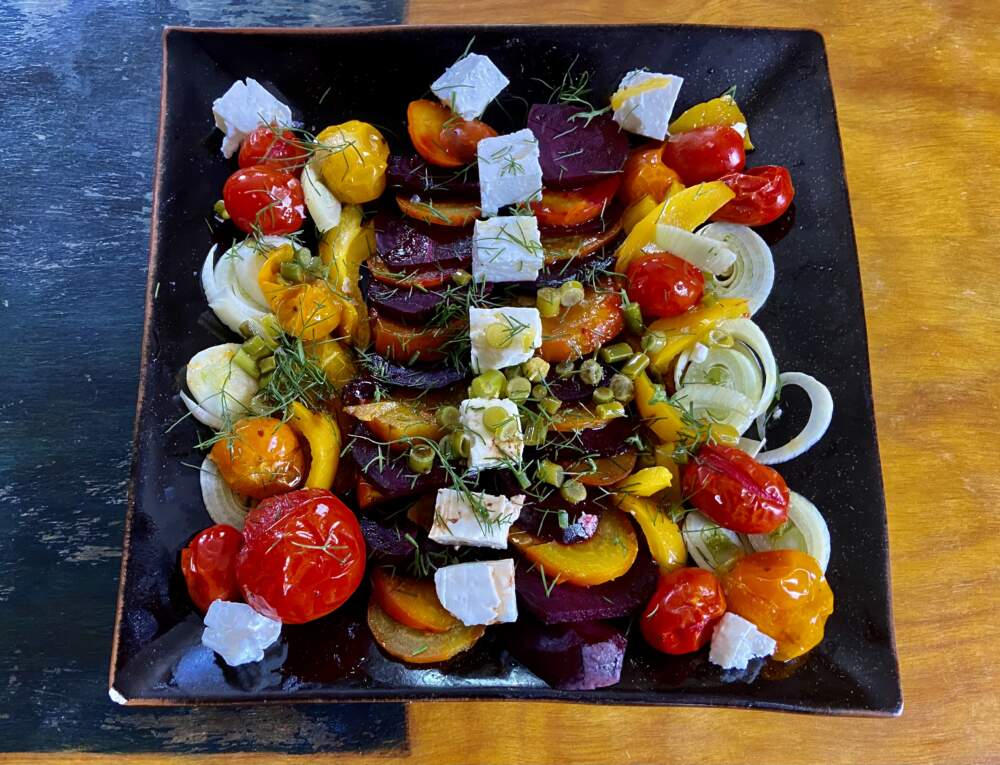 You don't need to add meat or fish to make a summer salad feel substantial. This vegetarian salad uses the best of summer produce. The salad can be vegan if you omit the cheese.
You need to turn the oven for this salad to roast the beets, pepper and cherry tomatoes, but it's worth it. You'll end up with a salad with gorgeous colors, textures and flavors.
Serves 2 as a main course and 4 as a side.
Ingredients 
1 pound beets, red and/ or yellow or pink striped
½ pound cherry tomatoes, yellow or red or both
3 tablespoons olive oil
1 clove garlic, thinly sliced
1 tablespoon chopped fresh thyme or basil
Salt and freshly ground black pepper
1 red, yellow, or green bell pepper
1 small fennel bulb, outer leaves removed, cored and very thinly sliced; reserve 1 ½ tablespoons fennel fronds, finely chopped
1 cup feta cheese, cut into cubes
1 ½ tablespoons balsamic or white wine vinegar
Instructions
Preheat the oven to 400 degrees. Wrap the beets in two foil packets (about two beets per packet). Place the tomatoes, olive oil, garlic, thyme or basil, salt and pepper in a small ovenproof skillet or gratin dish. Place the pepper on a sheet of foil, but do not wrap it up.
Roast the pepper for about 20 minutes, or until the peel begins to darken and soften. Remove and place in a paper bag, seal and let steam for 5 minutes. Remove the pepper and carefully remove the skin. Core and seed the pepper and cut the flesh into thin slices.
Roast the tomatoes for 20 minutes. Remove and let cool.
Roast the beets for about 50 minutes to an hour, or until a small, sharp knife inserted in the center goes in easily and the beet feels just soft. Remove and let cool for 5 minutes. Carefully remove the peel from the beets (it should easily peel off with your fingers, but you can also use a small, sharp knife) and thinly slice the beets.
The beets, tomatoes, and pepper can all be done a day ahead of time; cover and refrigerate.
To assemble the salad: arrange the beets down the center of a medium-sized platter, alternating colors if you used different varieties of beets. Arrange the tomatoes (be sure to keep the oil and juices from the pan), pepper and fennel alongside the beets. Arrange the feta cubes on top and sprinkle with the fennel fronds. Pour the oil from the roasted tomatoes on top along with the vinegar, salt and pepper. Serve at room temperature.
More favorite salad recipes:
This segment aired on July 12, 2023.