Artist Refik Anadol on AI futures, public art and The Sphere
Artist Refik Anadol's unique AI-generated artwork has graced buildings and art spaces around the world over the past several years, from a massive projection on the side of Frank Gehry-designed Disney Hall in downtown Los Angeles in 2018 to a more recent mesmerizing panel at the Museum of Modern Art in New York.
But when he was asked to create a new piece to be displayed on the outside of the new Las Vegas venue The Sphere, the scale increased by tenfold. Anadol calls the venue an engineering marvel.
"It is an incredible space for any creative mind to imagine and go beyond some sort of two-dimensional thinking," Anadol says. "The feature of the architecture is so much more inspiring than just concrete, steel or glass. I've been dreaming that one day, media data algorithms or this invisible world of machine imagination can become a pigment, can become a surface."
Anadol's artist residency on The Sphere's "Exosphere" began Sept. 1 and will alternate between pieces in his Machine Hallucinations series over four months, covering the round structure's 580,000-square-foot external LED screen. At the same time, inside, the space will host a 25-show U2 residency and the premiere of Darren Aronofsky's immersive film "Postcard from Earth."
Anadol's work fits in stylistically with everything happening inside The Sphere, both from a thematic perspective with a focus on the environment and from the sense of newness that all the artists involved at the new venue have embodied throughout their careers.
"Freshness is a different motivation for any artist, I think, any creative who wants to wrap their minds around new thinking. And I think the breakthroughs only happen when we go beyond these predictable pipelines, predictable tools and safe zones of life," Anadol says. "So to me, [The] Sphere represents a breakthrough that represents uncharted territories of imagination."
As for the art itself, Anadol is creating AI data sculptures that will envelop the Exosphere.
"It's a giant, beautiful data sculpture," he says. "And on top of it, I think what is inspiring is the canvas is not flat. It's not 2D. It is beautiful, just no edge, no beginning, no ending, just spherical thinking. So mathematical."
To make these pieces work with the architecture of the Sphere, Andol says his team had to create new technology to fit the space.
"We have to find new algorithms, write new code, new software that creates something new to be able to translate the concept into art," he says.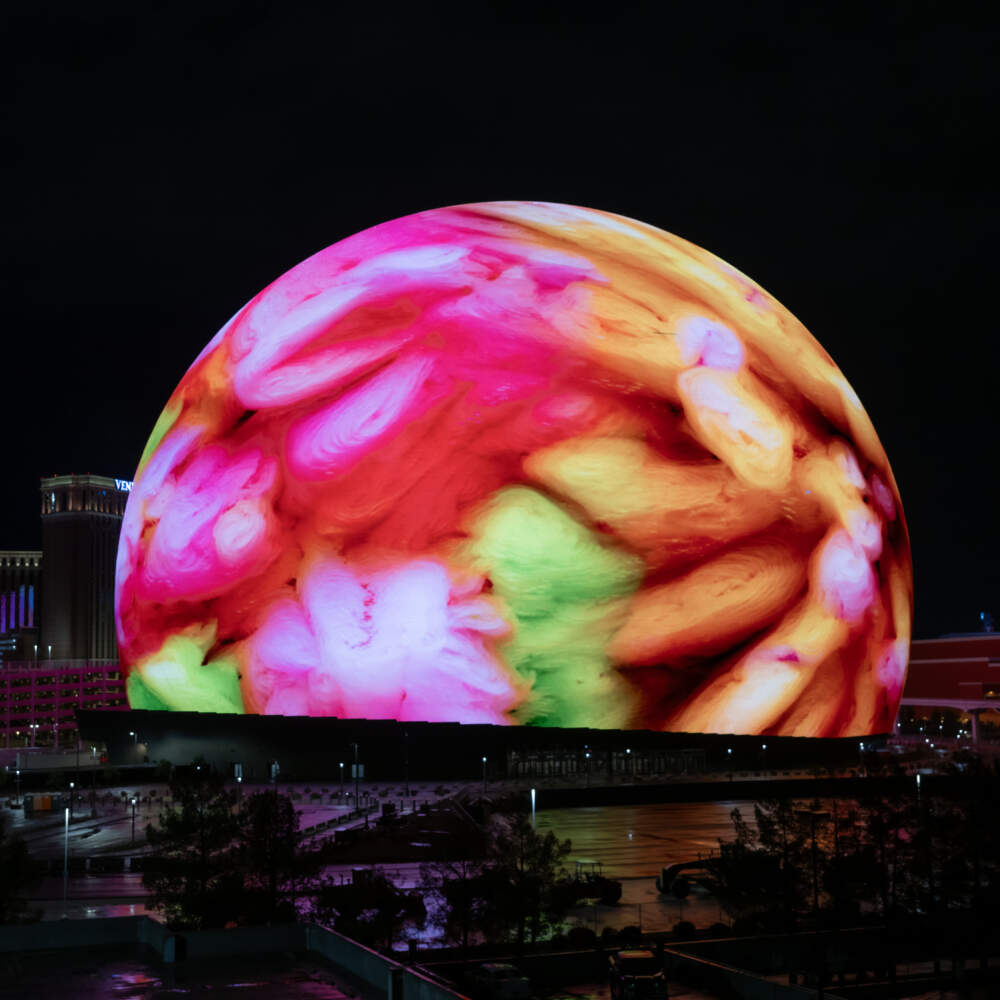 The series, Machine Hallucinations, draws on nature and space for its storytelling. The chapter Winds of Las Vegas uses wind data to exemplify the site-specific challenges faced in the desert.
"I've been painting with wind data," Anadol says. "Like how Monet was inspired from atmosphere, I am inspired from wind data."
And a second uses millions of images from the International Space Shuttle and the Hubble Space Telescope to create an otherworldly experience exploring the depths of space on the already alien-looking building.
Anadol has been working on AI art for more than seven years and he says that while he is aware of the recent attention and fear around AI, he notes his work is adjacent to these issues, not addressing them head-on.
"We only work with collective memories of humanity, which is, you know, urban space, nature, culture, that I hope belongs to everyone," he says. "I think we always create our own AI model, so it just puts us in a different situation that didn't put us in the current debates."
He adds that not everyone is aware of the amount of work it takes to use AI responsibly; these projects can take six months to a year of programming. Anadol drives home that while AI is an incredible tool, creativity is still core to art.
"I think still, art is a true human intervention. [AI art] is a true human and machine collaboration," Anadol says. "I believe in that. And I'm just holding dear to that concept."