Fall in love with 3 pumpkin recipes this autumn
Resume
It's that time of year again. Cooler nights, sweater weather, first fires.
And suddenly the color orange is everywhere. Pumpkins and winter squash are in season and can be transformed into soups, casseroles, tacos, pies, cookies, cakes and more.
These three recipes use pumpkin in unexpected ways. The first recipe transforms pumpkin into a taco filling, topped with roasted poblano pepper strips, salsa, pumpkin seeds, lime and sour cream. Mac and cheese gets even better when it's topped with cubes of fresh pumpkin. The pumpkin adds beautiful texture and color to this classic comfort food. And finally a coconut milk and ginger stew with pumpkin and other early fall vegetables that's ideal for a weeknight dinner.
How do I get the meat out of this pumpkin?
Ah, the age-old question. You can treat a pumpkin like a large winter squash, which is exactly what it is. The easiest way to remove the rind from a pumpkin and get to the meaty flesh? With a large, sharp knife, cut the pumpkin in quarters. Scoop out the seeds and inner stringy sections. Using a wide-mouthed vegetable peeler or sharp knife, peel off the outer orange peel. Then cut the pumpkin into pieces. Pumpkins can be double-wrapped and frozen for a month.
But what's the difference between a cooking pumpkin and a carving pumpkin?
Those huge pumpkins you see in pumpkin patches and markets are generally much better for carving than eating. They tend to be watery and stringy without a whole lot of flavor. Instead, you want to look for varieties of pumpkins that are considered sugar pumpkins, or pie pumpkins. These "eating pumpkins" tend to be between 2 and 8 pounds; they will last for several months if stored in a cool, dry spot.
Pumpkin tacos
Wedges of fresh pumpkin are roasted until just soft and almost creamy. Corn tortillas are piled with a quick tomato and pepper salsa, topped with roasted pumpkin rings, roasted poblano pepper strips, sour cream, crunchy pumpkin seeds, scallions, salt, and lime juice. These tacos have it all: stunning colors, textures, and a taste of meatiness without meat.
Serves 4 to 6
Ingredients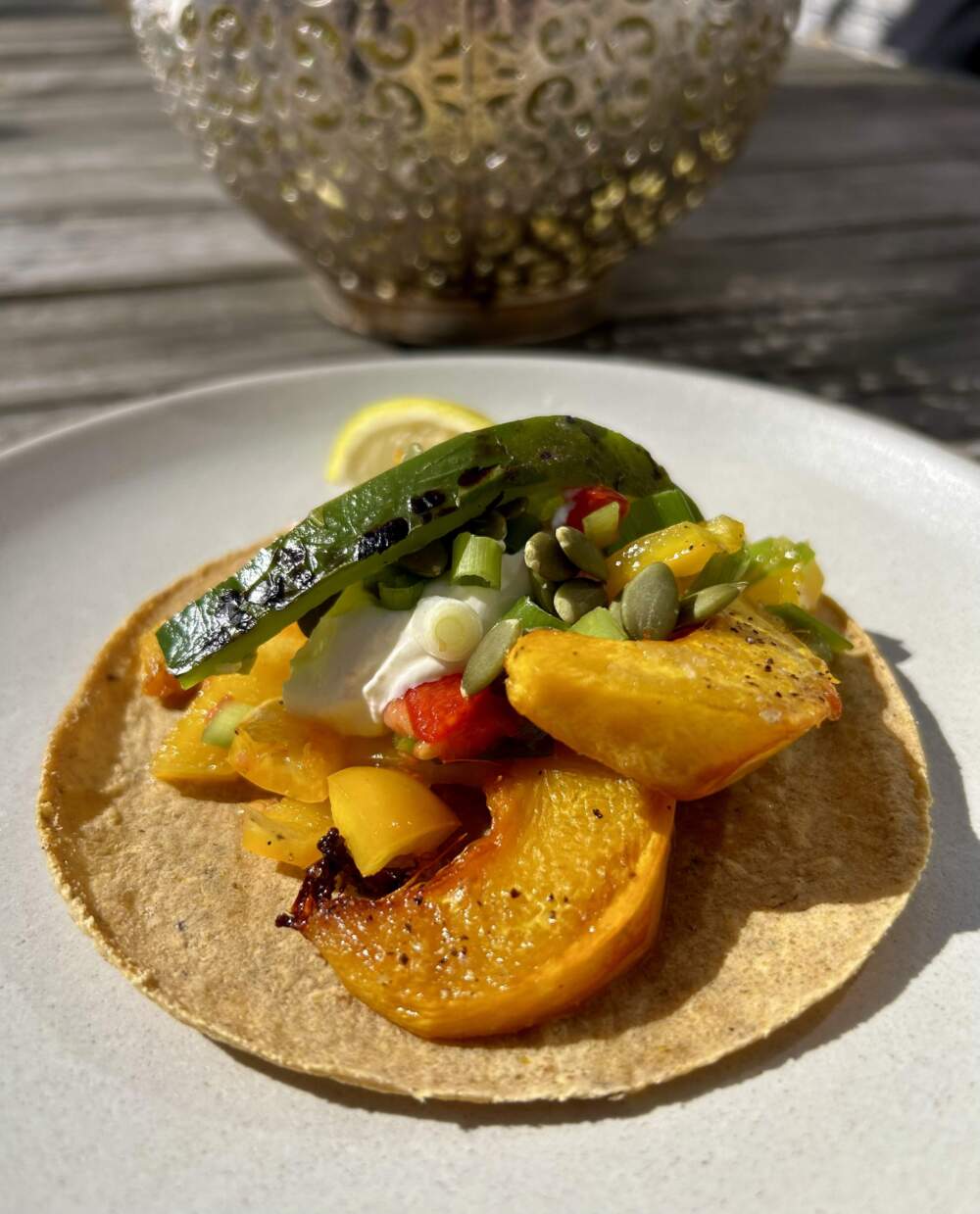 The pumpkin, tortillas, and poblano pepper
1 poblano pepper
16 ounces peeled, seeded pumpkin, cut into 1/2-inch wide half-moons
1 1/2 tablespoons olive or vegetable oil
Salt and pepper
12 corn tortillas
The salsa (or 2 cups commercially-made salsa)
1 small yellow, red, or green bell pepper, cored, seeded, and cut into small pieces
2 scallions, finely chopped
1 medium ripe tomato, cored and chopped
1 small red or green chili pepper (like a serrano or jalapeno), cored, seeded and finely chopped, or hot pepper sauce to taste
Juice 1 large lime
Salt and freshly ground pepper
Garnishes
Pumpkin seeds (pepitas)
Sour Cream
Coarse sea salt
Finely chopped scallions
Hot pepper sauce
Lime wedges
Instructions
Roast the poblano: Place the pepper directly on a gas flame on high heat or place under the broiler or on a hot grill until blackened on all sides, about 5 minutes. Remove and place in a paper bag, seal, and let "steam" for 5 minutes. Carefully remove the blackened peel, cut in half and remove seeds and core. Cut into thin strips; set aside.
Roast the pumpkin: Preheat the oven to 400 degrees. Place the pumpkin slices on a baking tray or cookie sheet and toss with the oil, salt, and pepper. Roast for around 15 to 20 minutes, or until the pumpkin feels tender when tested with a small, sharp knife.
Meanwhile make the salsa: in a medium bowl gently toss all the ingredients and season to taste. The salsa can be made several hours ahead of time.
In a large dry skillet set over medium-high heat, heat the tortillas a few at a time until warm on both sides, about 3 minutes.
Place the garnishes in small bowls and let everyone add their own.
To serve: Place 2 slices of pumpkin wedges on a warm tortilla. Top with a generous tablespoon of salsa, a dollop of sour cream and 2 slices of the roasted poblanos. Sprinkle with other garnishes as you like.
Pumpkin and fall vegetable stew in coconut broth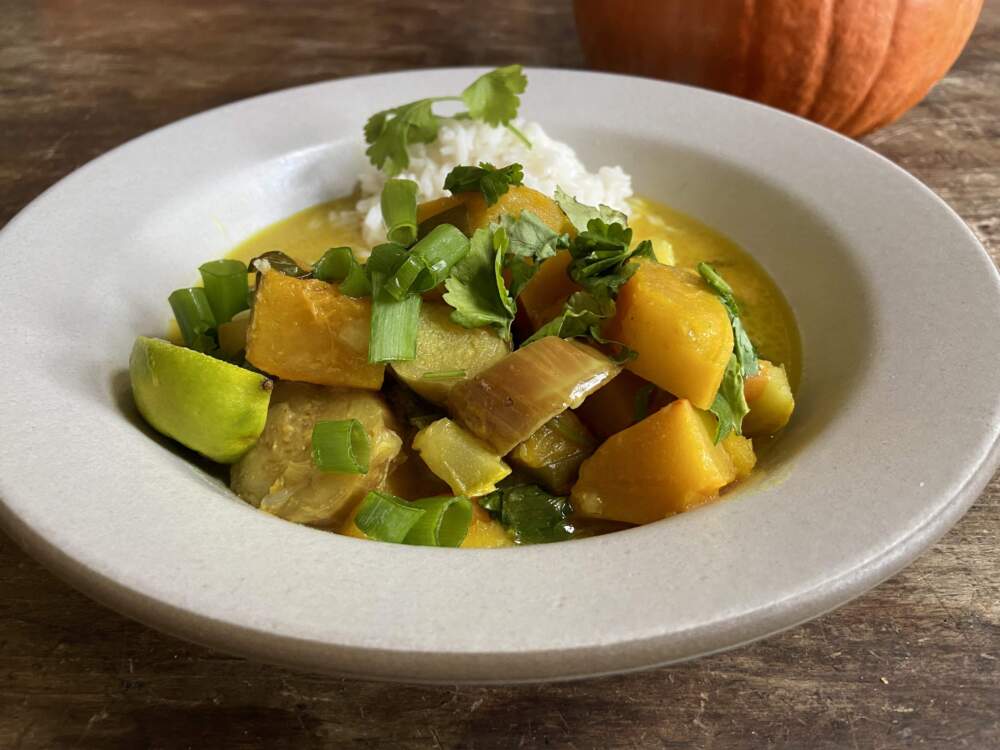 A warming, soothing vegetarian stew, sprinkled with pepitas (pumpkin seeds) lime wedges, cilantro, and finely chopped scallion and served on top of or alongside basmati or jasmine rice.
Serves 2 to 4.
Ingredients
1 ½ tablespoons vegetable oil
3 cloves garlic, minced
1 ½ tablespoons finely chopped fresh ginger
1 ½ tablespoons fresh ginger, cut into thin sticks
3 scallions, cut into 1-inch pieces
Dash hot pepper sauce or chile flakes
1 pound pumpkin, peeled and cut into 1-inch cubes, about 4 cups
Salt and freshly ground black pepper
2 small Japanese eggplant or 1 medium purple eggplant, ends trimmed and cut into ½-inch thick rounds, or 1 medium purple eggplant, ends trimmed and cut into ½-inch thick rounds and then cut each round in half, about 5 ounces
1 medium zucchini or summer squash, ends trimmed and cut into ½-inch thick rounds, about 7.5 ounces
2 medium carrots, peeled and cut into ½-inch thick rounds, about 2.5 ounces
½ cup fresh cilantro, chopped
1 (13.5 or 13.6 ounce) can unsweetened coconut milk
Juice 1 large lime, about 3 tablespoons
Garnishes
1 cup cooked basmati rice (Make according to package directions)
¼ cup chopped fresh cilantro
1 scallion, finely chopped
Lime wedges
Pumpkin seeds (pepitas)
Hot pepper sauce
Instructions
In a medium casserole or Dutch oven, heat the oil over medium-low heat. Add half the garlic, chopped ginger and ginger sticks and half the scallions and a dash of hot pepper sauce or chile flakes and cook, stirring, for 1 minute. Add the pumpkin, salt and pepper and cook, gently stirring for 2 minutes. Gently stir in the eggplant, zucchini, carrots and scallions and half the cilantro; cook for 2 minutes. Add the remaining chopped garlic, chopped ginger and ginger sticks and the coconut milk and ½ cup water. Bring to a gentle simmer over medium heat, reduce the heat, add salt and pepper, remaining scallions and let simmer, covered, for about 20 minutes, or until all the vegetables are just tender.
Place any or all of the garnishes in small serving bowls.
Just before serving, stir the lime juice, remaining cilantro, and hot pepper sauce to taste. Add salt if needed. Serve hot accompanied by rice and garnishes.
Pumpkin mac and cheese
This creamy, cheesy pasta dish, crowned with cubes of bright orange roasted pumpkin, is ideal fall comfort food. You can make the dish 24 hours before baking; cover and refrigerate. You can also freeze it for a few months and defrost it before baking.
Serves 2 to 6; it's quite rich.
Ingredients
The pumpkin:
3 cups cubed pumpkin pieces, about ½ inch, from half a small 3-pound pumpkin, see above for directions on cutting the pumpkin
1 ½ tablespoons olive oil
Salt and pepper to taste
The mac and cheese:
2 tablespoons butter
2 tablespoons flour
2 ½ cups milk, or 2 cups milk and ½ cup heavy cream
2 tablespoons chopped fresh sage, optional
Salt and pepper to taste
1 cup grated sharp cheddar or gruyere
½ cup grated Parmesan cheese, plus ¼ cup for sprinkling on top
½ pound macaroni or small pasta shape
1 ½ tablespoons olive oil or vegetable spray
Instructions
Roast the pumpkin: Preheat the oven to 400 degrees.
On a baking sheet toss the pumpkin cubes with the oil, salt and pepper. Place on the middle shelf and roast for about 15 minutes, stirring once or twice. The pumpkin cubes should be just tender, but not fully cooked and tender. Remove and let cool.
Meanwhile, bring a large pot of salted water to a boil over high heat.
Make the cheese sauce: in a medium saucepan, melt the butter over medium heat. When sizzling, add the flour and stir to create a paste. Cook for 2 minutes. Slowly whisk in the milk, and/or cream, whisking until the sauce begins to bubble and thicken. Cook for 5 minutes. Add the sage, if using. When the sauce is thick enough to coat a spoon, remove from the heat and whisk in the cheddar cheese and the ½ cup of Parmesan. Taste for seasoning.
Add the pasta to the boiling water and cook, stirring once or twice, until al dente, about 10 to 12 minutes, depending on the shape and size. Drain the pasta.
Spread the olive oil or vegetable spray in the bottom of a gratin dish or medium baking dish, add the cooked drained pasta. Stir the cheese sauce on top and stir to evenly distribute. Place the pumpkin cubes on top and, using your hands or a spoon, gently push the pumpkin cubes down into the pasta and cheese sauce. Sprinkle with the remaining ¼ cup Parmesan.
The dish can be made ahead of time; cover and refrigerate for up to 24 hours.
Preheat the oven to 400 degrees. Bake the mac and cheese for about 20 to 25 minutes, or until the cheese sauce is bubbling and the pumpkin cubes are thoroughly tender.
More pumpkin recipes
Click here to find recipes for miso soup with pumpkin; pumpkin, pistachio and pumpkin seed spice cookies; pumpkin spice roll cake with cream cheese frosting.
This segment aired on October 30, 2023.