Zeninjor Enwemeka Of WBUR's Bostonomix To Join The Former Fellows Panel At NEFAI 2019
From Sept. 22 - 24, journalists from around New England will gather at Northeastern University in Boston to learn about public records and the latest investigative and database reporting techniques at The New England First Amendment Institute 2019 (NEFAI). Our very own Zeninjor Enwemeka, a reporter on WBUR's Bostonomix team, will be attending the Former Fellows Panel at the institute on Sept. 23.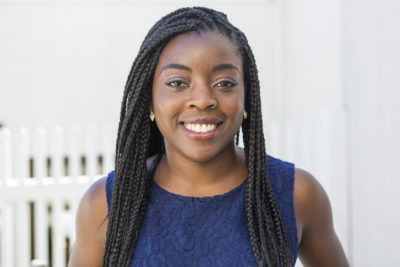 Enwemeka was a NEFAI Fellow in 2016, chosen by the New England First Amendment Coalition (NEFAC)—a broad-based organization of people who believe in the power of transparency in a democratic society. NEFAI is open each year to 25 New England journalists, providing support and training to become well-versed in the freedom of information laws and accomplished investigative reporters.
As a former fellow, Enwemeka will join former institute fellows who will share their experiences post-NEFAI and explain how to best use the skills learned during the program.
The panel is from 3:15 p.m. to 4:15 p.m. on Sept. 23.
---
More about Zeninjor Enwemeka: Before joining WBUR, she worked at The Boston Globe as a breaking news writer for Boston.com. She also spent several years as a news/homepage producer for the website. Zeninjor was part of the 2014 Pulitzer Prize-winning team for The Boston Globe's breaking news coverage of the Boston Marathon bombings.
She was also an adjunct lecturer at Boston University, where she taught a class on multimedia and online journalism. Zeninjor is a graduate of the Medill School of Journalism at Northwestern University. She serves as vice president of the Boston Association of Black Journalists.