Q&A: Meet WBUR's New Executive Director Of Business Development Pete Matthews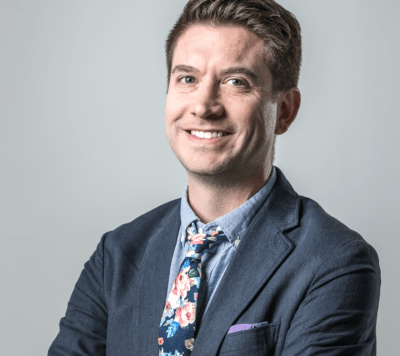 Pete Matthews began his new role at WBUR as the Executive Director of Business Development, leading WBUR's Underwriting team just a few weeks ago.
Having worked in sales and leadership roles at a range of journalistic enterprises—including The Atlantic, The Wall Street Journal, Time and Newsweek—Matthews is now eager to explore the world of public media.
In this Q&A with INSIDE WBUR, Matthews talks about how he became an "accidental ad sales executive," his passion for the arts and literature, as well as his vision for WBUR.
Tell us about your professional journey that led you to WBUR...
My last gig was at The Atlantic, where I led the team responsible for cross-platform sales across overall media products, including The Atlantic LIVE. Before that, I spent nearly five years managing one of the largest advertiser and partner relationships—in the U.S. and the Asia Pacific region—for Seeking Alpha. It was an exciting place to be at for a whole lot of reasons—we called it the oldest startup ever—but specifically for the fact that we could tackle media from a very creative as well as a data-driven standpoint.
The work I've done in ad sales for other major news publications has always been revenue-driven, which comes with certain challenges and wins. But at WBUR, there's a fantastic approach to revenue goals that are actually mission-driven. So, I'm thrilled to be here, having been on the other side of the playing field for so long.
So what's the story behind calling yourself an "accidental sales executive"?
Well, to begin with, I went to school for theatre and Spanish. I graduated from Penn State, all set to pursue an acting career. I was in San Francisco, trying to be an actor and also working full-time. I realized quickly that although I was doing artistically fulfilling work, I wasn't going to get a paycheck.
So, eventually, a friend and I decided to start our own non-profit ensemble theatre company called "Boxcar Theatre." We produced original plays and did all the writing, directing, producing, acting, ticketing, sound—everything. I was part of it for nearly 10 years and it was a great experience! Pre-COVID, it was one of the most active small theatres in the Bay Area. But it wasn't the path I wanted to take for a full-time career.
What excites you about the opportunity to join WBUR?
I, personally, need to have a strong affinity to what I'm selling. As someone who has been a dedicated NPR fan for I can't even recall how long, it's an offering that I feel deeply passionate about and connected to. Joining WBUR during an ongoing worldwide pandemic is hard, but also realizing that I can help during a time when we're all soul searching and trying to put our best foot forward is rewarding.
Not to forget the breadth of WBUR's capabilities and what we have to offer: a trusted, local public media institution with a national footprint as well as a leader in compelling events programming and production—so inspiring!
Considering the hit businesses have taken over the last few months, how will you approach working with them?
With vast amounts of sensitivity and empathy, first. It is a very challenging time for everyone, personally and professionally—the pandemic hasn't affected only one aspect of someone's life. So even though we do have revenue goals, that's not what we are leading with. Instead, we aim to lead with compassion and solutions to help businesses grow and grow with them.
Do you have a vision for the team?
I think, for now, my vision is simple: I want us to continue spending more time talking to our partners about our broad capabilities and asking them the question, "what are you trying to accomplish and how can WBUR help you do that?"
Tell us a little about yourself - how are you spending your free time?
My husband, Mike, and I moved to Boston about six weeks ago with our eight-month-old twins. A lot of my free time is usually spent hanging out with the girls (they're now teething and already have such distinct personalities!) and house hunting. But at other times, I am a voracious reader and a runner!
Any book recommendations?
I've been into biographies lately, especially biographies about medieval European female royalty like Eleanor of Aquitaine. But for book recommendations, I'd say "Blindness" by José Saramago, "Galápagos" by Kurt Vonnegut—he's probably one of my favorite authors—and "The Sword of Shannara Trilogy" by Terry Brooks.