Q&A With Tonya Mosley, 'Here & Now's' New Third Co-Host
This article is more than 3 years old.
On Aug. 9, Tonya Mosley started the next chapter of her career as the new third co-host of Here & Now — the weekday news and talk program distributed on more than 475 NPR stations nationwide. We talk to her about her podcast "Truth Be Told," her vision for Here & Now and more.
What excites you about the opportunity to join Here & Now? 
Here & Now is the midday show where we learn about the news as it happens, and our goal is to provide context, understanding, information and occasionally, a bit of whimsy. Robin Young, my co-host, said something funny the other day: Morning Edition is basically putting the boat out in the harbor. We, at Here & Now, are rowing the boat thru the waters and All Things Considered, is bringing the boat in. This is a powerful analogy, because not only are we taking listeners through the news as it happens, we are providing order and understanding of what's happening all around us, and to us. We don't want listeners to feel like they are on a bumpy ride. We want them to walk away armed with the facts they need to make sense of the world.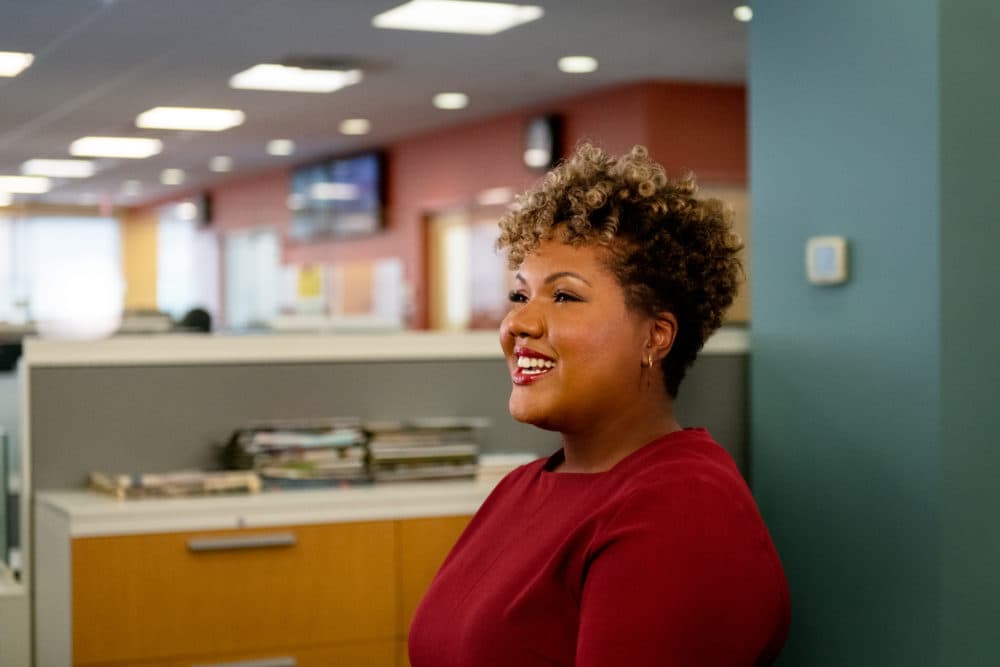 On a personal level, I am excited because I am just an unbelievably nosy and curious person—if I wasn't a journalist I would be a private investigator or detective. I am always digging! So the personal fulfillment for doing this show, are a couple of things: 1) I can fulfill my innate curiosity about the world and serve as a proxy to the listeners, holding truth to power. 2) I can share with people different insights to help keep them informed. Everybody has a purpose in this world and I believe mine is to shed light in dark spaces.
What story that you've reported on in the last few years has shaped you as a journalist, and how?
It's very hard to quantify this because I've reported on many stories over the years but the stories that mean the most to me are the ones that have not only directly impacted people's lives but also the stories that have made a change for the greater good of society.
Several years ago I followed young transgender children as they were coming into their identities and it was at a time when we weren't having these discussions. I felt proud that I was part of this process of helping people understand what this was, to have a language for it... put a name to it. I learned so much and heard from so many viewers—I was on television then—who were saying "oh, now I kind of get it or now I understand it or thank you for shedding light on this".
At a time before marijuana was decriminalized in many states, I did an investigation in the state of Washington which took a look at how easy it was for people to obtain medical marijuana prescriptions. Because of my reporting, the state passed a measure which secured loopholes making it harder for people who were trying to get those prescriptions. A few years later the state of Washington decriminalized marijuana all together but this investigation showcased the power of media, sometimes our stories can be a driving force in changing laws.
Truth Be Told is an advice podcast, by and for people of color. Can you share insights or lessons from hosting Truth Be Told that will be valuable to your success in hosting a newsmagazine like Here & Now?
Truth Be Told is a podcast that was created solely through insights from listeners. My producers and I held listening sessions where we asked listeners of public radio what they wanted from an advice podcast. Based on listener insights, we created a show that tackled some of the most pressing issues people of color face in this country.
Of course, in season one we only scratched the surface, "people of color" is an umbrella term, and it doesn't even come close to scratching the surface of the complexities of experiences and identity. But what Truth Be Told has done is to begin to have discussions that are rooted in truth and value for the listener. The experience of producing and hosting Truth Be Told has deepened my mission at Here & Now to elevate voices we've never heard before, and shed light and nuance - sometimes issues aren't simply black and white, for and against. Conversation allows us to unpack this reality.
At the core of its mission, public radio is meant to push us beyond our bubble, so that we have a deeper understanding of the world and ourselves.

Tonya Mosley, co-host of Here & Now
In the current media landscape, what makes Here & Now special?
Here & Now has a dedicated audience—the ears of a lot of people in the United States who listen to public radio—these are typically individuals who are good people, who want to make a change, who want to be informed. That's why I think it's such a privilege and a special show because I get to talk to people who want to learn, who want to know more about the world and want to contribute.
How has covering Silicon Valley (Bureau Chief, KQED) these last few years prepared you for this job?
During my time as the Silicon Valley bureau chief, I led a team covering technology and its impact on society. Technology is vast, wide, deep and complex. Collectively we are taking a more critical view of the role technology plays in society. As bureau chief, I was in charge of setting the tone and direction of our coverage. This leadership role prepared me for the fast-paced nature of Here & Now, where hosts work with producers throughout the day to set the direction of coverage. This role requires a deep news sense, an understanding of complex topics and the ability to learn very quickly the things you don't know.
Broadening beyond my time in Silicon Valley, I'd also say my entire career has led me to host Here & Now. For the last 20+ years, I've had to become a quick study, covering everything from aviation to immigration, technology, science, religion, crime, law...the list goes on and on. I've been a television producer, reporter, anchor and manager. If you were to roll all of these positions together, you'd produce "host" for a show like Here & Now.
Tell us about your time at WBUR as a reporter...
I was the senior education reporter for WBUR's Edify, which is still the place you go to for education coverage across Boston and beyond. Being on the education beat was an amazing experience because Boston has such a rich history when it comes to education. Not only are there a host of colleges and universities that make up this area but the foundation of public education as we know it started here.
During my time with Edify, I took a look at what's working and what's not. It was a phenomenal and enriching experience. Doing this work with all of these phenomenal colleagues is probably the reason why I think I'm back!
What's your pitch to new listeners about why they should listen to Here & Now?
For new listeners, I think you should tune in to what is already a stellar program. Every day, these excellent journalists and the Here & Now staff scour news events throughout the world, they are toiling through stories and they take seriously the essential information that people need to know.
As we continue, you'll be able to hear a broader scope of voices from the west. You'll be able to hear the enriching discussions you're used to, but also as a three-host team you'll hear us out in the field, on the ground more. This will allow us to travel the nation, hear stories from people and share greater insights on the places we've heard about but never really been.
Where do you think mainstream media is headed? Are there any upsides?
There are so many places now that people can go to, to get their news. We have to rethink our role as journalists and factor in what people want. We have to listen to our audiences. If they are telling us there is a certain way they want to consume our news, we have to give it to them that way. There may be a future where folks say we don't want to have a radio host talking to us. We have to be nimble enough to say "Well, what is our role?"
To be a true journalist is to adapt to the ways people need the information and so that's where I see the landscape moving to. Back in the day, we told people what's important but now it is just as important for us to listen to what people are telling us is important. Balancing this is like walking a tightrope, our number one role is to be factual and fair, while also providing people with essential information about what's happening in the world, the way they want it.
---
Co-hosted by award-winning journalists Robin Young, Jeremy Hobson and Tonya Mosley, Here & Now's daily lineup includes interviews with newsmakers, NPR reporters and contributors, plus innovators and artists from across the U.S. and around the globe.
Live On WBUR, Mon – Fri, 12–2 p.m. ET