Available Now: Anything For Selena, A New Podcast About Identity & Belonging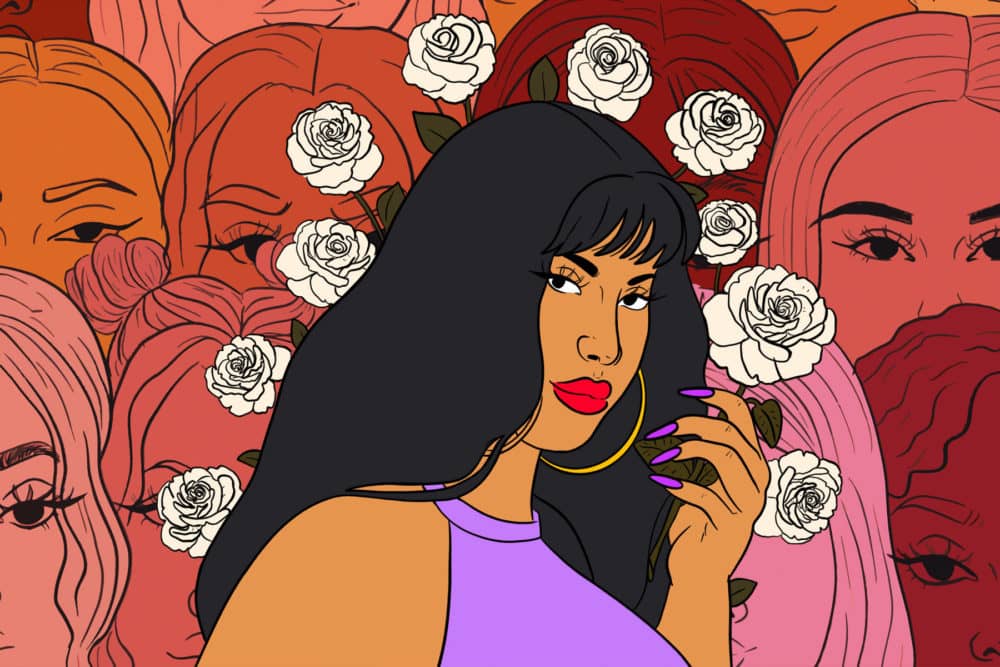 At a time of unprecedented debate about what it means to be American, WBUR and Futuro Media present "Anything for Selena," an intimate journey by host Maria Garcia to understand what the legacy of slain Mexican American pop star Selena Quintanilla shows us about identity and belonging.
---
Episodes of Anything for Selena are free and available to stream or to download on Apple Podcasts, Spotify or wherever you listen to podcasts.
More details are available here: https://www.wbur.org/anythingforselena
Follow us on Twitter: https://twitter.com/selena_podcast
Follow us on Instagram: https://www.instagram.com/selena_podcast/
---
Story continues below
Subscribe to the podcast
In the deeply reported podcast, Maria goes on a quest to understand how Selena—a Mexican-American woman who began singing to help put food on the table—remains an unparalleled vessel for understanding deep tensions around race, class, body politics and what it means to belong.
The series weaves Maria's personal story as a queer, first-generation Mexican immigrant with cultural analysis, history and politics to explore what remembering, loving and memorializing Selena today really means.
I was 7 when I discovered Selena, 9 when she tragically died and 11 when her biopic was released. Selena defined my childhood and her legacy has stayed with me into adulthood. She is this cornerstone that I come back to when I need to remember who I am. She represented transcendence without compromise. She showed us our stories matter. We matter. I hope this podcast does the same.

Maria Garcia, Senior Editor of WBUR's The ARTery
For Garcia, like many Latinas, Selena represented the first time mainstream American society paid attention to a woman who looked and sounded like her. Other people and industries noticed Selena's appeal, too. Selena's murder—a collectively traumatic event for Latinos in the U.S.—marks a dramatic shift in Latino representation and politics.
"The same way Selena opened doors for the Latinx community in music and film, her legacy continues by opening doors for Latinxs in podcasting. The opportunity to work on a project with such rich cultural and political significance has been thrilling. I am so excited for people to get to hear Maria Garcia's perspective. I have learned so much about identity, expression and belonging," said Antonia Cereijido, Senior Producer at Futuro Studios.
The 10-episode podcast, produced in partnership with Futuro Studios, will debut in January 2021 and will be paired with Spanish-language companion episodes.
"Anything for Selena and our partnership with Futuro Studios is just the beginning of some exciting new work in the iLab at WBUR," said Ben Brock Johnson, executive producer of WBUR's iLab.
Speaking Spanglish and fusing Top 40 beats with musical styles of the Mexican and Texan working- class, Selena challenged established perceptions of the all-American pop star. Although she died in 1995, a new generation of fans has emerged, celebrating her on Instagram and dancing to her most-beloved hits like Bidi Bidi Bom Bom on TikTok. With performers such as Beyonce, Cardi B and Drake naming her a top musical inspiration and influencers like Kim and Kylie Kardashian copying her most famous looks, Selena continues to reach every corner of American pop culture and the internet.
About WBUR
WBUR, Boston's NPR news station, is a public media organization committed to exceptional journalism. The WBUR iLab is an engine for innovation and imagination at WBUR — a place for experimentation with sound and storytelling, programs and platforms. From the original hit podcasts like Dear Sugars and Modern Love with The New York Times to the current Endless Thread with Reddit, the WBUR iLab leads the way in creating dynamic and compelling audio stories for on-demand audiences.
About Futuro Studios and Futuro Media
Futuro Studios is the new creative division of Futuro Media Group, focusing on original podcasts and programming. It has produced podcasts in partnership with the LA Times, WNYC, Netflix and Spotify, among others.
Futuro Media is an independent nonprofit organization producing multimedia journalism that explores and gives a critical voice to the diversity of the American experience. Based in Harlem and founded in 2010 by award-winning journalist Maria Hinojosa, Futuro Media is committed to telling stories often overlooked by mainstream media by expanding narratives as we report on issues where we see a lack of racial equity. Futuro Media also produces Peabody Award winning Latino USA, the longest-running national Latino news and cultural public radio program, as well as the podcast In The Thick and Latino Rebels.
About Maria Garcia
Maria Garcia is the Senior Editor of Arts and Culture at WBUR, where she leads editorial strategy on culture coverage. She was born in Ciudad Juarez and was raised in El Paso, Texas where her family immigrated to when she was 3 years old. She was a broadcast journalist along the U.S. - Mexico border for more than a decade. After that, she transitioned to arts and culture reporting and narrative radio storytelling. She holds a Masters Degree in Arts and Culture Journalism from Columbia Journalism School. She's also a queer chola who listens to Selena when she needs some motivation.