Meet The Host Of WBUR's Consider This, Paris Alston
As both a producer on Radio Boston and the WBUR host of the Consider This podcast, Alston found a few minutes in a typically busy day to talk about her love for public radio, hosting the local segment of a national podcast and more in this Q&A with Inside WBUR.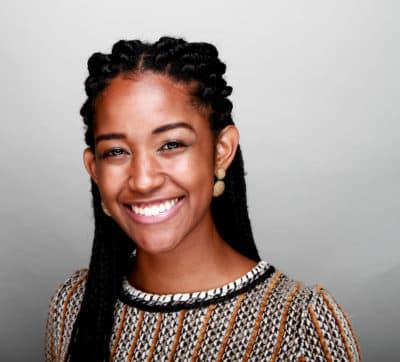 What made you decide to become a journalist? 
Alston: My parents have always been heavy news consumers — whenever my mom would cook or while we were getting ready for school, the local TV station remained on. To this day, my dad buys three local town newspapers. As children, we always knew what was going on. So, one day, when my best friend's mom suggested that I'd be really good as a news person, I thought about it hard and just ran with it. And then when I was 17, I ended up going to a journalism camp, now called the Chuck Stone Program for Diversity in Education and Media at UNC-Chapel Hill, which really solidified the idea for me. So when it was time for college I went back to UNC to study journalism.
What led you to audio journalism?
Alston: I started my career as a digital production assistant. I was interested in digital media, which was really different from what I had learned in school which was focused on producing TV broadcasts. I was mostly doing web and social media, but I also got my hands on editing different pieces of audio. I knew how to edit video and it was pretty easy to go back and forth between the two. So when the opportunity opened up as a producer at Radio Boston, even though I really wanted to be a digital web producer, I had already fallen in love with audio and that's how it all started!
Tell us what your typical day is like at Radio Boston? How have things changed during the pandemic?
Alston: Our day starts with the newsroom morning meeting. We break out into our own team meeting right after to talk about what's already on the books, what's new. We try to look ahead as much as possible but, of course, there's always breaking news or someone drops out of a segment — any combination of things can happen. We always keep in mind that we're a local show and are focussed on doing deep dives — so we don't cover every single thing that's happening in Boston today but spend time talking about what's on the minds of our listeners, what is everybody talking about? Is there a news story that we can give a different angle on?
The pandemic has presented a number of challenges, especially with producing the show from home — that changes so much. It's nice to be able to sit right in front of the people who you work with because then you can just lean over to get feedback or run across the newsroom to get some help, so that's been a challenge.
What helped you decide to become the host of Consider This?
Alston: It's an amazing opportunity. As soon as it was presented to me, I didn't want to say no — just like every other millennial, I do have a problem saying no — but I also really wanted to do it. I was always drawn to hosting and wanted to be in on this collaboration between NPR, WBUR and GBH — one that I think not only benefits the world of public media but also Boston will be really well served by.
The workflow is definitely challenging as we switch gears from producing a live radio show to doing a podcast. And it's not just me. Everyone who's working on this is doing that too. It's an adjustment. But I think we all really believe in the podcast and are excited to see where it goes!
As we continue to unfold difficult conversations about racial justice and equity — how have the last few months affected you as a journalist? How are you doing and how have you been dealing with it? 
Alston:  It's been hard and emotionally taxing. I've had to be really patient with the people in my life because they always want to talk about what's going on and sometimes, I just don't want to talk. I'm so drained—especially when it's been my life for 40 hours a week. It's a lot.
But, I also bring these conversations with me to work every day and I'm able to mirror it in my work — what conversations are really in people's hearts? What do they think about these issues? It helps make me better at my job by pushing me to look at things differently, to look to different people and go beyond the usual experts that we hear and find different types of voices.
I also think that it's a real time for people, especially journalists of color, to be authentic in what they're doing — to be very unapologetic and treat the situation like reality. Not by necessarily having to divide your identity between your race and your work but by accepting that if you want me to do the work then you have to understand that I'm doing it as a Black woman.
So do you feel like your role in the world of journalism has evolved?
Alston: Yeah, I do. I've always felt the responsibility to give voice to the voiceless and shine light in dark places — that's something I've been taught to do since freshman year of college. But I think particularly now, it's also my responsibility to bring a voice that may have always been in the room but never heard.
I remember distinctly a few weeks back we did a Breonna Taylor segment. We had two really great veteran guests lined up. And I said to our team that I think we need to hear from a young black woman — someone like Hodan Hashi of Black Boston or someone who's 26, like me, you know?
We all have to think about what can you do to make this better? And for me, that's what it is. Thinking about my own upbringing and my family and how I would want them represented in a story is what I want to be doing for other people.
I think I have a bigger platform now between Consider This, Radio Boston and the show I co-host, Keep It Social for GBH. Not that I didn't feel like people were listening before. But I do know that now I have a trusted record, where people are continuously turning back to me and I owe it to them to continue giving and doing the work.
Favorite neighborhood in Boston?
Alston: I love the South End — it is like the coolest place. Especially because it's like the intersection of so many different microcosms in this city. You're close to the BMC, Melnea Cass and Mass Ave and it's right beside Roxbury. It's a really interesting and fraught area of the city and it colors so much of what goes on here. I like going to Darryl's corner bar and kitchen over there or to Slade's and I also love the local shops — the Pride Parade is there, which is always fun.
I also really like I really like Dorchester a lot. I think that's another part of the city that I think is diverse and dynamic. You could be getting a Bahn Mi sandwich in one breath and then go down the street and pick up soul food, which is great! And that's the main thing for me — It's all about the food, wherever I can get good food!
Speaking of food… favorite restaurant in Boston?  
Alston: I really like South End Buttery and Buttermilk and Bourbon. I'm a huge fan of Yankee Lobster, the one over by Blue Hills Bank Pavilion. My parents love seafood, but it's always fried and Yankee lobster kind of reminds me of home (North Carolina).
Fun facts about Paris Alston! 
Alston: I played a lot of sports in high school — basketball, volleyball and I ran track. Something for every season!
I speak French. I went to Paris for my 21st birthday. I studied abroad in Morocco before that.
I was a Girl Scout for 12 years! I had three different vests full of badges!

TikTok or Instagram?
Alston: Instagram or maybe Twitter! I feel old on TikTok — it's very intimidating because they're all in high school and making money, haha.
What kind of music do you listen to?
Alston: I love rap music. I love jazz. I love gospel music.  I'm a big top 40 fan. I like house music, old school music! There was a lot of music growing up in my house and we danced all the time!
Adele, Beyonce or Lizzo?
Alston: Oh, my God! If I could only listen to one of them for the rest of my life I would say, Beyonce.
This article was originally published on November 05, 2020.