Hafsa Quraishi To Join WBUR's Yearlong 2021 Newsroom Fellowship
This year, WBUR announced a call for entries for a yearlong newsroom fellowship designed to deepen the skills of an emerging journalist. We received an overwhelming response from all over the country, and we were inspired by the ambitions, experience and creativity of the applicants. A selection committee narrowed the pool to five finalists who met with the committee in early November. We are thrilled to announce Hafsa Quraishi will join WBUR in January as the inaugural WBUR Newsroom Fellow.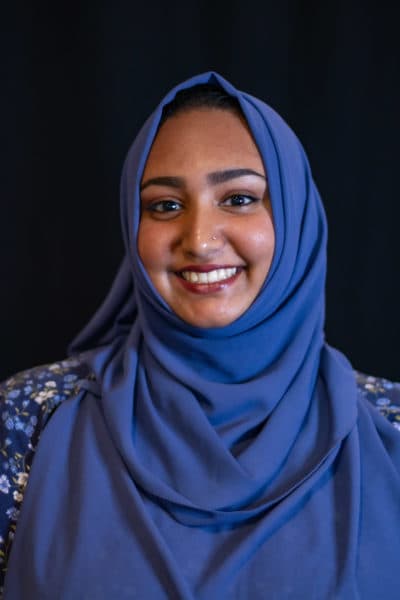 Tell us a little about yourself...
Quraishi: I'm currently finishing up my master's degree at the Craig Newmark Graduate School of Journalism in New York, focusing on business and interactive journalism. This past summer, I served as the inaugural Korva Coleman Diversity Intern at KMUW in Kansas, where I contributed to daily coverage, podcasts and newscasts. I graduate this December, and I'm so excited to continue my career with a fellowship at WBUR!
What brought you to public media?
Quraishi: Like so many other public media journalists, I grew up listening to NPR but my cliche story has a different angle to it — I didn't enjoy listening to the news at all. The only thing I was interested to listen to on the radio was music!
My path to journalism also wasn't very straightforward. I was a pre-med major, and it took me a while to convince myself to get off the conveyor belt that I was on and follow my passion. I wanted to prove myself after I changed my major so I took the first opportunity that came my way. When my local NPR station was hiring interns, I decided to apply — and that's where it all started.
Once I joined, I was taken by public radio. I fell in love with the process of it all. Especially the timeliness of the work we do. In public media, you have to be "on" around the clock — every second is accounted for. It was inspiring to watch my colleagues do the newscast live; they would never mess up and I found that really impressive. The first time I heard my name on the radio was a huge milestone for me. I was so giddy and I think that's when I knew that I wanted to stay in public media. You get to reach so many people and the media needs more diverse voices telling our stories —  in fact, after my first piece aired, I got a Facebook message from a stranger who said it was a "pleasant surprise" to hear a Muslim name on the radio.
When I was an intern at NPR, I met Asma Khalid (currently political correspondent and co-host of The NPR Politics Podcast) who's been a wonderful mentor to me. She opened my eyes to what you can do in journalism. Her career path as well as her mere existence in the industry are my biggest inspirations — to be a Muslim-American female journalist and visibly so — is important! I feel lucky to be following in her footsteps considering she was also an intern on NPR's national desk and previously worked as a reporter at WBUR. In fact, I was introduced to WBUR because of Asma. I would tune in to listen to her on air on my NPR One app instead of my own local station! I'm her biggest fan.
Tell us about a couple of projects you're most proud of...
Quraishi: During my time at WUSF, NPR's affiliate station in Tampa, I worked on a 4-minute piece about Project Downtown Tampa, a student organization that fed the homeless every single week. Come rain or shine, whether the school was in session or not they showed up. I found it amazing that this group of students from such different backgrounds was coming together and organizing food from various places to feed the homeless. They could be doing anything else on a Friday night but they chose to do this work. I loved editing the sound of this piece because I not only got to capture this perfect lettuce crunch when they were preparing sandwiches but also, considering the group was largely made up of Muslims, I got to capture the sound of a prayer they did together. When it aired, I think it was the first time I heard the Quran on the radio, and people all across the Tampa Bay Area were going to hear it too.
In my graduate program, my partner and I developed an interactive series about the accessibility of the New York City subway. In order to tell the story, we did some intensive data input of the subway system to eventually create this calculator that helped people like you and me check whether or not their commute was accessible. I think that drove the point home for people who didn't require an accessible station...to visually see how inaccessible the subway system in NYC is.
What kind of stories are you passionate about telling?
Quraishi: This may sound like an interview answer but I promise it's not! I'm most passionate about telling the stories of underrepresented communities, specifically through the lens of business and politics. I strive to have a diverse range of voices in every single one of my stories. I've been covering business for the past year and it's hard to get economists that are not white, not male. So I'm making a conscious effort of representing diverse voices. You have to do the work to find someone who accurately represents this country. I want to tell the stories of those people who are so often left behind in our coverage, specifically of Muslim Americans, and I hope I get that chance.
What are you most excited about doing in this fellowship?
Quraishi: I'm looking forward to the broadcasting and newscasting rotations of the fellowship. I got to experience a tiny, tiny piece of that when I got to host a newscast and contribute to podcasts at KMUW. Now that I got a taste of it, I'm craving to be back on the air and go live. That's a skill I'd like to cultivate during the fellowship — to be able to speak clearly and coherently, and to confidently go "on air" while keeping my voice and being engaging.
Favorite public media host besides Asma?
Quraishi: That's a hard question! And this may be biased considering she was my mentor when I interned at KMUW, but Korva Coleman is a huge inspiration — she's so smooth! And, of course, Mary Louise Kelly.
Favorite podcast?
Quraishi: I enjoyed "See Something, Say Something" from Buzzfeed News, hosted by Ahmed Ali Akbar. It's one of the first podcasts that I heard and genuinely related to as a Muslim American. It goes beyond the usual content targeted toward Muslim Americans, from the latest new policies and entertainment to addressing mental health. It was a really entertaining podcast!
This interview is edited for clarity and brevity.

---
About WBUR's Newsroom Fellowship
The WBUR Newsroom Fellowship is a year-long program for journalists eager to pursue a career in public media. The fellowship provides hands-on training in every aspect of public media journalism. Fellows will develop their skills under the guidance of WBUR's editors and producers and will have opportunities to work alongside newsroom journalists.
Fellows will be active members of the WBUR newsroom, involved in the production of news at every level – from morning editorial meetings to field reporting, to story mixing and publishing. With this fellowship, WBUR seeks to cultivate the talent and develop the skills of emerging journalists so that they may grow in their careers and become the next generation of reporters and newsroom leaders.
Read more about the fellowship here.