Meet Maggie: Magdiela Matta Is WBUR's New Arts Reporting Fellow
We're pleased to announce Magdiela (Maggie) Matta will join WBUR as the Arts Reporting Fellow in 2021. Embedded within the WBUR Newsroom's Arts and Culture team, she'll cover the arts happening in and around Boston and work alongside editors to further hone her craft. INSIDE WBUR caught up with her to talk about art, her love for audio stories and more!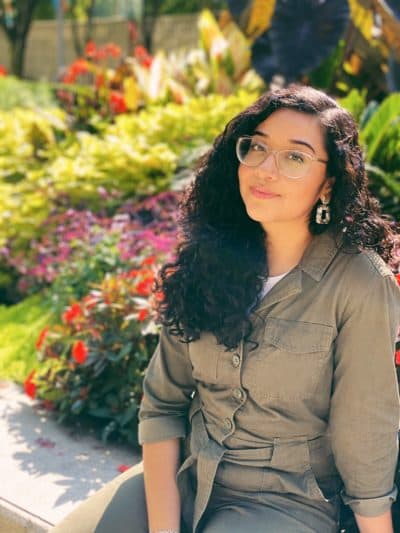 Tell us a little about yourself and the projects you've been working on…
Matta: I worked as an associate producer at The Loop Lab, a nonprofit in Cambridge, right after I graduated from BU in May last year. I got to work on some great projects, such as Black Voices Boston that was put together by the Celebrity Series of Boston. I was also learning videography and got to work as a videographer for the Triad for Oberon's A.R.T. theater. We worked with three artists — Anjimile, Brandie Blaze and Kaovanny. The idea was to show how they broke down the walls that they've been put in or the spaces that they've been in. Showing that creatively on video was a lot of fun! (Note: WBUR is a Loop Lab teaching partner).
How did you begin your audio journey? 
Matta: It actually started with WBUR — I was doing man-on-the-street interviews for my beat reporting class on Commonwealth Avenue, and I ended up stopping Ben Brock Johnson (co-host of the podcast Endless Thread) on the street. He answered my questions as we walked to his lunch destination, and I stayed in touch with him by email afterward. I got the chance to visit WBUR later to see how the sausage is made. I think I left an impression because they offered me an internship at the iLab for Endless Thread!
My experience working with audio made me realize how much power audio stories have in storytelling. Audio allows you to let the subject tell their story in their own words and voice; you're only crafting it later in a way that you know the audience will engage with, helping them navigate the story. It took away my early cub reporter's anxiety as well because I knew I was taking the spotlight away from me as the journalist and giving it to the person telling their story.
What did you take back from your podcasting internship at Endless Thread?
Matta: I learned how to work with audio, that's first. From how to cut and log tape to working with transcription software, it was all new for me but by the end of my stint there, I was comfortable working with Adobe Audition. I learned how to back my work with facts and be consistent. I've always been shy but this internship changed that a little for me because my ideas were heard and my input was valued. Most internships only give you technical know-how, but at WBUR, I learned a lot about myself professionally. The team would ask me what I wanted to do in journalism and the work I did really helped me come closer to the answer. It made me certain that audio journalism is what I wanted to pursue. After working on Endless Thread, I learned to appreciate the craft of podcasting and become a better media consumer.
Which is your favorite podcast?
Matta: I love Truth Be Told from KQED! Tonya Mosley is so soothing to listen to, her voice is therapeutic! I think it's a unique podcast; you can listen with your mom, your friends and so many different types of people. Some of the stories are so heartwarming, listening to them almost feels like getting a hug from your grandma.
What drew you to work in public media?
Matta: Every time I see someone yelling into the social media void saying "this is happening and no one's talking about it," I feel like yelling back and saying "look it up on your local news platforms, they ARE talking about it." I think in order to be a good journalist, you have to be immersed in the community and know the ins and outs of whatever you're reporting on to do it accurately. Public media is centered on community. Large media organizations usually focus on the bigger picture, but your local public media has the pulse of individual communities. It's important that everybody feels seen and heard — and if I can facilitate that, then that's what I'd like to do.
Why did you decide to apply for the ARTery fellowship?
Matta: Joining the Loop Lab really opened my eyes to Boston's thriving arts community. We worked with various arts organizations such as the Boston Foundation, Isabella Stewart Gardner Museum, Dorchester Art Project, BCA and more, which helped me make some meaningful connections within the community. It also made me realize that art has been consistently present in my life. Growing up, I used to hang out a lot at Zumix in East Boston to play instruments, and once I was older, I became part of Artists for Humanity (AFH) — they had an open studio at the time and that's where I learned how to paint (I like painting fruits and still life). So when I thought deeply about what I really wanted to do in journalism, the answer was right in front of me.
I love what art represents, what it says and what it does for the community. A lot of the people who were my mentors growing up at AFH — Rob Gibbs, Sneha (Imagine), GO Ortega — made it to the ARTery 25 from WBUR. The intersection between my worlds of journalism and art pushed me to apply for the fellowship and give it a shot. When I started writing my cover letter, it felt so easy for me to write about. This is what I'm passionate about, and I knew I'd found it.
What are you looking forward to learning during this fellowship?
Matta: I'd like to start with working on better articulating my pitches. I'd like to think more outside the box and you have to train your mind to do that. A big part of art is having criticism and the way I learn best, is when my work is critiqued. I'm used to making a painting, bringing it up and having a whole group of people tell me what worked and what didn't. The structure of this fellowship allows me to ask for feedback without thinking that I'm bothering someone for their time to look at my work.
The way I write is also a bit newsy so I'm excited to expand that flair for feature writing. I feel strong in my audio storytelling skills but I'm looking forward to learning more about how it translates to radio editing and broadcasting technically. I enjoy the pace of podcasts but it's not quite the same for radio and I'd like to learn the differences in crafting the two. As someone who creates and consumes content on social media, I'm interested in honing my skills to tell stories on every platform.
To sum it up, I'm excited to learn how what you love can be incorporated into what you do!