This Makeshift School Teaches Children Seeking Asylum At The Southern Border
Resume
MATAMOROS, Mexico — Atop a scorching concrete lot in September, hundreds of migrants and asylum-seekers were stuck living in a tent city right next to a bridge that leads to the U.S.
Many of them have months-long waits ahead to cross that southern border into Brownsville, Texas, for a chance to talk to an American immigration judge.
With little to do but wait, living in the migrant encampment can be difficult — especially for the young children.
But, for the last two months, volunteers and some of the asylum-seekers have tried to bring back a sense of normalcy for the kids. They're doing so by transforming part of the camp into a classroom.
School When 'Stay In Mexico' Is In Session
Under the searing sun, there's a row of about 30 kids sitting on a sidewalk, trying their best to pay attention to a volunteer teacher as she reads from a picture book.
Another volunteer is singing songs in Spanish and English, inviting the children to sing along.
A few yards away, another group of kids sit under a large tree near the edge of the encampment. They're busy coloring and decorating paper plates with fuzzy pipe cleaners and glitter.
Felicia Rangel-Samponaro, a 43-year-old stay-at-home mother from Texas, watches the kids work.
"I love the art," Felicia says. "It's always fun watching them and seeing them laugh."
A year ago, Felicia started crossing the border with a network of volunteers determined to bring food, water and other forms of relief to the migrant encampment twice a day, every day.
At first, the volunteers only provided meals to about 40 asylum-seekers. But now, that number has ballooned to almost 1,000.
"Last year, the kids would come and go frequently," Felicia says. "Now, with the new laws and policies, we're seeing the same kids over and over again."
Felicia is talking about the Trump administration's "stay in Mexico" policy — or Migrant Protection Protocols — which began early this year. The policy states that legal asylum-seekers can no longer wait in the U.S. for their court dates anymore.
Instead, they must wait in Mexico. MPP, along with an ongoing list of new, restrictive immigration policies, have made getting into the U.S. under legal asylum far more difficult.
Still, a lot of parents wait. And their children must wait with them.
"So the idea of a school — especially with kids that you're going to see over a long period of time — just made sense," Felicia says.
The volunteers' makeshift school became a reality this summer, with reading, math and art lessons on Sundays.
But Felicia wanted the asylum-seekers to have ownership of the school. She created her own nonprofit called The Sidewalk School, where the teachers are asylum-seekers, too.
Teaming up with asylum-seekers with advanced degrees or backgrounds in education made it possible for these individuals to not only teach the children, but also to be in charge of what they would teach.
"They live here," Felicia says. "This is their community. I don't think as an American, I can come in and tell you, 'This is what needs to happen. This is what needs to go on.' And then I cross back over and go home? How would I know what you need?"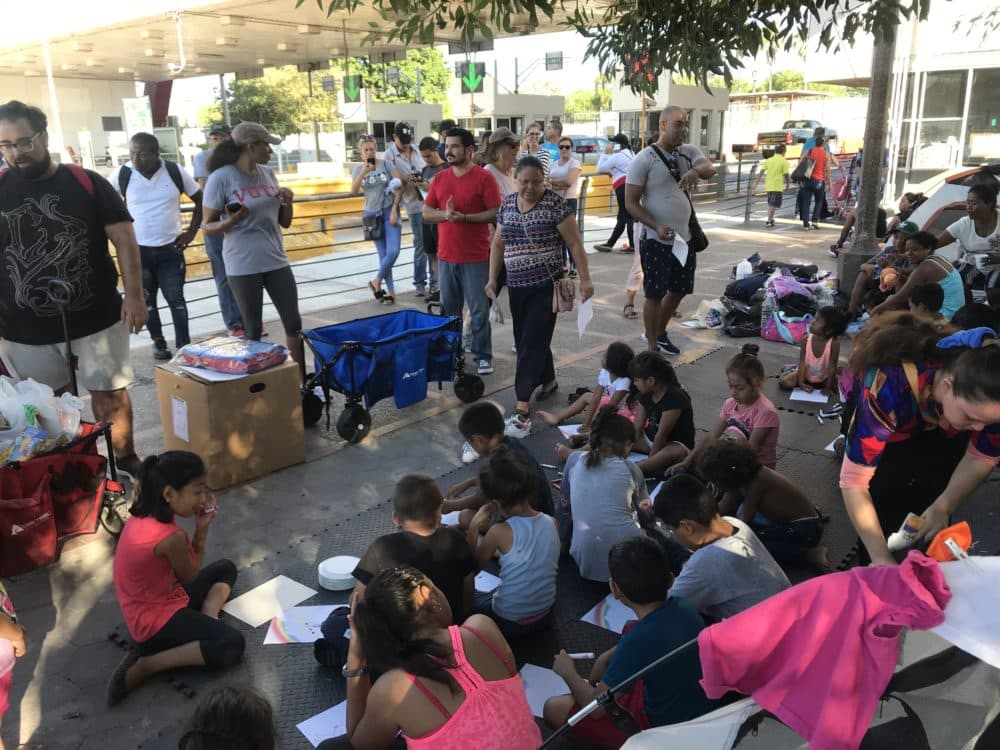 The Sidewalk School
Ray Peña, a Cuban asylum-seeker and a former college English professor in Havana, is one of the teachers at The Sidewalk School. He's been living in Matamoros for four months after he was forced to leave his life behind.
"I'm gay, and it became really hard for me to be openly gay back home," Ray says. "I've had some instances with the police. I was threatened. I was threatened to be beaten, and it just became impossible to actually have a normal life."
Ray once lived at the encampment, but he's since been able to afford to live elsewhere. His Sundays, though, are still dedicated to teaching at The Sidewalk School.
"It's a way to get involved in the community and give back," he says. "And so we can teach the kids. I mean, it's the least we can do."
Ray says giving back has also helped him. Having something to do is a welcome distraction from the constant thoughts about his own uncertain future.
"It's a way to get involved in the community and give back. And so we can teach the kids. I mean, it's the least we can do."

Ray Peña
"It just plays with your mind," he says. "You're just thinking, 'What's going on? What's going to happen?' It's quite overwhelming, to be honest, at times."
'We Can Relax'
As the art class wraps up, an excited 4-year-old named Emanuel runs up to his mother, 40-year-old Francisca Castro. Emanuel's face is shimmering. It's covered in glitter.
Francisca says the weekly Sunday classes allow her and other parents to have a moment of peace, bringing a sense of calm and routine to an otherwise tense environment.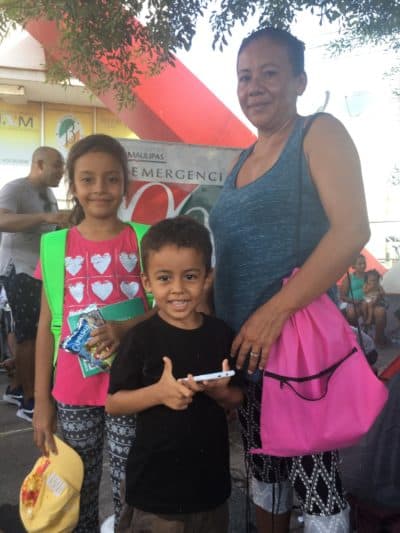 "We can relax," she says in Spanish. "Because think about the times when the school isn't happening. Sometimes we sit there, thinking negative thoughts. But during the classes, we can relax with our children and set aside our problems."
Education is one of the reasons Francisca felt like she needed to leave her native Honduras. She's been unable to find work, and she can't afford to send her kids to the local schools.
"My young daughter who's with me, I couldn't send her to school because we had to pay the teacher each month," Francisca says. "What about poor people? We come from a town where there are tons of kids who don't go to school, and no one wonders why. If they don't have money, they don't go."
Francisca's 9-year-old daughter Angely shyly appears next to her mother after finishing her lessons. She tells her mother that today, she learned the names of animals in English.
"Like 'pato' means 'duck,' " Angely says in Spanish.
She says she loves to learn and wishes she could have classes more often that just the couple of hours a week. She's already thinking about what she wants to be when she grows up.
"A teacher," she says. "A math teacher."
'These Are Humans, Too'
Felicia says The Sidewalk School has received a few donations since she launched the nonprofit, but most of the funding comes from her own pocket. She's spent thousands of dollars. The relief goes beyond school supplies.
Felicia buys and gives out medical supplies, takes people to the local clinic and provides asylum-seekers with essentials they would otherwise go without.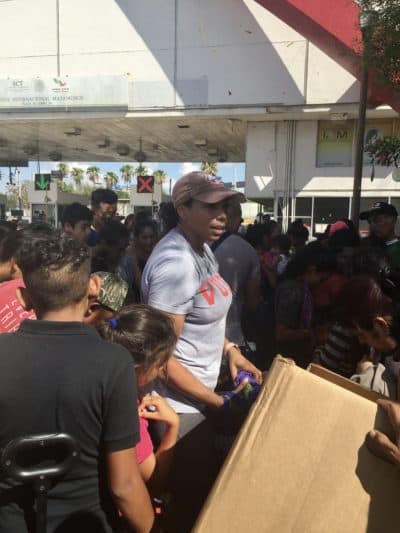 After talking with a mother worried her daughter's hair is falling out, Felicia promises to get advice for her from a doctor. She says being a mother to an 8-year-old boy inspires her to keep helping in any way she can.
"It's upsetting to see parents who want better for their children, who sacrificed so much just to get to this point — to try to cross over — and then to be told they're stuck here," she says. "It's hard to see that. I have my own son, so I would want someone to try to help him, education-wise, or however else they could."
A month after we met, Felicia tells us she has moved to Matamoros. She's living in a small apartment she shares with five of The Sidewalk School teachers, including Peña. She doesn't know how long she'll stay, but she says helping asylum-seekers has become her calling.
"My hope is that we're not going to be out here for another year or two," she says, crying. "It's really hard. And I don't think people realize ... these are humans, too."
After classes end, some children play in the limited open space in the encampment. Others are too tired from the heat. There's not much else for the kids to do at the camp, and it'll be another week before their next lesson — their next break from a long, arduous and uncertain wait.
This segment aired on October 11, 2019.